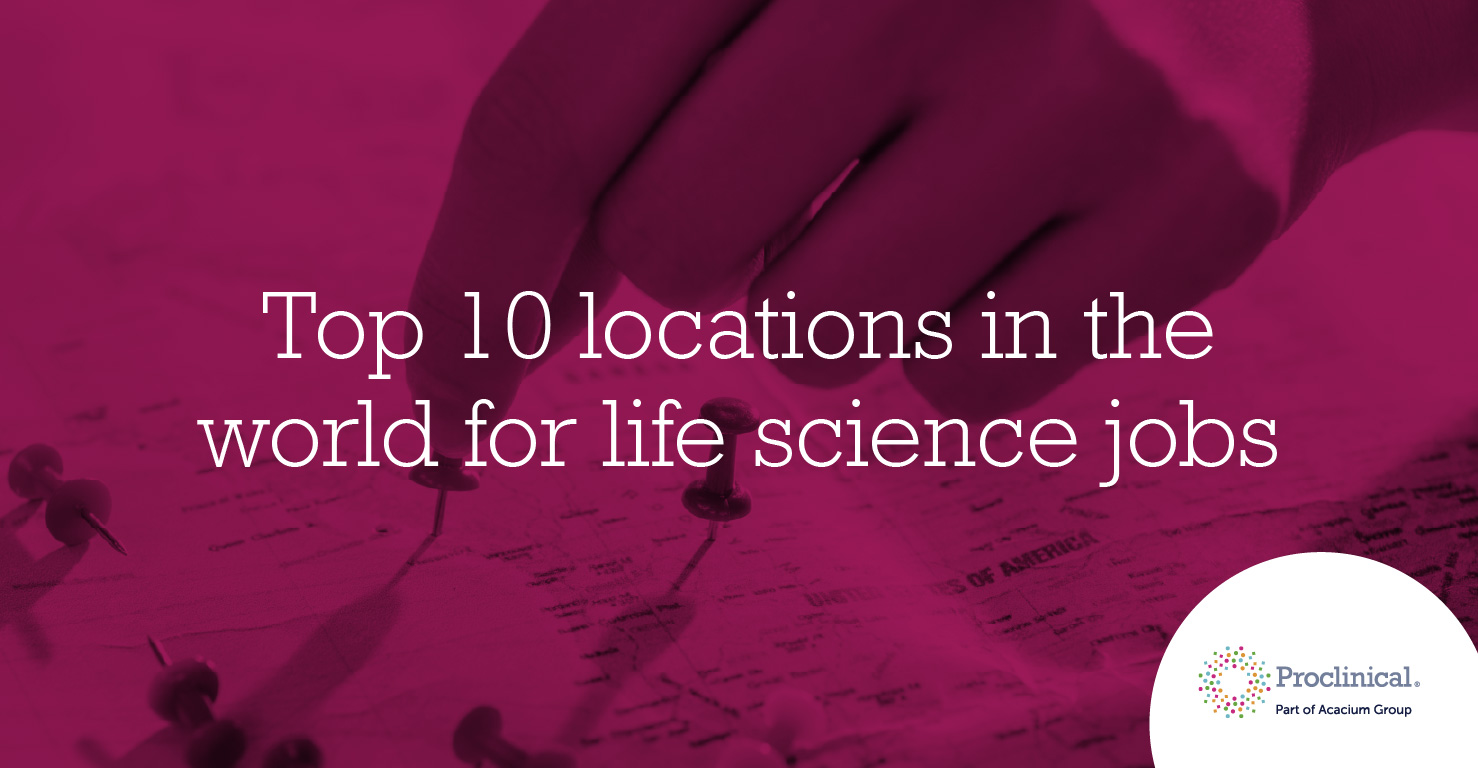 With the life sciences industry becoming progressively globalised and the need for new medical solutions increasing exponentially, the demand for life science professionals who have experience in different global markets is becoming more apparent.
Experience in global markets can give you a competitive edge and also provide you with unique opportunities to work on exciting projects. But where can you find the best opportunities?
Below we have listed the best locations for life science jobs in the world right now. We've ranked them in terms of the country's economy, how innovative the industry is, quality of life, and the number of career opportunities available in domestic and international life science companies.

10. Australia
Fuelled by a rise in biotechnology and an up-and-coming medical devices sector, Australia is becoming a leading life sciences market, growing by an impressive 16% between 2017 and 2019. Generous investment from the world-renowned Australian regulatory bodies, along with government R&D tax incentives, have encouraged a number of highly innovative biotechnology and health technology companies – both home-grown and from overseas – to take root in Melbourne, Sydney and Brisbane.
The life sciences industry in Australia has a 243,406 strong workforce, and life science professionals looking to work in biotech and med tech will find an abundance of opportunity there. Many leading multinational life science companies such as AbbVie, Johnson & Johnson and IQVIA have a strong presence in Australia and offer a wide range of positions while there is also high demand for people with skills and experience in the growing areas of digital health technology and medicinal cannabis.
Australia is a very desirable place to live and work. It consistently ranks as one of the best countries in the world for quality of life, thanks to above average income and wealth, environmental quality, health, well-being and housing.
Find life science jobs in Australia

9. Spain
Spain has become one of the most dynamic and competitive life sciences markets in the world, with many global biotech and pharma companies choosing Spain not only to distribute their products, but to also establish their R&D and production facilities. The country prides itself on its ongoing commitment to R&D and beneficial investment frameworks, with the pharmaceutical industry receiving over 20% of total private R&D investment in the country. It employs 45,000 people in Spain, 52% of whom are women and two-thirds have higher education qualifications. Local pharmaceutical companies include Genomica, Esteve and Almirall, and several global top 10 pharmas, such as Sanofi and Merck have a presence in Spain. Healthcare technology in Spain also offers great potential for development with nearly 28,000 working in this area.
Aside from its thriving life sciences market, Spain also offers many opportunities for you to grow your professional network. With its central and well-connected location, working in Spain can also lead to working across Europe, and will look great on your CV, setting you apart from other life science professionals.
Find life science jobs in Spain

8. Italy
In 8th place on our list, Italy is one of the strongest exporters in Europe and has excellent life science manufacturing capabilities, with 66,000 working in pharma, over 13,000 working in biotech and 76,000 in medical devices. Italy is one of the leading pharmaceutical producers in Europe and in 2019, the sector boasted a production value of over €34 billion. The country is facing fierce competition from emerging markets, yet the strong presence of many top 10 global pharmas in Italy, such as Pfizer and AbbVie, is helping to boost Italy's R&D efforts, giving them a competitive edge.
Rich in culture and spectacular landscapes, Italy offers a relaxed way of life. Family time is important to Italians and workers in the country try to strike a healthy work-life balance. To secure a job in Italy you will usually need to have specialist life science skills and a good understanding of the language.
Find life science jobs in Italy

7. Japan
A combination of a stable economy, aging population, and growing technology opportunities, make Japan a great environment for life sciences. The forward-thinking Japanese embrace cutting-edge technology and the country has a comprehensive regulatory process, making it an exciting place for medical advancements. Japan has a highly educated population and is home to many budding entrepreneurs, many of them based in Fukuoka, which is Japan's answer to Silicon Valley - a hotbed for new start-ups.
Japan is the second-largest pharmaceutical and medtech market in the world and its pharmaceutical drug market accounts for 7% of the global USD 1.2 trillion market. Many global top pharma and medical device manufacturers such as Takeda, Daiichi Sankyo and Olympus, were founded or have a presence in Tokyo. These companies offer many great opportunities to progress a rewarding career. As well as job stability, Japanese companies also offer attractive employee benefits like medical care and pension schemes.
Find life science jobs in Japan

6. UK
With some of the most skilled life science professionals in the world and cutting-edge research facilities, the UK has an extensive track record in life science breakthroughs and is driving the next generation of medical advancements. Benefiting from great public and private investment opportunities, the UK is a centre for R&D and is home to many exciting life science start-ups as well as many large multinationals, including GSK and AstraZenca.
The UK's life science industry is critical to the country's economy and stability, employing over a quarter of a million people and generating a turnover of £80 billion each year. In 2021, the UK government announced a ten-year plan for the life science industry, which is set to build on the country's pandemic response and focus on solving some of healthcare's greatest challenges including cancer and dementia. The plan aims to support the sector's growth, attract more investment and create more high skilled jobs.
With London and Cambridge being two of the largest life science hubs, many life science companies are based in the south east of England and offer a wide range of opportunities. Thanks to its strong economy, high standard of living and great working surroundings, the UK attracts migrants from across the globe, making it extremely diverse. Longer paid holidays, free access to healthcare and high salaries also make it a winning location to progress your career.
Find life science jobs in the UK
5. Switzerland
Positioned in the heart of Europe, Switzerland is renowned around the world for its contributions to life sciences. Large multinational corporations such as Roche and Novartis, which are both headquartered in Basel, and SME life science companies throughout the country, benefit from Switzerland's ideal infrastructure and highly-skilled professionals. Switzerland is not a member of the EU, which offers more freedom for companies when they are looking to get medicines or medical devices approved with a more straightforward regulatory process.
With over 250 biotech companies, Switzerland provides over 50,000 jobs in the sector and, together with the pharmaceutical and chemical industries, this contributes to more than 40% of Switzerland's exports. All the leading tech companies, such as Google and IBM, have a strong presence in Switzerland and both pharma and biotechs are looking at how AI and big data can help drug discovery, improve drug design, help patients access healthcare and improve processes.
With a wide range of opportunities to work with some of the greatest innovators in life sciences, Switzerland is a fantastic place to further your career, with workers benefiting from high salaries and low tax rates. Owing to its incredibly convenient location it's simple to travel anywhere in the world and that has been a factor in attracting top global companies. Bordered by five other countries, Switzerland is truly diverse and is a multilingual nation, making it easy to pick up another language. Not only this but with outstanding scenery perfect for skiing, hiking and biking and an importance on work life balance, Switzerland offers an excellent quality of life.
Find life science jobs in Switzerland

4. Singapore
Innovation and investment has resulted in exponential growth for the life sciences industry in Singapore due to a significant push for more R&D, and increased biomanufacturing and clinical research activity. Many leading global pharma and medical device companies, such as J&J, have based their Asian headquarters in the city-state. With so many companies using Singapore as their gateway to Asia, there is growing demand for professionals with expertise in the laboratory, technical sales and regulatory affairs. Quality and engineering-related skillsets are also high in demand thanks to the abundance of biotech start-ups popping up there.
As well as being a key location for pharma, Singapore is also establishing itself as a hub for medical technology. In 2019, the Singapore government identified medtech as one of its priority areas, recognising that the sector has high growth potential. With a robust ecosystem and supportive infrastructure, Singapore has attracted entrepreneurs from all over the world creating a collaborative and pioneering community of start-ups.
With one of the most stable economies in the world, high salaries, excellent quality of life and opportunities in a variety of life science sub-sectors, Singapore is a great location to work in life sciences.
Find life science jobs in Singapore

3. France
In third place on our list of top locations to work in life sciences is France. With sales totalling $37.8bn in 2020, France is well-known for its pharma industry and home to many leading pharma companies, such as Sanofi, Pierre Fabre, Ipsen and Servier, which are pillars of the industry. France also has a growing number of inventive health start-ups and the French biotech community has grown significantly in recent years with a strong focus on clinical development. The government invests heavily into R&D making it a favourable environment for foreign investors to create new medical advancements.
In response to the Covid-19 pandemic the French have prioritised supporting biotech and biopharma companies. To sustain momentum, France further emphasised its commitment to innovation by setting out billions of euros for medical infrastructure, tax credits and financial support to digitise production and attract manufacturing from abroad. This is all with the ambition of becoming a leader in Europe by 2030.
France is a member of both the G7 and G8 powers, making its economy one of the world's strongest and most successful. A 35-hour week is standard in France, making it easier than other countries to achieve a good work life balance. Working there you can also enjoy a high standard of living, benefit from a robust healthcare system and receive a generous holiday allowance.
Find life science jobs in France

2. Germany
Germany is one of the largest and fastest-growing markets for life sciences and healthcare in Europe, and with the fourth largest national economy in the world, Germany offers great stability for life sciences. From its many life science hubs, which include Frankfurt, Munich and Stuttgart, Germany's world-class manufacturers drive a life science industry that delivers a wide range of pharmaceuticals, medical technology, and medical devices to patients all over the globe.
Benefiting from great annual federal funds and well-equipped with the latest in technology, Germany is the ideal spot for research efforts and is a hotspot for innovation, and as a result over 1,000 medical technology patents were granted there in 2020. Many of these exciting and advanced new concepts are generated by what is known as the "Mittelstand" – which incorporates small and medium-sized enterprises which are a key component of Germany's robust life science industry.
In general, Germans work fewer hours than in other parts of Europe and the minimum annual holiday entitlement is typically 30 days, making it an attractive location if you enjoy vacations. Situated at the centre of Europe and with world-class infrastructure, Germany provides easy access to a number of global cities including London, Amsterdam and Paris. The cost of living in Germany is very impressive, as is their education system making it a superb place to bring up a family. The country's culture is varied and Germany's major cities, such as Berlin, Frankfurt and Munich, vary from the modern and business-focused to the historical and architecturally quaint – so whatever your preference – there is something for everyone!
Find life science jobs in Germany

1. USa
With a healthy economy, trailblazing research facilities and leading technology, the USA comes top of our list of locations for life science jobs. In the US, life sciences is a key sector, with hot-spots such as Boston and San Diego, leading the way for innovation in biotechnology, while pharmaceutical giants Pfizer and J&J are headquartered in New York and New Jersey respecively. In 2020, the US pharmaceutical market generated over $530bn, accounting for 46% of the world's total pharma sales. Home to six of the top 10 pharma companies, including Pfizer, Amgen, and Johnson & Johnson, the industry generates a large number of highly skilled jobs, conducts an enormous amount of research and development, and is a key traded sector that supports US global competitiveness. The country is at the forefront of drug development in oncology, diabetes and autoimmune diseases, which are among the biggest threats to health in the world. There are also numerous cutting-edge biotech's that are breaking ground with therapy areas such as immunotherapy.
The US is not just well-known for its contributions to medicine, it is also the leading market in the world for medical technology. In 2020 the US medical device manufacturers market was estimated to be worth $176.7 billion. This is expected to increase year-on-year with America's aging population and the increasing prevalence of chronic diseases. Many opportunities to work in medical technology are on the West Coast, where you will find San Francisco, CA and the world's innovation capital, Silicon Valley - home to the biggest names in tech including Apple, Alphabet/Google and Facebook who themselves are making inroads into healthcare. Many start-ups position themselves in this area to benefit from the established business infrastructure and access to the latest technological innovation.
The US life sciences employs an impressive 1.2 million, making it a great place to build your professional network with the opportunity to work alongside and learn from some of the best life science talent in the world. Made up of 50 states, America is extremely diverse and well-connected making it easy to travel. From the bright lights of Broadway in New York to the picturesque golden beaches in LA to the Southern Rocky Mountains in Colorado, there is so much to explore.
Other Markets that stand out
Other markets that stand out While the list above may seem like the top options, there are many other markets across the globe that can offer you excellent opportunities for career growth:

China
In the last few years, China's influence in the global life sciences market has expanded greatly. As the world's second-largest economy, the world's fastest-growing consumer market and the largest global manufacturing economy, China offers great stability.
China is one of the largest markets in the world for medicine. However, overall spending on healthcare is still low compared to many other industrialized countries. This is set to change though as the country is making steady progress in expanding its domestic drug research and development capabilities. The main pillars of the government's approach here are the 3 key hubs for innovation – the Zhangjiang Hi-Tech Park near Shanghai, the BioBay in Suzhou and the Shenzhen innovation hub, which is often referred to as China's Silicon Valley.
With high demand for professionals in the life science industry, companies are offering highly competitive salaries and jobs with more responsibility and potential for career development.
Find life science jobs in China
The Netherlands
In the last decade, the Dutch life sciences market has grown from strength to strength and Amsterdam is now home to the European Medicines Agency, which was relocated from London after Brexit.
With world-renowned academic research universities in medicine, technology, and business, and a large, diverse community of life sciences and health businesses. The links between the institutions, and the connections among the people working there, create a collaborative ecosystem. With a high standard of living and a diverse range of job opportunities, the Netherlands is a fantastic place to advance your life sciences career.
Find life science jobs in the Netherlands
Belgium
Belgium is widely recognised around the world for its contributions to medicine. Its appealing R&D opportunities and fast approval processes for clinical trials, make it an ideal hub for pharma companies. Home to many renowned universities and institutions, Belgium also benefits from a multilingual and knowledgeable workforce. Located in the heart of Europe, Belgium is ideally situated for fast and efficient travel to other parts of the region.
Find life science jobs in Belgium
Canada
With first-class academic institutes, collaborative research networks, and a large pool of highly skilled life sciences professionals, Canada is an innovative environment for life sciences. The country has significant manufacturing capabilities and between 2016 and 2020, pharma manufacturing GDP grew by 12.5%, making it the 9th largest market for pharmaceutical sales in the world. As the country moves its focus more towards emerging medical devices and digital health, it is expected to continue its significant growth. Not only this, but a high employment rate across the country, Canada is one of the richest nations with a consistently high standard of living.
Find life science jobs in Canada
We have a truly global reach, with offices in Europe, North America and the APAC region, and will be able to place you in your dream life science job in many of locations listed above. Reach out to us by uploading your CV or have a look through our current list of global vacancies and apply online.