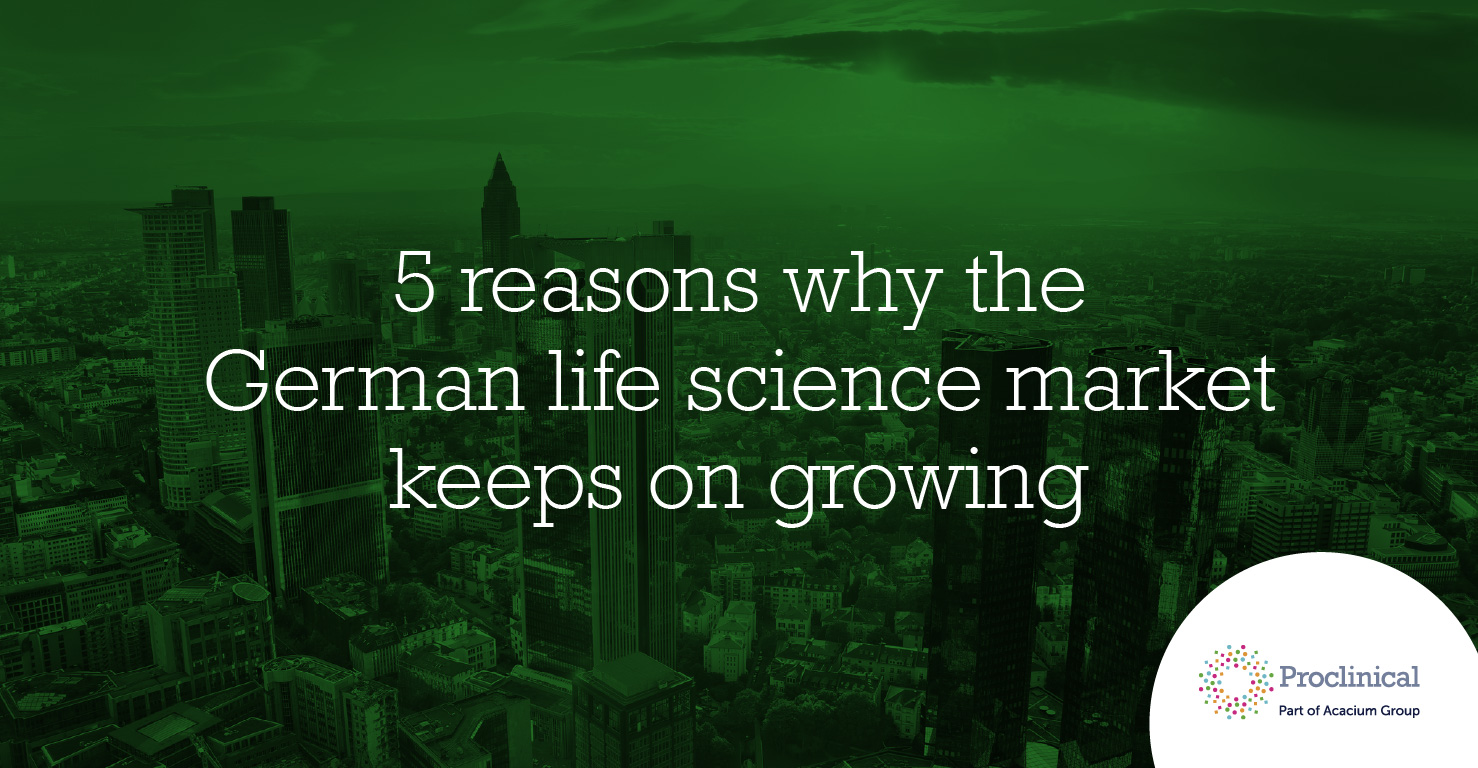 Renowned for its leading scientists, innovative start-ups and first-class hospitals, it's no surprise Germany is the largest market for healthcare and life science products in Europe. World-class manufacturers and providers drive a life science industry that delivers a wide range of pharmaceuticals, medical technology, biotechnology and medical devices to patients all over the globe.
Here we look at some of the many reasons Germany is such an attractive market for life science companies:
1. A robust economy
Germany has the largest economy in Europe and is the fourth largest national economy by GDP in the world after the US, China and Japan. Known as an economic powerhouse, the country has a strong focus on exports making it a truly competitive global player. In 2020, Germany shipped an impressive US$1.38 trillion worth of goods across the world, with pharmaceuticals, the fastest-growing category for exports, accounting for 7.1% of that, and optical, technical, medical apparatus accounting for 5.4%.
Ground-breaking scientific research coupled with a highly-skilled workforce has created a limitless environment for innovation, and as a result, over one thousand medical technology patents granted in 2020. With health expenditure in Germany over €390 billion (€4,712 per citizen), new ways to improve health easily find a market.
Many of these exciting and advanced new concepts are generated by what is known as the "Mittelstand" – small and medium-sized enterprises which are key component of Germany's robust economy.
2. Strong Infrastructure
Located at the heart of the intersection of Central and Western Europe, Germany provides easy access to a number of global cities including London, Amsterdam and Paris. Germany offers well-developed infrastructure and sophisticated logistics services, making it straightforward for life science companies to distribute products across the world.
Internationally recognised for its leading facilities, Germany is home to several important facilities including: The Fraunhofer Institute, including the Department of Biomedical Technology, the Helmholtz Association of German Research Centres, the Robert-Koch Institute, the Paul-Ehrlich Institute and the Leibniz Association. It's strong research infrastructure provides a solid basis for the development of treatments and medical technology.
3. Leaders in innovation
Forward-thinking and dynamic, Germany is at the cutting edge of medical advancements. Backed by billions of euros in annual federal funds and well-equipped with the latest in technology, Germany is the ideal spot for R&D efforts. With its high commitment to driving new solutions, it's unsurprising Germany is Europe's leading patent applicant, which frequently leads to commercialisation of pioneering technology. In 2020, the annual Bloomberg Innovation Index named Germany as the most technologically advanced nation, followed by South Korea and Singapore. Germany scored three top-five rankings – in value-added manufacturing, high-tech density, and patent activity – making it a clear winner.
4. World-class manufacturing capabilities
Germany has a longstanding history in manufacturing excellence. From some of the world's most well-known automotive brands to progressive medical instruments, it is one of the most competitive markets for manufacturing in world.
Germany is the European Union's leading pharma manufacturing location and is the third largest producer of medical technology worldwide. It's efficient processes, advanced facilities and pioneering technology make it a great location for life science companies to produce their medical solutions.
5. Access to talent
Driven by an outstanding education system and top academic and research institutes, Germany has access to wide pool of talent. According to the Times Higher Education World University Rankings 2021, 48 universities in Germany are counted among the very best in the world. A remarkable, 81% of the German population have been trained to university entrance level or equivalent.
Germany's opportunities for innovation and high-quality living standards make it an attractive location for life science professionals to relocate to. With straightforward entry requirements, Germany appeals to life science experts from across the world.
Interested in finding out more about how we can help you achieve growth in Germany? Contact our Frankfurt team to learn more.