Outcomes-led executive search
Whether you are building life science leadership teams to expand into new territories, or need to locate and mobilize the very best people with rare, niche skill-sets to drive your business forward, our Executive Search division specializes in installing senior appointments to help you grow.
We are genuine specialists – truly aligned with our partners. Unlike other Executive Search firms, we have always operated exclusively in the life sciences space. It's our area of expertise, where we add value at every stage of the process.
Why use Proclinical Executive?
Market mapping

Behavioral assessment

Simple 2-stage fee structure; weighted towards successful completion
Biopharmaceuticals
Pharmaceuticals
Biotechnology
Generics
Biosimilars
OTC
Consumer health
Medical Devices
Digital health technology
Software
Implants and Prosthetics
Non-invasive devices
Invasive medical devices
Diagnostics
Wearables
Robotics
Artificial Intelligence
Class I devices
Class II devices
Class III devices
Cannabis & psychedelics
Medical & Adult-Use Cannabis
Psychedelic Medicines

Retail & Specialty Clinics
Cultivation & Ancillary Services
Clinical Research & Development
Capital Markets & Investment
Tech & Media
C-Suite and Executive Leadership
Our extensive global network and unrivaled access to the market, enables us to find the high-level individuals and teams you need – wherever they may be – often from a very narrow talent pool.
Our expert life sciences search team can help you discover and onboard the highly-experienced people you need, inculding CXO, General Manager, Chairman, President, Vice President or Senior Directors for all life science functions.
Our process
We have a unique process for each search, working in partnership to pinpoint your precise needs
and provide our insight to help you make informed decisions.
With Proclinical Executive, there are no shortlisting fees – only speed of delivery and
a clear focus on outcome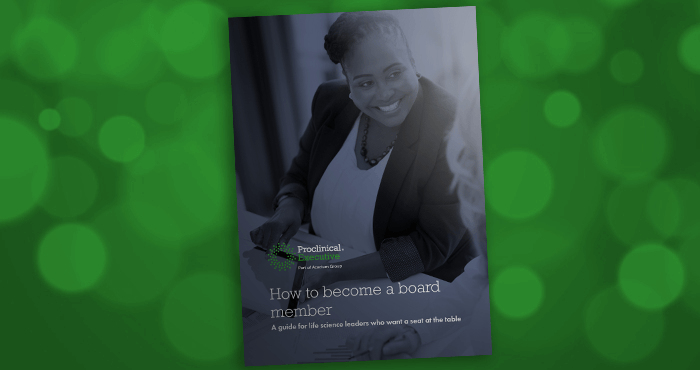 Could being a board member be your next step?
Download Proclinical Executive's guide to joining the board of directors, where you'll gain insights and advice from leading industry CEOs and founder on how to secure your position on the board. We explore the full process of joining the board from what to consider before putting yourself forward to advice for the interview process, and guidance on how to overcome challenges you may face when you take you seat.
Download Guidebook
More Resources