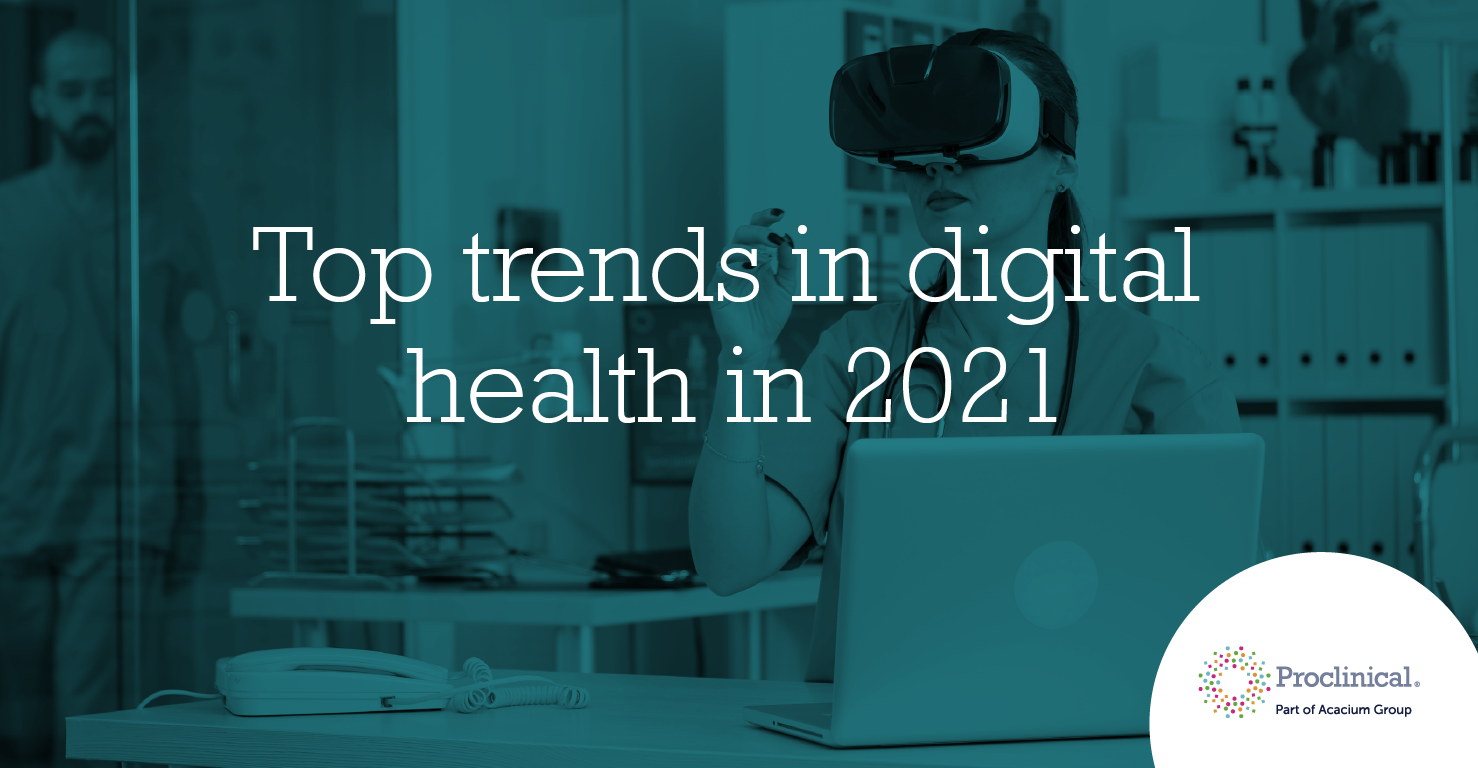 Digital health is gradually changing the face of healthcare, bringing new approaches to the prevention, diagnosis, and management of health conditions. Digital innovations such as blockchain technology and virtual reality continue to attract massive investment from the life science industry and continue to improve the efficacy and effectiveness of medical processes.
The Covid-19 pandemic caused huge disruption to the healthcare industry and pushed the sector to invest more in innovative new technologies, with the need for new procedures such as online appointments and remote medical tracking becoming more important than ever before. Here we round up the latest trends in digital health and explore how they will influence the future of healthcare:
1. Telehealth
With the healthcare industry entering a new era of digital innovation, patients seek on-demand healthcare to fit in with their busy schedules. Telehealth allows patients to interact with healthcare providers from their device from wherever they are in the world. When the Covid-19 pandemic hit in early 2020, the usage of telehealth surged as consumers and providers sought remote ways to deliver healthcare and solutions. Due to its convenience and improved access to patients in isolated areas telehealth looks set to stay, and the global telehealth market size is projected to reach $559 billion by 2027.
2. Virtual reality
Virtual reality, also known as VR, was just a futuristic concept for the entertainment industry a decade ago. Now it is leading the digital transformation in healthcare.
VR is used to treat and manage a plethora of psychological and physical conditions, including stress, anxiety, autism, dementia, amblyopia, and chronic pain. VR's unique ability to transport you somewhere else can be used to create powerful simulations of the scenarios in which psychological difficulties occur. No longer does a therapist need to attempt to recreate situations, such as flying in an aeroplane, which may cause extreme anxiety.
VR's healing capabilities are not just limited to psychological issues but have been proved to work for pain management & physical treatment too. Many clinical studies have shown VR can be effective for pain management by changing the patients' thoughts and perceptions around pain.
Another use for VR in treatment is in robotic surgery. Robotic surgery is a recent innovation in which surgery is performed using a robotic device which is operated by a surgeon. Using VR in robotic surgery means fewer risks of complications during surgery and a faster procedure.
Additionally, virtual reality has greatly improved the training processes for surgeons, as it allows you to be transported into the human body. It also improves patients' understanding of their diagnosis or treatment as they can be taken through their surgical plan by virtually stepping into a patient-specific 360° VR reconstruction of their anatomy & pathology.
Looking ahead, the potential of virtual reality is huge, and going forward it will be used increasingly in healthcare practices to improve the accuracy and effectiveness of medical procedures. It is still early days for VR but its focus areas for development include preventive healthcare, rehabilitation, assistive living, cancer therapy, and surgery.
3. IoT devices
The emergence of IoT (internet of things) enabled devices has made it possible for healthcare providers to remotely monitor their patients and make informed recommendations accordingly. IoT medical devices are being used to manage a wide range of conditions and processes from remote temperature monitoring for vaccines, to medication refill reminder technology and to drug effectiveness tracking.
By leveraging the IoT-enabled wearables and home monitoring equipment, physicians can track and monitor their patients and use the insights gathered to get them on the best treatment plan quicker than ever before. This is particularly helpful when treating patients with chronic conditions such as Parkinson's disease. In order to treat Parkinson's patients most effectively, healthcare providers must be able to assess how the severity of their symptoms fluctuate through the day. IoT sensors promise to make this task much easier, by continuously collecting data about Parkinson's symptoms and giving patients the freedom to go about their lives in their own homes, instead of having to visit hospitals for extended periods of time for observation.
IoT technology has also been seen as extremely beneficial to public health and has helped to contain the spread of Covid-19. Throughout the Covid-19 pandemic, experts have stressed the importance of mass testing as each infected person is estimated to pass the disease on to 2-3 people. These results become data that can be available in real-time to people who have been in contact with the infected person and are at risk, helping to control the risk of a mass outbreak with fewer secondary transmissions occurring.
Researchers are just starting to scratch the surface when it comes to IoT in healthcare and devices are getting smarter with innovative technologies such as connected contact lenses, ingestible sensors, and connected inhalers becoming available. The future of healthcare IoT is sure to bring even greater advancements that further simplify the medical profession for not just healthcare providers but also for patients.
4. Wearable devices
Wearables are driving a more patient-focused and preventative approach to healthcare. Reducing inefficient healthcare practices through real-time monitoring, wearables provide opportunities for personalised treatment for patients, lowering costs and improving care access and quality.
The Fitbit, which was first released in 2009 as a wireless clip-on device, was one of the first activity trackers to attract mainstream attention. Since then, wearables have come a long way and can now measure most bodily functions from heart rate, to temperature, to blood pressure and can even perform ECGs.
In recent years, wearable technology has quickly woven itself into society and smartwatches are now seen as mainstream, and their popularity shows no signs of slowing down. Wearables are rapidly evolving all the way from disposable tattoos that can check a patient's temperature, monitor muscle responses, and test the pH balance of sweat, to nano-noses that can detect molecules in the breath that could be a sign of cancer, metabolic disease or an infectious disease.
A growing demand for wearables has generated a booming market and now many start-ups are working to find the next breakthrough to improve health. Elon Musk's start-up, Neuralink, is currently working on an implantable device that can be embedded within your brain. Neuralink believes the medical uses of its brain-computer interface could be game-changing. Potential applications could include amputees regaining mobility with prosthetics, or treating spinal cord injuries, as well as aiding vision, hearing and other sensory issues. However, Neuralink is yet to receive FDA approval for human trials but in April 2021, the FDA authorised the first device falling under the brain-computer interface (BCI) category, a robotic wearable called IpsiHand developed by Washington University start-up Neurolutions.
5. Big data
Big data analytics is no doubt driving significant transformations in various sectors, the healthcare industry being one of them. Life science companies are keen to invest in a better way to organise their data and big data brings a host of benefits, including reducing the rate of medication errors through patient record analysis. It is also able to flag inconsistencies between the drugs prescribed and the patients' health condition.
Furthermore, big data can generate accurate hospital admission estimates and can be helpful for gaging staff rates, which not only saves money but also reduces wait times for patients. The growing adoption of big data in healthcare is expected to revolutionize the industry and the global big data in healthcare market is forecasted to be worth $78 billion by 2027.
6. Artificial Intelligence
The potential of artificial intelligence enabled machines to read and comprehend data like humans can, has opened a wide range of opportunities for medical scientists, healthcare professionals and clinical practitioners that was previously unavailable or unrecognised.
AI has greatly advanced areas such as medical imaging, genomics, precision medicine, and drug discovery and the healthcare artificial intelligence-powered tools market is forecast to exceed $34 billion by 2025, thanks to big players in tech, such as Google and Amazon, who have made significant investment into developing the technology.
Google Health, which was launched in 2006, is exploring the use of artificial intelligence to assist in diagnosing cancer, predicting patient outcomes, preventing blindness and much more. An example of this is how the platform is improving access to skin disease information. Through the use of AI and Google image search, they are in the process of developing a tool that allows users to identify problems with their skin by submitting a photo.
After acquiring PillPack in 2018, Amazon began making big waves in healthcare by launching Amazon Pharmacy. Shortly after, Amazon paved the way for virtual assistant Alexa, which uses AI techniques, to be used in healthcare. Dr. A.I., powered by HealthTap, is an Alexa application that uses the expertise of over 107,000 doctors to diagnose the user, based on their age, gender, symptoms, and other factors. Once the user is given a diagnosis, the app cannot provide a prescription but will offer to sell them OTC medicines, such as painkillers, through Amazon Pharmacy. Alexa is also being used to remind users to take their medication, to give them live information about their hospital and much more.
7. Blockchain technology
Blockchain technology can be used to increase security, protect privacy, and promote the interoperability of health data. Healthcare systems across the world are struggling with the problem of an incomplete view of patients' medical histories. Blockchain provides a solution to this problem and also keeps records safe. A blockchain-based system allows medical records to be linked into existing electronic medical record software and provides a complete view of a patient's records. To keep it secure, the actual patient data does not go on the blockchain, but each new record that is added to the blockchain is coded and can only be accessed by the person who owns the data.
Blockchain is also being used to support supply chains and to confirm the authenticity of medical supplies. By using a blockchain-based system, each item is tracked from the manufacturing point, so customers have full transparency of the medical goods they are buying, which is particularly important in developing markets where counterfeit prescription medicines are extremely dangerous.
The healthcare and pharmaceutical industries are supporting blockchains efficiency by investing in this market. According to a recent report, the blockchain technology market in healthcare was worth $129 million in 2020 and is further projected to reach $4.72 billion by 2027.
Found this blog interesting? Find out more about the latest healthcare trends by following us
LinkedIn
and
YouTube
.