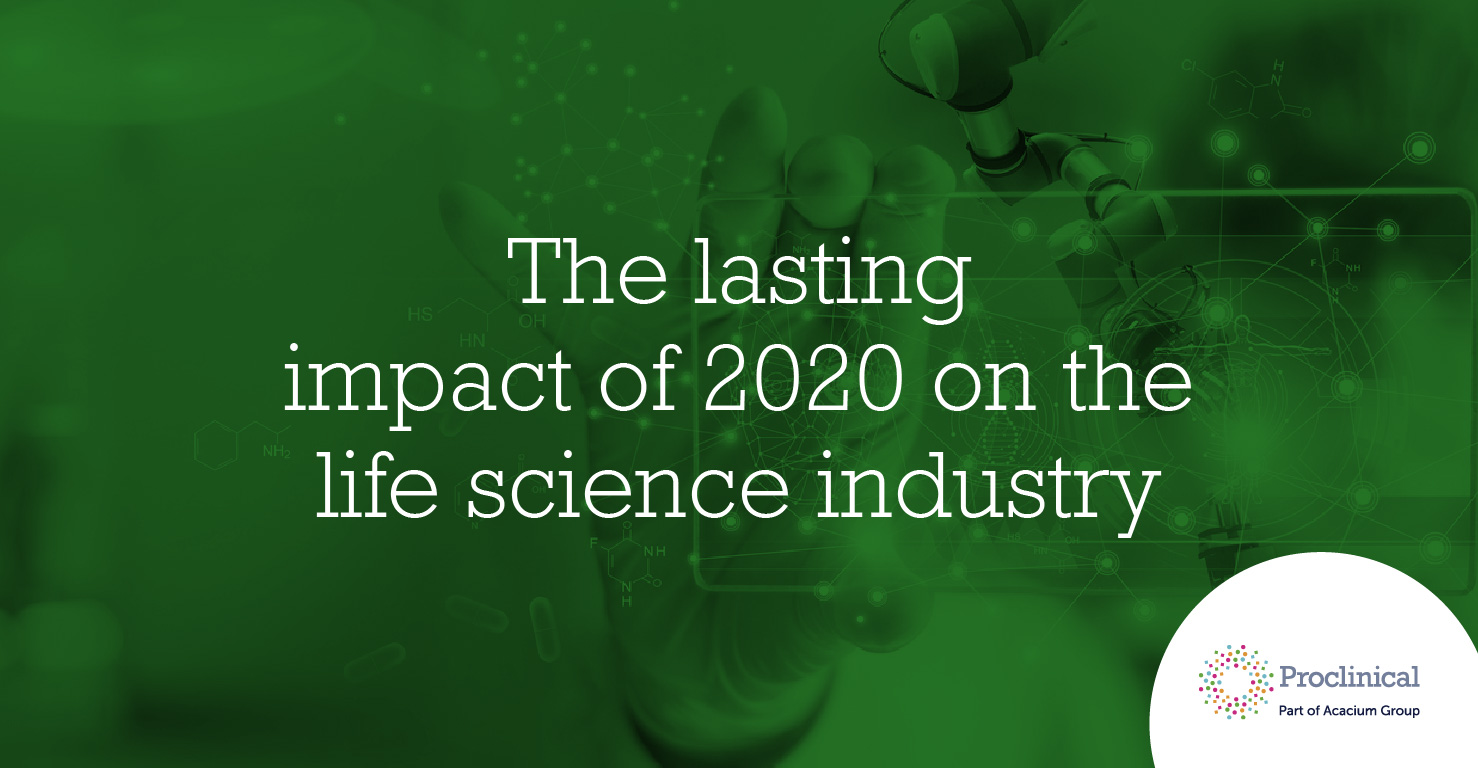 As the world celebrated the dawn of a new decade, scientists in Wuhan, China were investigating the cause of an unexpected pneumonia outbreak. At the beginning of 2020, few could have foreseen what would unravel over the following twelve months. The response from the life science industry to the Covid-19 pandemic has been remarkable, adapting to extremely challenging conditions while stepping-up their efforts with a matter of urgency like never before. Here we reflect on the events of the last year and consider their lasting impact on the life science industry in 2021 and beyond.
Digital transformation
The outbreak of Covid-19 sparked a mass movement to digital systems, and in 2021 this will continue to become increasingly popular, accelerating the growth of telemedicine as the future of healthcare. From drug discovery and development through to manufacturing, conducting virtual clinical trials and patient treatment, technology will create new opportunities at every stage of the healthcare process.
To stop the spread of the virus in workplaces, businesses across the world had to adapt to a new way of managing their workforce remotely. For the life sciences industry, many companies were highly responsive and agile in their practices. This included redeploying many medical professionals to focus on meeting demands of the fight against Covid-19. Numerous trial innovations were widely adopted to facilitate a safer way of working, including in-home nurse visits, telemedicine for trial visits, and digital tools for remote monitoring.
Having been made to work from home, many people have experienced a work/life balance never before attainable – and are likely to want to maintain this flexibility. Life science professionals seeking new roles are likely to view home-working as standard rather than a perk. This shift towards working from home is largely seen to be beneficial, as the vast majority of employees enjoy and feel they are productive working remotely. According to a FlexJobs' survey, 95% of respondents say that their productivity is higher or the same when working from home.
With the demand for Covid-19 research, many pharmaceutical and medical device companies needed to quickly scale-up their workforce. Recruiters and life sciences companies had no choice but to embrace connecting with candidates through online tools, conducting video interviews and assessments remotely. Meeting candidates face to face is preferable for many employers but hiring someone remotely opens up the talent pool and gives employers access to a wider range of candidates, so going forward, digital methods of recruitment will likely be here to stay.
mRNA vaccines
When the pandemic unfolded, researchers from companies and universities around the globe were committed to speedily finding an effective vaccine. For over 30 years, various pharma companies have been researching and working to develop a simpler way of creating effective vaccines, that relied on the principle of understanding the exact structure of the mRNA. Once scientist had determined the structure of all of its genes, including the genes that make the spike protein, experts across the world were able to work on the design of an mRNA vaccine.
In November 2020, several organizations announced positive results from interim analyses of their Phase III vaccine trials and in early December, the UK became the first country in the world to approve the Pfizer/BioNTech vaccine, with the first doses were administered to patients just days later.
Rolling out a vaccine in just a matter of months is one of the biggest achievements for the life sciences industry in history. Pharma companies had to not just research ways of treating a novel disease but also manage complex supply chains, contend with new models for engagement with healthcare professionals, manage remote workforces, and deal with the disruption to many clinical trials.
After the success of developing vaccines for Covid-19, mRNA now represents a promising alternative to traditional vaccines. mRNA vaccines are now being tested for treating other infectious diseases such as Ebola and influenza. Cancer cells also make proteins that can be targeted by mRNA vaccines and it is thought that the technology could produce proteins missing in diseases like cystic fibrosis.
Impact on other therapy areas

As well as delivering solutions for the Covid-19 pandemic, the life science industry also celebrated various other wins. The number of drug approvals coming from the FDA showed no signs of slowing down in 2020, with 49 novel drugs approved, among them a record number of oncology drugs. Notable approvals included; Tepezza, the first and only approved treatment for thyroid eye disease, Zeposia, a treatment for adults with relapsing forms of multiple sclerosis and Trodelvy, an antibody-drug conjugate for metastatic triple-negative breast cancer.
However, pausing life science research elsewhere to focus on dealing with Covid-19 has impacted funding and resources for many other projects in the pipeline. This is likely to affect the number of FDA drug approvals in 2021 and means patients suffering with various conditions may have to wait longer than hoped for life-changing solutions. Although it is widely thought that in the long-term, lessons learned from research during this pandemic could benefit the life sciences industry worldwide beyond the pandemic.
Overall, the Covid-19 pandemic looks like it will continue to cause more uncertainty and challenges for the world this year. However, the life science industry remains strong and continues to focus on meeting the unmet needs of patients and combating all Covid-19.
Want to find out more about challenges and opportunities in the life sciences industry? Follow us LinkedIn and YouTube to keep up-to-date with the latest trends.