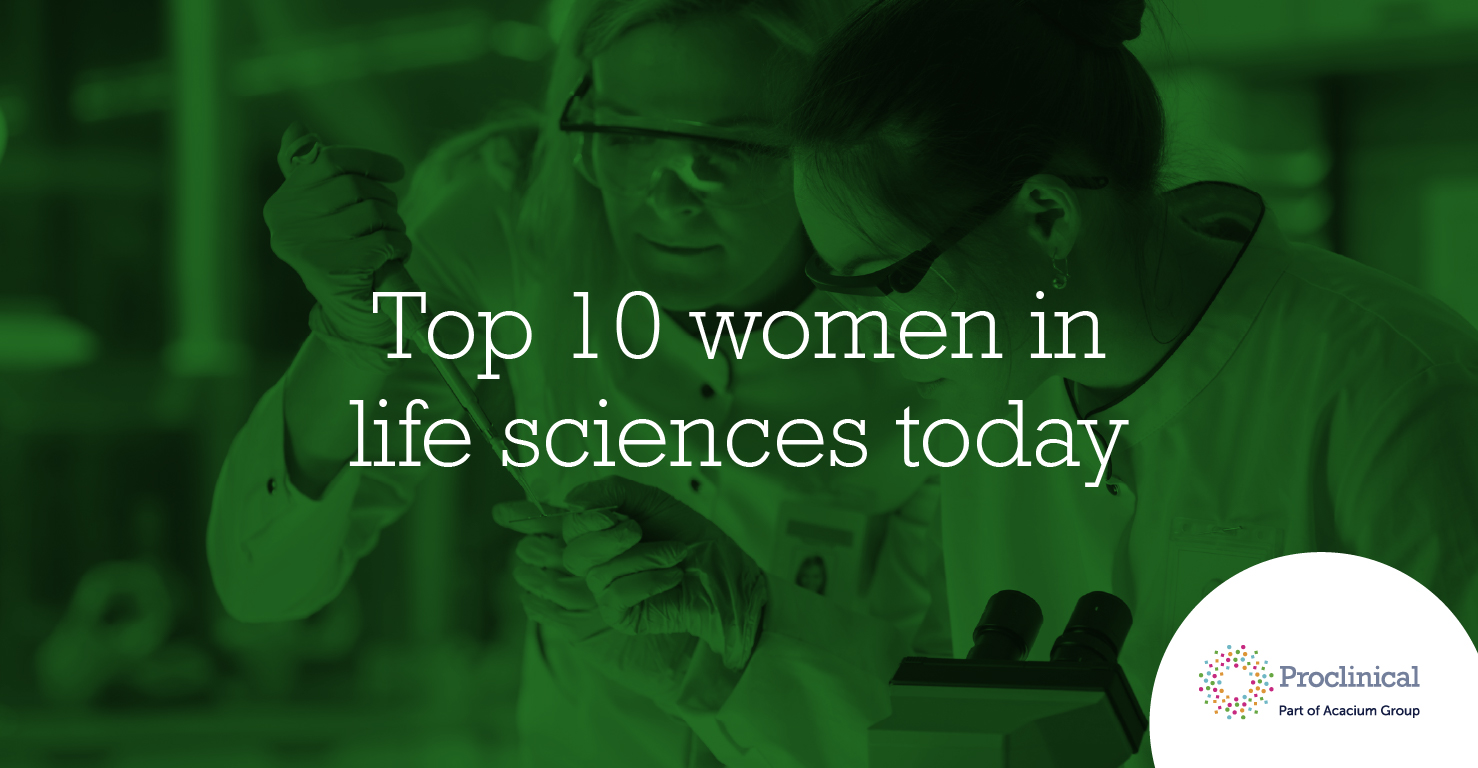 Updated: March 2023
Throughout history, women have made significant contributions to medicine and we have benefitted from many incredible discoveries by female scientists. Famous examples include Marie Curie's discovery of radium which led to the development of the x-ray, and Rosalind Franklin's crucial work on understanding the molecular structures of DNA. But what about the women who are changing the world of life sciences today?
From epidemiology to CRISPR, influential female scientists are leading pioneering work in developing breakthroughs for the future of healthcare. Talented female life science leaders are continuing to emerge in the most prominent spaces within the industry; some are running global pharma companies while others are founding innovative start-ups. But all are tackling today's biggest opportunities and challenges in life sciences head on.
Here are just ten of the most powerful women making strides in life sciences today:
Women researchers in life sciences
Cynthia Kenyon
What if we could discover a way to extend human life? Biochemist Cynthia Kenyon, who specialises in the genetics of aging and life extension, has shown this could be possible.
Kenyon is best known for her breakthrough in discovering that there is a universal hormone-signalling pathway that influences how two very important genes work: reducing insulin production and boosting repair and renovation activities.
Kenyon's research has completely transformed our understanding of ageing, with her insights shedding light on the part that genetics play in age-related disease such as cancer and heart failure, "The link between ageing and age-related disease suggests an entirely new way to combat many diseases all at once; namely, by going after their greatest risk factor: ageing itself."
These discoveries came over three decades ago. Now she works with Google's Calico Life Sciences, with the of extending the human lifespan by 100 years. They are harnessing advanced technologies to increase our understanding of the biology that controls lifespan, and to develop interventions that slow aging, counteract age-related disease and enable people to lead longer and healthier lives.
Jennifer Doudna & Emmanuelle Charpentier
The partnership between Jennifer Doudna, Californian biochemist and French microbiologist Emmanuelle Charpentier has led to the discovery of a ground-breaking gene engineering tool known as CRISPR-Cas9. The two women met at a conference in Puerto Rico where they experienced an "electrifying' moment where they realised that what they were working on, the mysterious Cas9 enzyme, was something really special. After years of collaboration, their work showed that CRISPR-Cas9 could be used to edit bacterial DNA, which has the potential to eradicate previously incurable diseases, such as those caused by genetics and rare mutations. The technology gives scientists the power to remove or add genetic material.
As promising as this technology is, there are a few obstacles to overcome before its true potential can be revealed. For example, there is some debate over the ethics and societal implications of gene editing and where it could lead mankind in the future.
In 2020, Emmanuelle Charpentier and Jennifer Doudna, were awarded the ultimate science prize for their breakthrough research on CRISPR technology and became the sixth and seventh women in history to win the Nobel Prize in Chemistry.
Nina Tardon
Nina Tandon is an American biomedical engineer who is co-founder and CEO of the world's first company that grows living human bones for skeletal reconstruction – EpiBone. After choosing to specialise in biomedical engineering, Tandon began her work on using stem cells and electrical signals to help patients 'grow their own bone' in cases where they have suffered serious injuries and need a bone graft to replace missing pieces of bone.
Previously, the options available to these patients was to insert bone from a deceased person or to take it from another part of their body; both options carried risk of rejection, disease and infection as each body reacts differently to the treatment. Tandon's unique medical technology creates personalised bone grafts that offers improved bone formation and regeneration, a simplified surgical procedure, quicker recovery time and no risk of foreign implantation complications. The work of EpiBone could help as many as 900,000 patients who have bone-related surgery every year.
Tandon believes that the technology can be taken further in the future, with pluripotent stem cells making models of patients' organs that can be used to test drugs and treatments, which could result in a whole new era of personalised medicine.
Virginia Man-Yee Lee
As director of the Center for Neurodegenerative Disease Research (CNDR) at Penn, Lee studies the role of different proteins in various neurodegenerative disorders of aging. Over her career she has authored more than 1,000 research publications and has also been cited in nearly 200,000 articles by others.
One of her great accomplishments, has been the discovery of TDP-43, a protein that binds to DNA and can be harmful when built up in the brain.
Virginia has been recognised for work studying underlying mechanisms of neurodegenerative diseases received many academic honors, notably the Breakthrough Prize in Life Sciences. Most recently Research.com ranked her among the world's top 100 scientists and the number 2 female scientist.
Women leaders in life sciences

Alice Zhang – Co-founder and CEO at Verge Genomics
Alice Zhang, CEO & Co-founder of biotech Verge Genomics, is a leader in AI-Driven Drug Discovery. Before founding Verge Gemonics, Zhang had no experience in an executive position. However, her inexperience hasn't held her back as she has become one of the few women under the age of 35 to helm a biotech and raise significant venture capital—more than $134 million.
Zhang trained at the University of California, Los Angeles to become a physician-scientist. While she enjoyed helping patients, she felt her large-scale impact would ultimately be limited as a doctor, but felt that the research she was doing—coding algorithms using human genomics to find new drugs—held profound potential. In 2015, Zhang co-founded the biotech, which uses AI and genetic analyses of large and complex human tissues taken directly from affected patients. The 2022 Fierce 15 winner aims to jump from drug discovery to a full-fledged neuroscience biotech, and the first drug discovered by CONVERGE, VRG50635, which has entered the clinic for amyotrophic lateral sclerosis (ALS).
She has been named on both Fortune's 2022 40 Under 40 list of rising business influencers and in Fierce Biotech's list of the 2022 Fiercest Women in Life Sciences.
Dame Emma Walmsley - CEO at GSK
Hailed not only one of the most powerful women in the pharmaceutical industry but also among the most successful business women in the UK, Emma Walmsley has made an incredible jump from the head of GSK Consumer Care to being appointed the company's Chief Executive Officer in early 2017.
Since then, Walmsley has embarked on a dramatic shake-up of the company. Including the demerger of the company's consumer health division, which became Haleon in 2022. Despite initial reservations, the strategy is paying off and she has managed to breathe new life into the business by taking calculated risks.
Walmsley's success in the pharma industry is even more impressive as she doesn't come from a scientific background, instead gathering her remarkable skillset from the various marketing and general management roles undertaken during her 17-year career at L'Oreal.
In 2020, Walmsley was appointed Dame Commander of the Order of the British Empire (DBE) in the 2020 Birthday Honours for her contribution to pharmaceutical industry and business.

Dr. Reshma Kewalramani – CEO at Vertex Pharmaceuticals
In 2020, Dr. Reshma Kewalramani made history when she became the first female CEO of a large biotech company, Vertex Pharmaceuticals.
Dr. Kewalramani has dedicated her career to improving the lives of patients, including the last 15+ years through the development of new medicines.  After spending 12 years at Amgen, Kewalramani joined Vertex in 2017 as its Senior Vice President of late development before succeeding then-Chief Medical Officer in 2018. That year, Vertex scored expanded approvals for its cystic fibrosis drugs Orkambi and Symdeko. In 2019, the FDA approved Trikafta, that is expected to extend and improve the quality of live for cystic fibrosis patients. Since being under her leadership, Vertex has partnered with CRISPR Therapeutics to develop gene-editing therapies for the treatment of sickle cell disease and beta thalassemia.
As well as making a difference to patients' lives, Reshma is passionate about developing and supporting the future leaders in life sciences and serving as a member of the board of directors of the Biomedical Science Careers Program, an organization dedicated to supporting underrepresented students to pursue a career in STEM.
Anglea Hwang – Group President at Pfizer
Angela Hwang is Chief Commercial Officer and President of the Pfizer Biopharmaceuticals Group. Her organization of 26,000 colleagues across 125 countries is responsible for bringing over 600 innovative medicines and products to patients and generating 80% of Pfizer's revenue.
Hwang has become a fixture on lists recognizing the most influential women in the life sciences industry and beyond. She has ranked among the top 20 on Fortune's list of the Most Powerful Women in Business for three straight years. She was No. 11 on Forbes CEO Next list last year and is among Modern Healthcare's Top 25 Women Leaders in 2021.

Hwang played a pivotal role in influencing the planning of the logistics for Pfizer's Covid-19 vaccine efforts, such as how to keep it at the right temperature and how to transport it. Hwang is also at the centre of the direct-to-consumer campaign which is aimed to instil confidence in the Covid vaccine.
Not only has she made a large impact to global health, but she is also passionate about creating a level playing field for people, and leads conversation around diversity. In 2019, Hwang launched the "Women Inspiring Women" leadership program at Pfizer, designed to accelerate the careers of its members, who also pledge to mentor other women in and out of the company.

Belén Garijo - CEO of Merck
Belén Garijo joined Merck in 2011 after previously working for Sanofi. She was first Chief Operating Officer of the EMD Serono biopharma franchise at the German drugmaker before moving up the ranks in 2015 to become CEO of the then-overarching healthcare department. Under her leadership, Healthcare at Merck has become a key player in the area of oncology, immunology and immuno-oncology, after the profound repositioning of the portfolio, the transformation of R&D and the alteration of the commercial model.
Belén Garijo, joined Emma Walmsley's small club in 2021, when she became the second female CEO of a Big Pharma company, Merck KGaA. Under her leadership, Merck has defined its strategic ambition to become the global 21st century science and technology pioneer and set its goal of €25 billion in Group sales by 2025.
In 2022, Belén Garijo was listed on the Top 30 of Fortune's Most Powerful Women list, and in the October she received the German Diversity Honorary Award by the BeyondGenderAgenda network, in recognition of her personal commitment to diversity, equity and inclusion.