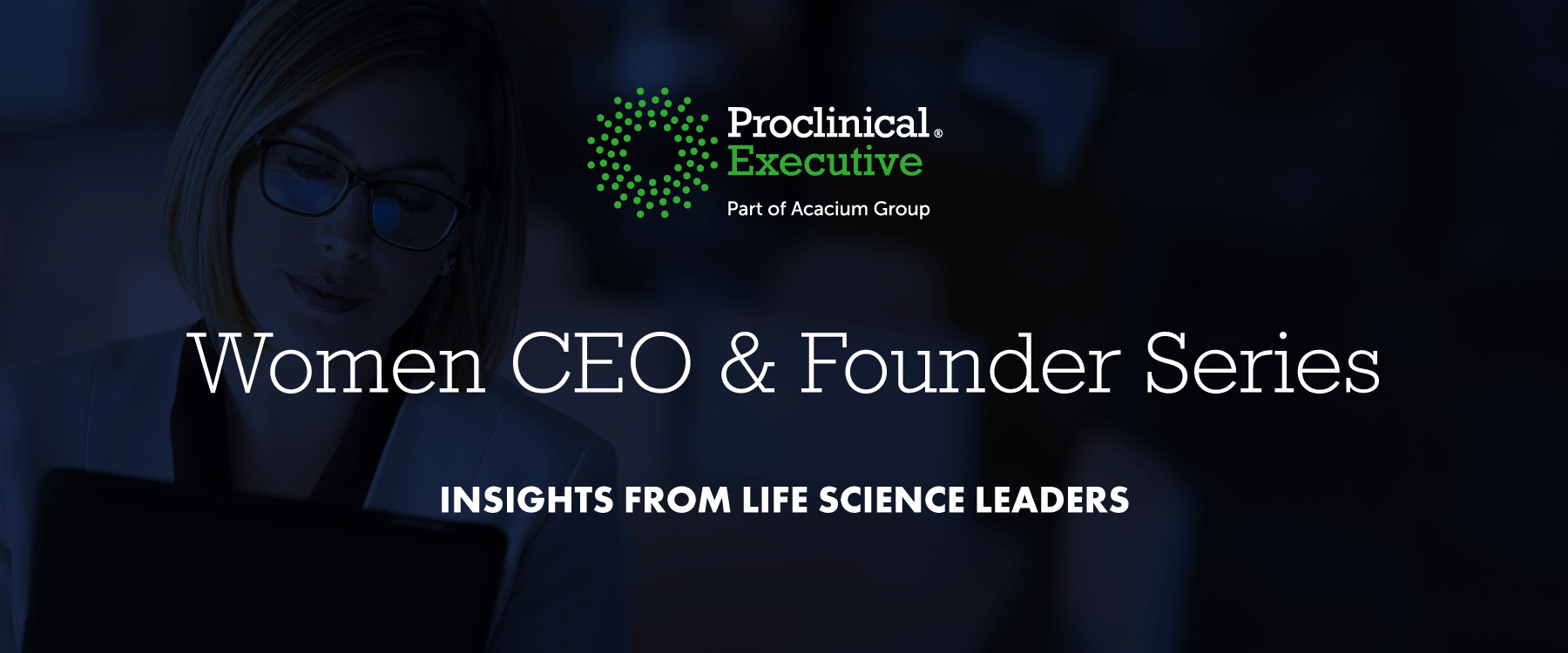 It's no secret that women have historically faced greater barriers than men when it comes to becoming leaders in our society. Even though this situation is improving, and women are slowly becoming more visible in management roles, there is still a long way to go.
Women may not always realise their potential, but once they are empowered, their capability and abilities are invaluable. Female leaders are so pivotal to all businesses and establishments as they provide a different set of skills, creative perspectives, and important cultural differences that drive effective solutions and innovation.
In our four-part series, hosted by Proclinical Executive Senior Partner, Claire Perry, we hear from inspiring female founders and CEOs from the life sciences industry, who share their journey to becoming a leader and advise others wanting to step into executive roles.
Part 1: How to reframe your thinking to overcome self-doubt
ANGELA CUNNINGHAM – MENTOR OF FEMALE EXECUTIVES

In the first part of our women CEOs and founders series we hear from Angela Cunningham, a mentor for female executives, about empowering women in the workplace, and overcoming self-doubt and imposter syndrome in leadership.
Angela and Claire discuss the following topics:
Why women struggle to talk about their achievements
How to identify achievements
Overcoming feelings of ineptitude
Mentoring female leaders
Why mentorship is important
Part 2: Network your way to the boardroom (never eat alone)
MINI SURI – CEO AT VELMENI

In the second part of the series, Mini Suri, who is the CEO and co-founder of Velmeni, talks about the importance of networking and how to prepare to become a CEO.
In this conversation, you'll hear about:
How to overcome challenges as a woman in the workplace
The power of networking
Gaining and highlighting IPO experience
Preparing to become a board member
Advice for first-time CEOs
Implementing women empowerment programs
Empowering the next generation
Part 3: How to set up your life sciences business for a successful IPO
BONNIE ANDERSON – CO-FOUNDER & EXECUTIVE CHAIRWOMAN AT VERACYTE

In the third installment, Bonnie Anderson, founder and Executive Chairwoman at Veracyte, a global diagnostics company, opens up about what it takes to start and run a successful business, what executive-level women in the workplace can do to support the next generation of female leaders, and much more.
Topics discussed in part 3 include:
Establishing a company in an economic crisis
Challenges of starting a business
When to go public through IPO
How running a public company differs from running a private company
Valuable lessons in running a successful profitable business
Advice for securing your first board position
Supporting the next generation of female leaders
Part 4: How culture is crucial to a successful exit through acquisition
MEGAN BAILEY – CEO OF PERSONAL GENOME DIAGNOSTICS (PGDx)

In the final part of our series, Megan Bailey, CEO of Personal Genome Diagnostics (PGDx), shares her insights on company culture, how she created an environment for success, and the crucial role that played in PGDx's recent acquisition by Labcorp.
Join the conversation with Megan and Claire to learn more about:
Key components that make a life science business attractive for acquisition
Learnings from a journey to becoming CEO
Leadership principles for a great business culture
Presenting your experience to become a board member
Applying an athletic mindset in business
Supporting the next generation of female leaders
Enjoyed our Women CEO & founder series?
Head to our
life science leadership hub
to find even more insights and resources to improve your effectiveness and grow in your leadership career.