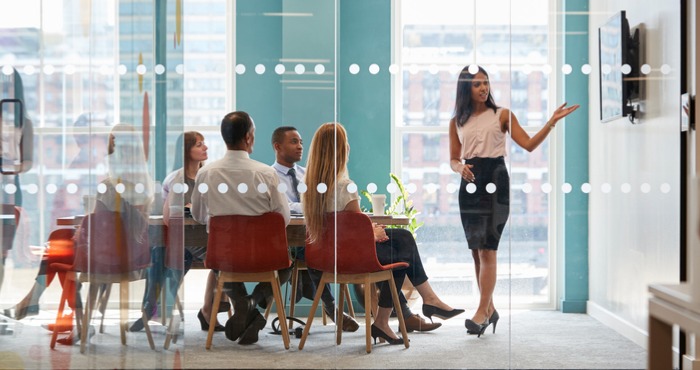 Great leadership skills are vitally important to keeping life science companies thriving as mangers have, in a variety of ways, the ability to influence the design, development and distribution of products that have a huge impact on patients' lives. Moving into a management role requires not only a step-up in responsibility but a complete shift in behaviour and mindset. People do not become leaders overnight, instead they must devote time and commitment to learning how to motivate, inspire and innovate. Here are a few of the most fundamental ways to improve your leadership skills:
Practise discretion
Learning how to practise discretion at work is a staple leadership quality. This is a varied skill that involves being diplomatic, cautious and using common sense when dealing with confidential information or sensitive situations in the workplace. It also means improving your sense of judgement, knowing how to handle difficult office politics and avoiding damaging behaviours such as gossiping. Leaders must be able to maintain a moral high-ground as this will help you gain respect from your team and others in the company.
Know when to delegate
Knowing when to take charge and when to delegate tasks to your team can be a challenge at first, but it's an important leadership skill. There is a lot of evidence to suggest that delegating responsibilities is beneficial to both manager and employee, yet there is often reluctance to relinquish control. Some managers are afraid the work won't be done to a high enough standard and that they can do a better job themselves.
However, delegating tasks to an employee is an useful tool in their training and development, and helps to empower them with the confidence you have put in their abilities. True leaders should always be asking; "Could someone else be doing this?" or "Would it benefit someone in my team to learn how to do this?" However, be sure to provide them with the training, guidance and feedback they need to solidify the new skills they are learning.
Learn how to motivate your team
Another important step in developing your leadership skills is learning to motivate your team to be as productive and committed as possible. Some arguments suggest that monetary incentives are not as effective as they used to be, leaving a lot of onus on managers to look for different ways to stimulate and inspire employees. Leaders should always recognise the efforts and achievements of their staff, and ensure they understand how their work contributes to team, department and wider company goals. This is important as many professionals choose to work in the life science industry because of the sense of purpose it brings. Proclinical can offer more advice on how to improve your motivation skills to lead a productive team.
Focus more on soft skills
While your technical abilities are vital to your role as a manager, particularly within life science companies that rely on highly skilled employees to sustain innovation, becoming a leader also demands a whole new type of skill set - known as 'soft' skills. In fact, this could be one of the more significant shifts you'll experience when moving into a leadership role, and your ability to master these skills will set you apart from other leaders.
Soft skills are so important because they revolve around the ability to communicate and engage effectively with people inside and outside of the organisation, which can have a big impact on how influential you are as a leader. These skills are wide ranging and transferable for use in several different activities, tasks and situations at work. Examples include becoming a more effective communicator and listener, improving critical thinking and problem-solving skills, and mastering more difficult aspects such as conflict resolution and giving constructive feedback.
Adapt your mindset
Improving your leadership skills also requires adapting your mindset, from being led to leading. Developing as a leader is marked by a shift of focus from yourself to putting the company, patients and wider industry at the heart of the decisions you make. It's likely you now have more opportunity to influence strategy. It's also about setting yourself higher standards and making a mental commitment to adhere strictly to quality requirements, which is vital to ensure patients receive the safest and most effective medical products possible.
Continue learning
Moving into a leadership position is a significant milestone in your career. However, successful leaders understand that there is always more to learn, that developing a strong leadership style is a continuous process. As new technology and trends develop, leaders must be able to react and adapt to the tide of change. This is hugely important to help keep life science companies as relevant, innovative and high-tech as possible to maximise the benefit to patients.
Talent-spotting
Paying attention to your continued professional growth is certainly a key aspect of being a great leader, but you must broaden your scope to enable the growth and ambition of employees in your team. Some managers may struggle not to feel threatened by a talented employee, yet true leaders will be keen to nurture those with potential. This skill will also benefit you as you slowly build your own team; being able to spot talent will not only make your team more successful, but contribute to the company's vision and goals.
Do you think you're ready for a leadership role? Proclinical has a number of management positions available at various leading life science companies globally. Simply upload your CV or apply directly online. Take the first step today to be one of tomorrow's leaders.