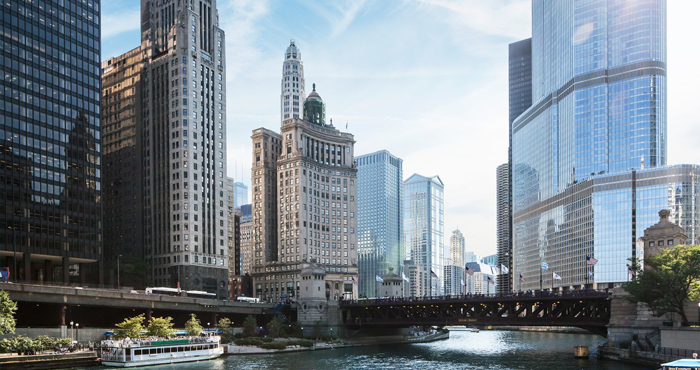 The MidWest is home to an array of flourishing pharmaceutical and biotechnology industries, and notably a rapidly growing medical device sector which is currently the second largest in the country. These are dotted across Illinois, Indiana, Michigan, Minnesota, Missouri, Nebraska, Ohio and Wisconsin, where 11 out of 34 of the largest biotech and pharma companies and 7/10 of the top 10 medical device companies have their headquarters. As well as being great cities to live in, the following locations are among the best for professionals looking for life science jobs in the Midwest USA:
Denver
Some might prefer to categorise Denver as the Mountain region or West, rather than MidWest, but technicalities aside, Colorado in general is a growing bioscience hub, with 84% of bioscience companies concentrated in its nine-county region across Metro Denver and Northern Colorado. Medical devices are the name of the game here with a weighting of 70% med device and diagnostics companies to 30% pharma and biotech. Even so, Denver was ranked 11th best biopharma cluster in the nation. The general region is home to many leading pharma, biotech and med device giants such as AstraZeneca, MedTronic and DePuy Synthes.
Denver sits at the base of the Rocky Mountains and provides ample opportunity for outdoor pursuits as well winter sports like skiing and snowboarding, made better with a majority of sunny days. The city is a great place to live thanks its eco-friendly, open-minded and relatively young population. It's also a great place to work for life science professionals. Since 2011, employment in the nine-county region has grown by an impressive 7.5% which is higher than the national average of 5.4%, and led to being ranked #10 in the country for employment in 2017. Currently, over 16,000 people are employed in approximately 730 life science companies.
The region is also making advances in its digital health subcluster, having been rated among the top 10 US cities for digital health funding, and is a leader in the development of Big Data and software technologies. For example, RXRevu is a Denver-based company that has developed a prescription decision-support tool which combines Big Data and artificial intelligence to revolutionise the drug prescription process.
Minneapolis
Life science activity has been rife in the Twin Cities of Minneapolis and St. Paul (MSP) for many years. The thriving economy and infrastructure have created a fertile environment in which innovative drugs and devices are continuously developing, and more recently, the industry is branching into bio-agriculture, biomaterials and biofuels. The MSP area may be a connected metropolis but each city offers a unique charm, with distinctive neighbourhoods, a historic atmosphere and various public parks dotted around.
The region is also fuelled by a high number of academic institutions such as the University of Minnesota and the Hormel Institute, which contribute to the area's concentration of highly educated life science professionals.
Minneapolis boasts an array of innovative biotechnology companies, making it a magnet for those wishing to work for companies that produce cell and gene therapies like CAR-T and CRISPR/Case9, some of the most advanced medical technologies today. Examples include StemoniX, Wilson Wolf Manufacturing and B-MoGen Biotechnologies.
For those looking for medical device jobs, the MSP area has a flourishing medical device and diagnostics industry. There's a great mix of mid-sized companies like Celcuity, Medivators and Nuvaira, and well known leaders such as MedTronic, Zimmer Biomet and Boston Scientific. The region also has an emerging cluster of tech companies, a big proportion of which is in the biotech and medical device sectors, with Forbes naming Minnesota the fastest growing state for tech jobs.
Indianapolis/Blo
omington
Indiana has a booming life science industry with most of this activity concentrated in the state capital, Indianapolis and nearby city Bloomington. In 2018, the state ranked 9th in the country for bioscience related patents and is the nation's orthopaedic capital. Indiana is also currently a leader in life science employment. With particularly rapid increases in the medical device sector with now employs over 17,000 people. The state average life science wage is $94,749.
As well as being a life science hub, the major city of Indianapolis is also a great place to live, well known for its famous sporting events and vibrant city that has a great mix of shops, public art, entertainment venues and restaurants.
Indianapolis along with Bloomington boast the majority share of Indiana's 1,700 pharma, biotech and med devices companies and 57,000 life science employees. Major life science players in the region include pharma giant Eli Lilly, one of the biggest CROs in the world, Covance and leading medical device companies Roche Diagnostics and De Puy Synthes.
BioCrossroads, a life science funding specialist based in Indianapolis, reports that start-up capital in the form of funding and investment hit a record high in 2017, including $107 million in venture funding that supported the development of 33 innovative start-ups. Research and development grow steadily each year, with 80 products gaining regulatory approval from the FDA in 2017.
Chicago

Chicago's is a one of the hottest pharmaceutical, biotechnology and medical device hubs in the USA. Set on the shores of Lake Michigan, the clean, wide streets and many picturesque parks make Chicago a wonderful city in which to live and work.
Must of the success of Chicago's life science's industry is thanks to its wealth of academic institutions such as the University of Chicago, the Northwestern University and the Illinois Institute of Technology (IIT), and various world-leading research labs. Within the last decade, life science employment in Chicago has increased by 13.5%, compared with the national average of 6.9%, and venture capital investment has jumped by 53%.
What makes this city such a magnet for life science professionals is its balance of global pharma and biotech companies like Amgen, Astellas Pharma, Takeda and AbbVie, and home-grown start-ups which have popped up as a result of the increased funding and various other growth drivers. In recent years, the city's medical device sector has grown at a steady pace, with a spike in medical device manufacturing jobs since 2006, which now employ around 18,000 people in the city and surrounding areas.
Chicago is a particularly attractive prospect for life science professionals looking to work in a lucrative biotechnology hub. The city is a leader in the biotech sector, with many companies and research centers choosing to set up headquarters in the area. In 2016 alone, the biotechnology sector provided 1,423 new jobs.
Fancy working in the thick of one of the fastest growing life science hubs in the Midwest? Proclinical's Chicago office has multiple new pharma, biotech and med device jobs available every day, at many of the industry leading and innovative life science companies mentioned here. Interested? Upload your CV today or get applying via our job board!