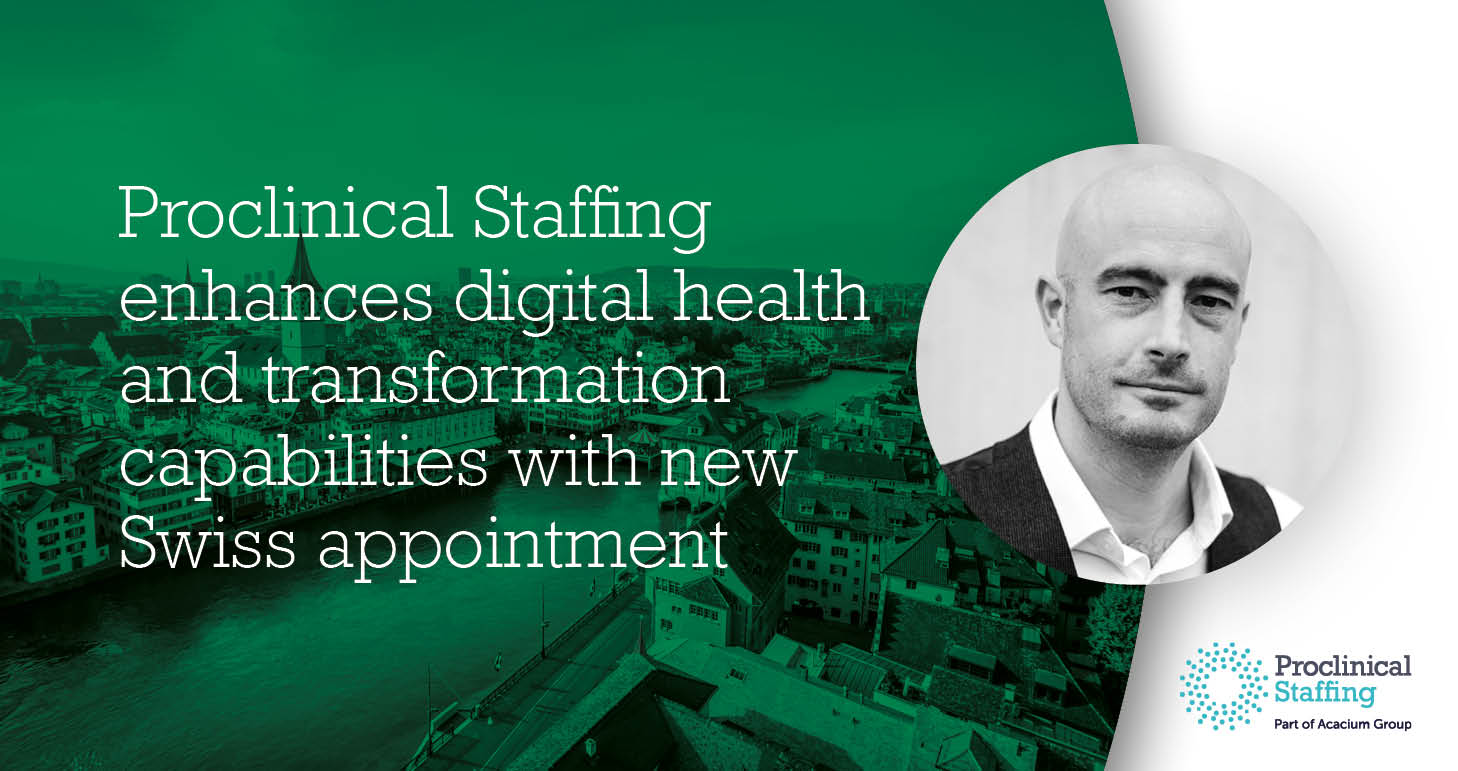 Expert life science recruitment company, Proclinical Staffing, has levelled up its digital health competencies by announcing the appointment of change and transformation recruitment specialist, Aaron Hadley. Hadley joins the company's Staffing team in Basel as Vice President of IT, Transformation and Digital Health. With over 15 years specialising in the interim recruitment industry, Aaron brings a wealth of invaluable experience in partnering with businesses to deliver their change agenda.
Proclinical's Switzerland Country Manager, John Bowler, commented "We are delighted to be able to welcome Aaron to the team, with his established track record in change and transformation management recruitment, we have every confidence in his ability to lead this drive towards digital health for Proclinical Staffing in Switzerland"
Aaron Hadley brings a great level of knowledge to the Swiss Staffing team from his time in the UK and Swiss markets. Most recently, Hadley was Director of Switzerland for Oliver James Associates where he supported the launch the new office and delivered a new business strategy covering recruitment in project management, testing, cybersecurity, and software development. Prior to that, Aaron served as an Associate Director at Investigo for 7 years, where he built out a team who specialised in the supply of interim and permanent project and change delivery professionals.
Aaron Hadley said "With their great reputation in the life sciences industry, I'm delighted to have joined Proclinical. I'm looking forward to building out digital health and technology capabilities and having the opportunity to support their high calibre of partners."
Hadley has built his career on establishing mutually beneficial relationships and is passionate about striving to find what people and businesses really need and implementing successful strategies to achieve it. With his fine-tuned expertise in business development; Hadley is well-versed in supporting partner's growth into existing markets and diversify into new areas, and is now expected to help Proclinical strengthen its digital health division in the Switzerland life sciences market.
Proclinical opened their doors in Basel Switzerland in 2015 to support the recruiting needs of a well-established life sciences market. Since then, Proclinical's presence in Switzerland has grown from strength to strength and in 2017 they were awarded the Swissstaffing seal of approval. Proclinical Staffing Switzerland recruits for specialist roles across the life science sector, including scientific, clinical research and regulatory affairs, and is looking to expand its digital health capabilities by onboarding industry experts to help drive growth for innovative companies in the region.
About Proclinical Staffing
At Proclinical Staffing, we extend an expert hand to help your organization grow; whether you're building-out for new projects and facilities, or if you simply don't have the time and resources to recruit internally for challenging vacancies that inhibit your productivity.