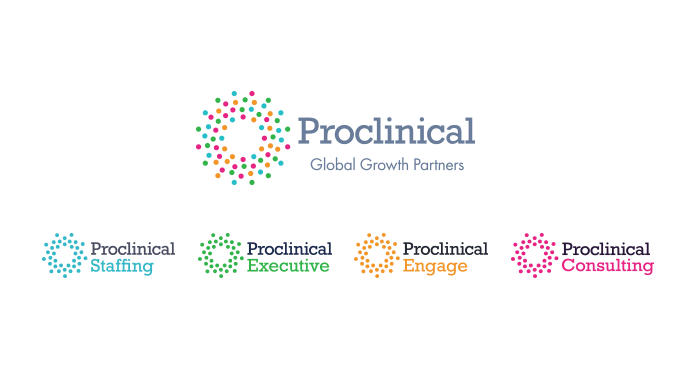 London, Thursday 8th August, 2019
Last week, life science specialist HR and consulting services provider, Proclinical, unveiled its bold new look to employees and partners globally. The company's new identity, featuring a colourful suite of endorsed offer brands, is a result of many years' growth and a quickly evolving range of services that had previously been underrepresented.
Better known for its rapidly expanding recruitment offering across the US, Europe and Asia-Pacific regions, in recent years Proclinical has been diversifying its range of services to include end-to-end consulting, project management and executive search. This has enabled them to better serve the increasing demand from companies in the growing industries of biotechnology, MedTech and medical devices across the globe.
These momentous changes led the life science specialists to embark on a journey to reassess and rejuvenate its core identity and purpose to align with its present and future. The company's suite of services are now identified as distinct sub-brands; Proclinical Staffing and Proclinical Executive still represent the company's well-established recruitment business, while emerging sub-brands Proclinical Engage and Proclinical Consulting mark its dedication to providing more in-depth, comprehensive solutions to some of their life science partners' biggest challenges.
To represent its complete offering to life science companies globally, the Proclinical Group purpose now proudly states: To help good life science partners grow.
Proclinical's Head of Marketing, Peter Hogg, explained, "The challenge was in containing our full business offering within a cohesive brand structure and articulating a clear message both internally and externally about who we are and what we do. Before entering the next stage of our growth, we felt that this required us to redefine our purpose, our proposition, our values and our brand architecture.
Whether we are consulting on a product launch, staffing a new international manufacturing facility or helping an individual to take the next step in their career, growth is the essence of why we do what we do, and partnerships embodies the way we do it – through focusing on long-term, collaborative relationships, based on expertise and understanding. It also highlights our position as enablers - dedicated to helping our partners work more efficiently so they have more space to grow, innovate and save lives.
The use of the word good is very deliberate and adds an ethical note to Proclinical's positioning that has always been there but was never truly celebrated. It nods to the company's commitment to be selective about partnering only with companies who we consider to be good employers, with good products and a good reputation."
Proclinical has created a re-brand overview illustrating their journey as well as a more detailed look into each of the individual sub-brands.
Proclinical helps to fuel the growth of the life sciences industry globally. Their staffing and consulting partnerships enable good companies to work better, so they can innovate and change lives. Proclinical offers their life science partners a range of services including strategic project management, executive search and specialist recruitment.