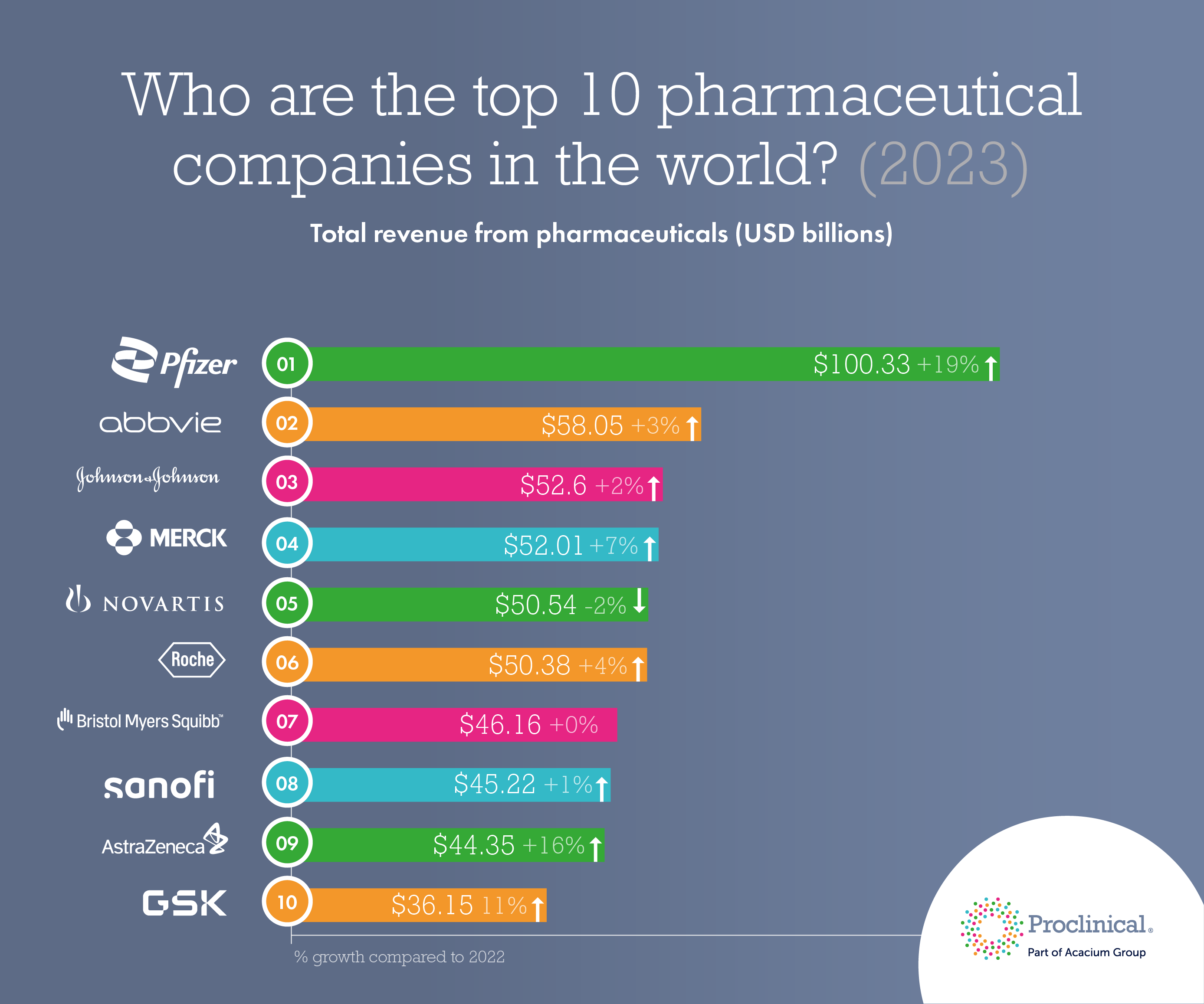 Who are the top 10 pharmaceutical companies in the world (2023)?
The pharmaceutical industry continues to grow rapidly and was valued at a remarkable US$1.48 trillion in 2022. Despite disruptions caused by the Covid-19 pandemic in recent years, pharmaceutical companies have remained agile. New medications are constantly being developed, approved and marketed, powering market growth.
The pharmaceutical market in 2022
In 2022, 37 new molecular entities were approved, a slowdown from 2021 when 42 drugs were given the green light, this was largely down to a more stringent criteria on approvals. However, non-NME and biosimilar approvals were up in 2022.
A number of drug patents expired in 2022, including Bristol Myers Squibb's Revlimid, Roche's Lucentis, and AbbVie's Restasis. The pharma industry in 2023 is set to face further shake-ups, many more blockbuster drugs from Johnson & Johnson, AbbVie, Roche and other companies are set to face their first generic or biosimilar competitors in the largest global pharma market, the US. As always, the patent expirations should create quite a disturbance for many of the top players.
Mergers and acquisitions (M&A) are also gradually changing the marketplace and some of the largest pharma companies have been strengthened through joining forces with or being bought out by other businesses. Heading into 2022, top pharma companies had $1.7 trillion of deals in the pipeline, but many of those didn't materialise, 2023 so far has also been lacklustre in terms of M&A activity too.
The below list of the top 10 biggest pharma companies in the world in 2023 is ranked by 2022 revenue for pharmaceutical sales only.
The top 10 pharmaceutical companies in the world in 2023

10. GSK US$36.15 (+11%)
UK-based multinational company, GlaxoSmithKline remains in tenth place. Formed by the merger of Glaxo Wellcome plc and SmithKline Beecham plc in 2000, GSK specialises in fields of pharmaceutical, biologics, vaccines and consumer healthcare.
In July 2022, GSK completed the demerger of the Consumer Healthcare business from the GSK Group to form the Haleon Group. A year on and the demerger has already started to pay dividends, allowing GSK to focus purely on biopharmaceuticals, prioritising investment towards the development of innovative vaccines and speciality medicines. In 2022, sales for the company's pharmaceuticals and vaccines segments added up to US$36.15mn, an increase of 11% YOY. Growth was driven by a solid performance across speciality medicines and vaccines, including record sales for the shingles vaccine, Shingrix.
Looking ahead, CEO Emma Walmsley is confident in their ability to deliver long-term sales ambition and growth through the next 10 years. As of the start of 2023, the company announced they had a strong pipeline of 69 vaccines and speciality medicines based on the science of the immune system, with 18 in phase III/registration. By June 2023, the FDA and European Medicines Agency approved GSK's Arexvy, the world's first respiratory syncytial virus (RSV) vaccine for older adults. Arexvy is tipped to be a blockbuster and is hoped to be as successful for the company as Shingrix.

9. AstraZeneca US$44.35 (+16%)
Headquartered in Cambridge, UK, AstraZeneca specialises in providing solutions for major disease areas, including oncology, cardiovascular, gastrointestinal, infection, neuroscience, respiratory and inflammation.
AstraZeneca acquired American pharma company, Alexion, in 2021 helping them to strengthen their rare disease portfolio. With the acquisition sinking in for a full year, in 2022 AstraZeneca's total full-year revenue surpassed an impressive $40 billion for the first time in the company's history. The company made excellent progress with a record 34 approvals in major markets, and also has some high potential medicines such as camizestrant and datopotamab in late-stage trials. For full year 2023, AstraZeneca expects to see another year of double-digit revenue growth (excluding Covid-19), as they continue to invest in their strong pipeline, with new launches boosting profitability.
The company's R&D success and revenue increase in 2022 demonstrates that they are on track to deliver solid revenue growth through to 2025 and beyond with the aim to deliver at least fifteen new medicines before the end of the decade.

8. Sanofi US$45.22 (+1%)
Over the last half century, Sanofi has grown into one of the world's leading healthcare companies and is the eighth largest pharmaceutical company in the world by revenue in 2023. Sanofi provides healthcare solutions to over 100 countries worldwide and has three core focuses: speciality care, vaccines, and general medicines.
In 2022, Sanofi's global sales totalled just under €43 billion ($45bn) up by 7% in euros from 2021, this was largely owing to healthy sales for Dupixent, eczema treatment. The FDA originally approved Dupixent in 2017 for atopic dermatitis, and recently it has been approved for new uses, including asthma and eosinophilic esophagitis, which has been powering sales. The company's vaccines portfolio also performed well and remained a key driver of growth.
The company launched a new brand identity in 2022, which kick-started a new long-term growth strategy for the business, with strong pipelines for innovative medicine in oncology, inflammation and immunology. Looking ahead, Sanofi plans to continue to invest in R&D to further strengthen their pipelines.
In the 2022 earnings report, CEO of Sanofi, Paul Hudson commented, "With ten consecutive quarters of growth, the progress we've made in the past three years speaks for itself. As we launch the next phase of our strategy, our continued commitment to investing in the science will be crucial to maintaining a steady-state cadence of first and best-in-class medicines."

7. Bristol-Myers Squibb US$46.16 (0%)
In seventh place in 2023 is global biopharma, Bristol-Myers Squibb. With a legacy in healthcare innovation dating back to the early 1800s, the company has made significant medical advances in oncology, hematology, immunology and cardiovascular disease.
Bristol-Myers Squibb's sales totalled US$46.2bn in 2022, consistent with prior year (-0.5%) or an increase of 3% when excluding foreign exchange. The slight drop in sales is largely owing to the loss of exclusivity for multiple myeloma treatment, Revlimid. Sales for Revlimid peaked at $12.8 billion in 2021 but dropped 22% to $10 billion last year and Bristol-Myers Squibb expects an even more significant decline in 2023. Despite losses for Revlimid, the company predicts revenue will increase in 2023 as it anticipates healthy growth from two of their blockbusters —Eliquis and Opdivo - as well as boosts from newly approved products.

6. Roche US$50.38 (+4%)
With over 125 years of history in medical innovation, Roche is at the forefront of oncology, immunology, infectious diseases, ophthalmology and neuroscience, and is split into two divisions: pharma and diagnostics. In 2022, the pharmaceutical segment accounted for 72% of their overall revenues, with sales of CHF45.6bn (US$50.38). Roche continued to be negatively impacted by continued declines for cancer drugs Rituxan, Herceptin and Avastin with more biosimilar competition. Roche also saw a decline for Covid-19 treatments, with sales for Actemra falling by a significant 22%. However, losses were offset by growth from some of Roche's best performers, including multiple sclerosis treatment Ocrevus, Hemophilia A drug Hemlibra and cancer immunotherapy, Tecentriq.
In early 2023, Roche announced a series of changes to the leadership team. Thomas Schinecker, Ph.D., became the new CEO as Severin Schwan rose to chairman; and Teresa Graham took over from Bill Anderson, who left to lead Bayer, as new Pharmaceuticals CEO.
Looking ahead, Severin Schwan commented in the earnings press release that Roche expects "solid underlying growth in both divisions, which will largely compensate for the further significant drop in sales of roughly CHF 5 billion in Covid-19 products," in 2023.

5. Novartis US$50.54 (-2%)
Just beating Roche into the top 5 is Swiss multinational pharmaceutical company, Novartis. For over a quarter of a millennium, Novartis has developed, manufactured and marketed breakthrough medicines. Now with presence in 155 countries across the world, the company focuses on innovative medicines, as well as generics and biosimilars.
2022 was a major year of transformation for Novartis, with the spin-off of Sandoz and the biosimilars division, the merger of their Oncology and Pharmaceuticals commercial organisations and the joining of forces of their manufacturing and services activities to form a new Operations organisation. This streamlining has all been carried out in a bid to further improve innovation capabilities and strengthen their position as a purely medicines focussed company, as they hone in on their efforts to become one of the top five drugmakers in the United States by 2027.
Full year revenues fell by 2%, but were up by 4% at constant currencies. A third of Innovative Medicines sales were down to the company's six key brands (Cosentyx, Entresto, Promacta/Revolade, Gilenya, Tasigna and Lucentis). Entresto, cardiovascular treatment, remained the company's star performer, with sales increasing by over 30% to $4,644 million. Generic competition had a negative impact on multiple sclerosis medicine, Gilenya, chronic iron overload tablet, Exjade, and immunosuppressant, Afinitor.
Commenting on 2022 results, Vas Narasimhan, CEO of Novartis, said "Novartis is on track to become a pure-play innovative medicines company, uniquely positioned to leverage its global scale and R&D platforms". He went on to say, "Looking ahead, we have a catalyst rich pipeline with 15 pivotal readouts in the mid-term. We expect to continue to deliver improved financials and strengthen Novartis ESG foundations, on our journey to become most trusted and valued medicines company in the world".

Merck & Co US$52.01 (+7%)
Propelling from seventh position to fourth in 2023 is Merck & Co. Founded in 1891, Merck is headquartered in New Jersey and focuses on pharmaceuticals, vaccines and animal health. With 69,000 employees worldwide, the company is well known for its contributions to diabetes and cancer care.
Over the last few years Merck & Co has made their way up the ranks thanks to their blockbuster cancer immunotherapy, Keytruda. In 2022, Keytruda accounted for 40% of the company's pharmaceutical sales. Increased demand for Gardasil HPV vaccine and the ongoing paediatric launch of Vaxneuvance, as well as growth for hospital acute care products, also helped to boost Merck's pharma division. Further growth in 2022 was partially offset by lower sales of Januvia and Janumet, owing to increased generic competition and a decline for Pneumovax 23, pneumococcal vaccine.
As Keytruda, moves toward the loss of market exclusivity in 2028, Merck has had to look for new avenues for growth. In late 2021, it was announced the Merck was buying Acceleron Pharma for US$11.5bn, broadening its portfolio of treatments that have brought in a new area of revenue for Merck.
In the full year 2022 earnings report, Robert M. Davis, chairman and chief executive officer said "2022 was an exceptional year for Merck, which is a testament to the profound impact our medicines and vaccines are having on patients globally,". He went on to add, "Our science-led strategy is working as we continue to build a sustainable engine that will drive innovation and generate long-term value for patients and shareholders well into the next decade."

3. Johnson & Johnson US$52.6 (+2%)
Johnson & Johnson, also referred to as J&J, remains in third place in 2023. With headquarters based in New Jersey, Johnson & Johnson develops and produces pharmaceuticals, medical devices and consumer health goods.
For the company's pharmaceutical division, sales rose by 2% in 2022 on a reported basis and 7% on an operational basis. This was driven by a number of key performers, including Darzalex, a treatment of multiple myeloma, Stelara, a treatment of a number of immune-mediated inflammatory diseases, Tremfya, a plaque psoriasis and psoriatic arthritis treatment, Erleada, a prostate cancer drug and Invega sustenna/xeplio and Invega trinza/trevicta, an injectable atypical antipsychotic for the treatment of schizophrenia in adults.
In an earnings report, Joaquin Duato, Chairman of the Board and Chief Executive Officer, said "Our full year 2022 results reflect the continued strength and stability of our three business segments, despite macroeconomic challenges," he went on to say "As we look ahead to 2023, Johnson & Johnson is well-positioned to drive near-term growth, while also investing strategically to deliver long-term value."
2. AbbVie US$58.05 (+3%)
With over 50,000 employees spread over 70 countries, innovation-driven AbbVie is in second place. AbbVie was created in 2013, when the company separated from Abbott, and tends to drive its R&D efforts towards difficult-to-cure diseases. Seven years later in 2020, AbbVie successfully acquired Allergan, which has strengthened the company's position in a number of therapeutic areas including immunology, oncology and neuroscience.
In 2022 sales totalled US$58.05, an increase of 3% mainly driven by the company's Immunology and Neuroscience portfolios. Humira, the rheumatoid arthritis blockbuster drug generated $21.24 billion last year, a 3% increase from 2021. Although they are yet to see the true impact, AbbVie lost market exclusivity in the US for Humira, the company's top drug and the bestselling non-covid product in biopharma history. Which means AbbVie must find other avenues for revenue and the company is hoping immunology duo Skyrizi and Rinvoq will be their next star performers.
In a press release announcing the company's full year results, Richard A. Gonzalez, chairman and chief executive officer, AbbVie commented "2022 was another highly productive year capping a decade of outstanding performance. Since our inception, we have built a diverse portfolio of growth products with significant leadership positions, developed a robust pipeline of innovative assets and created a culture of strong execution," he went on to add, "Looking forward, we have a solid foundation which will allow us to absorb the U.S. Humira loss of exclusivity, return to strong top-line growth in 2025 and drive top-tier financial performance over the long term."

1. Pfizer US$100.33 (+19%)
Taking the number one spot in 2023 is American multinational pharmaceutical and biotechnology corporation, Pfizer. Pfizer specialises in the development of medicines and vaccines across a wide range of disciplines including immunology, oncology, cardiology and neurology. Since the spin-off of Upjohn, which completed in 2020, the company has moved forward as a single focused innovative biopharmaceutical company, working on the discovery, development, manufacturing, marketing, sales and distribution of biopharmaceutical products worldwide.
In the fiscal year of 2021, Pfizer's sales accelerated to an impressive US$79.6bn with their year-on-year growth up 90%, thanks to its top-selling product Comirnaty, mRNA vaccine for Covid-19. Even though demand for the inoculation has dropped off, 2022 was still a monumental year for Pfizer with sales totalling $100.3 billion which represented an all-time high for the company.
As Pfizer continue to advance their R&D pipeline of potential breakthrough medicines and vaccines, in 2022, the company managed to secure eight key regulatory approvals, completed 13 regulatory submissions and initiated 10 pivotal study starts. They also successfully completed four acquisitions—Arena Pharmaceuticals, Biohaven Pharmaceuticals, Global Blood Therapeutics, and ReViral— which has greatly strengthened their pharma offerings.
In an earnings statement, Dr. Albert Bourla, Chairman and Chief Executive Officer, stated: "2022 was a record-breaking year for Pfizer, not only in terms of revenue and earnings per share, which were the highest in our long history, but more importantly, in terms of the percentage of patients who have a positive perception of Pfizer and the work we do. As proud as we are about what we have accomplished, our focus is always on what is next. As we turn to 2023, we expect to once again set records, with potentially the largest number of new product and indication launches that we've ever had in such a short period of time. We believe that the combination of these expected near-term launches, additional pipeline products that could potentially come to market in the medium-term, and anticipated contributions from business development, has the potential to set the company up for continued robust growth through the rest of this decade and beyond."
Is your pharmaceutical company aiming to grow this year?
At Proclinical Staffing, we work with a number of leading global pharmacuetical companies. Our dedicated pharmaceutical recruitment team are specialists in sourcing skilled and experienced professionals to fill a wide variety of roles across all areas of the pharma industry, including biotech, genomics, vaccines, generics, biosimilars, and OTC medicines. Find out more about our range of workforce solutions and how we can help your business grow globally.
Interested in working for one of the top pharma companies?
At Proclinical Staffing, we are specialists at recruiting for all types of pharmaceutical jobs. If you're looking for a new position, simply send us your CV or use our job search tool to find the right role for you.