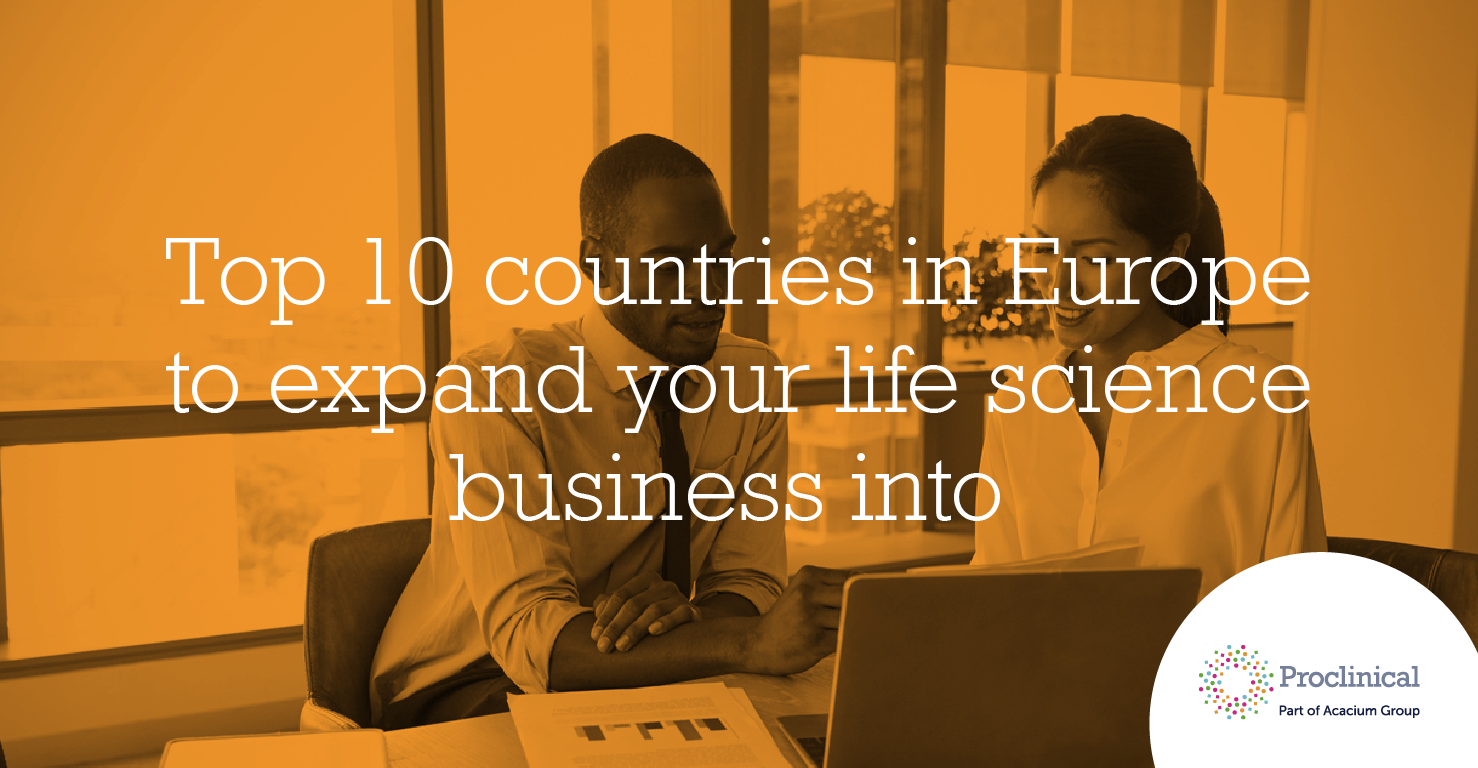 A vast and growing region with a wide choice of emerging and established markets, Europe can be an exciting prospect for many flourishing life sciences companies looking for international growth. Its central location, world-class research institutions and highly desired talent make it a hotbed for medical advances and scientific innovation.
With plenty of attractive countries to choose from, it can be hard to decide where to locate your business overseas. Below we have ranked the leading countries in Europe for life science companies looking to set up in the region. We've ranked them in terms of the country's economy, how innovative the industry is, investment and tax incentives, regulatory approval processes, and ease of acquiring talent.
1. Germany
With its central location, booming economy and high-calibre workforce, Germany takes the top spot on our list of countries to expand a business in the life science industry. Germany is one of the largest and fastest-growing markets for life sciences and healthcare in Europe, and with the fourth largest national economy in the world, Germany offers life science companies great stability. Recognised as the most technically advanced nation in the Bloomberg Innovation Index, the country is well-funded and equipped with the latest technology, making it an ideal spot for pharma and medical technology R&D efforts.
2. United Kingdom
With a great tax environment for R&D, the UK is a great location for growing and innovative life science companies to expand into. Number one in Europe for foreign direct investment, life science companies in the UK receive the most public and private funding in the region. Home to two out of the top ten universities in the world, the UK is not short of STEM talent. With a plethora of skilled professionals working in the life sciences industry and cutting-edge research facilities, the UK has an extensive track record of scientific breakthroughs and is driving the next generation of life-changing treatments and medical technologies.
3. Switzerland
World-famous for its contributions to medicine, Switzerland is a firm favourite for US life science companies wanting to take a leap into Europe and takes the third spot on our list thanks to its unique positing. Switzerland is not a member of the EU, but the Swiss Agency for Therapeutic Products (Swissmedic) maintains its ties through a confidentiality agreement with the European Commission and European Medicines Agency (EMA). This unique set up can be advantageous to companies wanting to have a presence in the region, as it offers more freedom and can make approval processes more straightforward than in other markets. In addition to this, the government's commitment to innovation and R&D make it the ideal place for development. Home to many top universities and a high standard of living, life science professionals and companies gravitate towards Switzerland.
4. Netherlands
In the last decade, the Dutch life sciences market has grown from strength to strength. Amsterdam is home of the European Medicines Agency, which was relocated from London after Brexit. The Netherlands offers a highly skilled workforce, thanks to an excellent academic research structure, with a particular focus on oncology, as well as cardiovascular, immunology and neuroscience. The country ranks well for its accessibility, with strong transportation links to the rest of Europe. Its digital infrastructure also makes it a frontrunner. In 2018, the Dutch government launched the Dutch Digitalisation Strategy and formalised its commitment to preparing for a digital future, making it the ideal location for health care companies to develop ground-breaking technologies like AI and precision medicine.
5. France
With a pro-business culture, sophisticated economy, and highly educated population, France takes fifth place on our list. Home to many leading life science companies and an abundance of innovative health start-ups, the French biotech community has grown significantly in recent years with a strong focus on clinical development. The government invests heavily into R&D making it a favourable environment for foreign investors to create leading advancements in medicine and medical technology.
6. Italy
The Italian life sciences market ranks highly in terms of competitiveness, productivity and investment in R&D, making it number six on our list. With a dynamic ecosystem, Italy offers companies a well-established infrastructure for innovation and design, as well as an established manufacturing base. Its central Mediterranean position provides growing businesses with a strategic gateway to patients across Europe, Northern Africa and the Middle East.
7. Spain
A first-rate network of medical institutions, research centres, biotech start-ups and pharma companies has made Spain a leading life sciences market. Spain prides itself on its ongoing commitment to R&D and beneficial investment frameworks. There are numerous financial and tax incentives in place that make it a highly attractive country to do business in.
8. Belgium
Located in the heart of Europe, Belgium is an attractive option for businesses wanting to make waves in the region. The country offers a deep-rooted life sciences ecosystem that is underpinned by a strong economy and supportive government. Its appealing tax incentives, R&D opportunities and fast approval processes for clinical trials, make it an ideal hub for pharma companies. Home to many renowned universities and institutions, Belgium also benefits from a multilingual and knowledgeable workforce.
9. Norway
During recent times, the life sciences and medical research market has blossomed in Norway, attracting investment from the government and life science companies from across the world. With medical research a high priority for the country, good funding opportunities are available, making this Scandinavian country a hotspot for developing new medical technologies.
10. Austria
At number ten on our list, with a welcoming business culture and well-established life sciences community, Austria is a great location for companies wanting to generate synergies and drive new medical advancements. Austria may be one of Europe's smaller countries, but its central location has traditionally made it a hub for East and West relations. Its highly regarded education system make it a great location for attracting some of the world's finest life science professionals.
Other markets that stand out
While the list above may seem like the top options, there are many other markets in Europe that can offer your business great opportunities for global growth:
Finland
Finland's life sciences sector has grown rapidly in the last decade. Biotechnology, pharma and private equity funds have increased their interest in the country's medical sector, particularly digital healthcare. Finland is not short of talent with many candidates specialised in software development, giving companies the chance to access high-quality clinical research data.
Sweden
With strong and stable economy, Sweden is an attractive location for foreign investment. Leaders in technology and a first-rate life sciences ecosystem, Sweden is the ideal location for drug development, medtech and digital health solutions.
Ireland
With strong clusters based in Dublin and Cork, Ireland has a collaborative life sciences community making it a great place for R&D. In recent years, Ireland has expanded its capabilities beyond commercialisation to include innovation, digitalisation and next-generation technologies.
Interested in learning more about expanding your business internationally? Check out our Global Expansion guidebook where we provide specialised insight and advice from industry experts on what it takes to thrive in an overseas market.