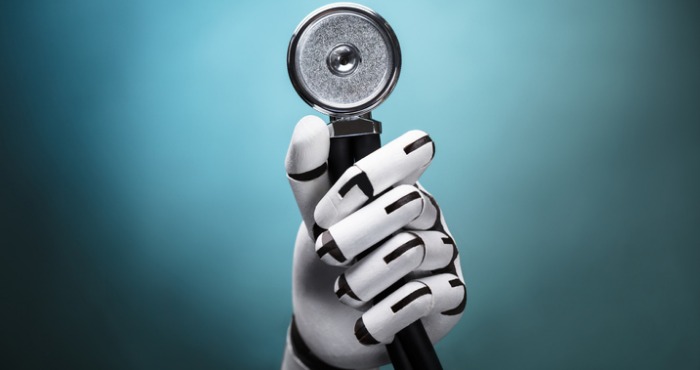 The potential of artificial intelligence in detecting, diagnosing and treating disease is rapidly unfolding before us. Incredibly smart algorithms and machine learning applications have changed the future of healthcare, enabling us to not only treat disease better but finally unlock its mysteries. Artificial intelligence has taken root in almost every corner of the life science landscape, using machine learning, virtual reality and robots to transform everything from drug discovery to surgery.
We've gathered together some of the most enlightening artificial intelligence articles and publications to give you a comprehensive overview of the biggest healthcare revolution of the century. Simply click on the links to find out about the hottest topics in AI technology and healthcare right how:
Medical Devices
In this interview-style article, Dave Saunders, chief technology officer of Galen Robotics discusses the impact of new AI medical device technologies. While he thinks there's still a long way to go before AI fully takes over medical device design and manufacture, evidence of the transformative power of artificial intelligence in healthcare can be seen with the emergence of healthcare robots, facial recognition technology and extremely advanced medical imaging machinery.
Robots
Another interesting - and well-balanced - view of surgical robotics can be found in this detailed e-book on machine-driven surgery. It will likely answer a lot of your questions on how robotic surgery works, how far this technology could go and whether robots could ever replace human surgeons. It also highlights the many challenges to overcome before robotic surgery becomes common practice.
Medical Diagnostics
TechEmergence, specialists in artificial intelligence market research, has some great insight into the developing role of AI in diagnostics. Computer algorithms could be the key to helping us detect diseases, infections and conditions much sooner, effectively saving lives and giving us unprecedented understanding into the root causes of disease. It discusses the use of AI diagnostics in the detection of some of the biggest threats to our health, including infectious disease and cancer.
Imaging Analysis
The medical imaging market is set to boom following the rapid introduction of AI tools to aid clinicians in the use of medical imaging equipment such as ultrasounds, MRI and CT scanners. This informative article is based on recent reports and surveys that cover the current capabilities of AI medical imaging as well as its future possibilities and likely challenges. It discusses the power of artificial intelligence health technology to improve diagnostic accuracy, particularly in areas such as oncology, cardiology and neurology.
Personalised Medicine
mHealth
mHealth has been steadily on the rise for many years, spurred on increasing use of health applications by popular technology companies like Apple and Samsung. Over the past few years, the number of mobile health applications has skyrocketed and they're only getting smarter. The main attraction is that mHealth offers people a very personal experience while enabling them to take control of their own health.
This comprehensive article talks about how AI is furthering the success of mobile app personalisation. Currently, apps can do anything from tracking physical activity/fitness to acting as a private ECG monitors. They can help patients manage chronic conditions such as asthma, epilepsy and diabetes by collecting data to help avoid triggers and take their medicine on time. Data collected on apps is even being used to help clinicians and researchers observe patterns and trends in various diseases to deepen understanding and help improve treatment.
Virtual Healthcare
Personalised healthcare is being taken to new heights as health tech companies develop ways to enable patients to access instant medical advice through 'virtual' doctors and nurses. This article talks about how machine learning technologies, like those developed by Babylon Health, can offer virtual consultations and diagnostic support to patients through chat bots.
Data collation and insight
Programmes like IBM Watson are great examples of how companies are leveraging artificial intelligence to manage vast amounts of medical and patient data to improve treatment outcomes. Another informative article by TechEmergence explores how AI is being used to help predict treatment outcomes, improve diagnostic analysis and formulate personalised treatment plans.
Drug Discovery
Artificial intelligence is quickly revolutionising drug discovery which lies at the heart of the life science industry. AI is being used to improve drug design, recognise disease patterns, optimise clinical trials, identify novel drug candidates, find new uses for existing drugs and much, much more. In truth, this is just the tip of the iceberg and it's difficult to predict where these new capabilities will lead us. Already, there are hundreds of start-ups using artificial intelligence to take drug discovery to the next level.

Artificial intelligence is helping move forward drug discovery to tackle many life-threatening and difficult to treat diseases such as:
What do life science leaders think?
What do life science industry's leaders have to say about the impact of artificial intelligence? TechEmergence offers us yet another insightful article, this time exploring what AI means for executives at life science companies, some of the most influential people in the future of healthcare. It also offers some great advice on what life science leaders should know if they're thinking about implementing or increasing AI technology into their business.
Want to find out even more? Simply subscribe to Proclinical's digital health blog for regular updates. Want to work for a life science company that uses artificial intelligence technology? Send us your resume today!