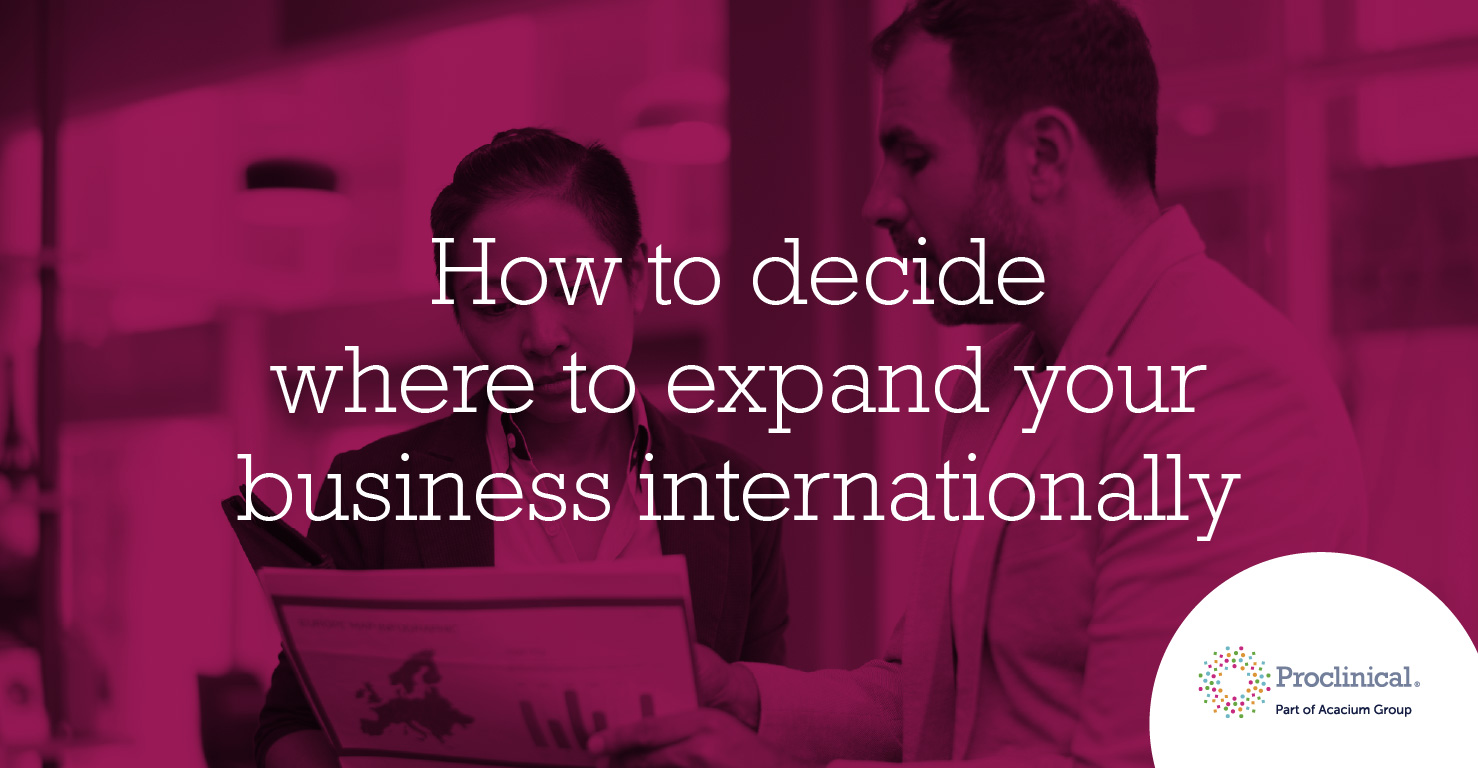 Expanding your business into a new market can seem like an exciting prospect for any growing life science business, but how do you decide which market is best for your company?
With ample opportunities across the world, it can be hard to pinpoint the right location for your overseas business expansion. Before you can decide, you will need to weigh up the pros and cons of each market. Although it can be tempting to jump straight into international expansion, it's important that you invest your time into the initial research process, otherwise it could prove costly down the line if you are not prepared for any challenges a new market may present.
Here are the key factors you should take into consideration before you can choose your new market and start implementing your international business expansion strategy:
Clarify your goals
Before you can identify which markets meet your needs, you will need to define what your goals for the expansion are. What makes you want to expand your business internationally? Is it to reach more patients? Is it to capture market share?
Think about what you will need to have in place to help you reach your goals. Clearly list what your must-haves and important nice-to-haves are. For example, a must have might be a stable economy, and a nice-to-have could include the ability to do business in your language. Once you have defined your needs, create a list of countries and rank these on your criteria. Disregard any that don't meet your must-have requirements and make a shortlist of those that do.
Look for gaps in the market
When looking to expand your business internationally, you should always consider where the gaps in the market are — where are the patients with unmet needs?
Once you have identified a few potential markets, conduct a critical analysis of each. Take into consideration who your target market would be, if there is demand in the market, and who your competitors would be.
Conduct your research
Before making a decision on where you want to expand to, it's crucial you thoroughly research all of your potential markets, but what do you need to take into consideration?
When you're conducting your research, keep in mind at all times that every market is different and you should not make any assumptions. For example, if you are expanding into Europe do not assume Germany will be the same as France. Treat each market as an individual and find out everything you will need to know. Also, do not just follow where your competitors have set up. Other markets may be more conducive to helping your business grow.
Talent
When setting up in a new region you should make sure the area has good access to the specialist talent you will require to be successful there. Looking at the data and heatmap tools will help you understand where can offer you the best talent pools. A staffing partner, like Proclinical, can also advise you where the ideal talent clusters are and give you information on any potential recruitment challenges you may face. You will also need to consider what your strategy around HR will be and if it would be feasible to outsource this to a local specialist or if you would have a professional in house.
Economic environment
Ideally, you want to expand into a country with a stable economy. Understanding the country's macroeconomic indicators such as, GDP, CPI, exchange and interest rates combined with a firm-level analysis, will help you weigh up the benefits and drawbacks of a market and determine whether it would be a viable option for your company.
It's also good to know if the market offers any government-implemented incentives designed to encourage and empower investors to expand into the country. It is also good to be aware of any enticing tax rates. For example, for businesses expanding into the Asia region, Singapore is usually appealing to companies as it offers a low tax regime compared to other countries. These investment incentives can make some markets more attractive than others, particularly when you consider the initial set-up costs.
Language and culture
When looking to expand internationally, make sure you consider any language differences. If they do not speak the same language as your domestic base, then this can challenge your operations and synergy as a company. So, if they do speak another language, you will need to consider how you will best communicate with your new staff and new target audience.
It is important to learn as much as you can about the culture in a market before deciding whether you should set-up there. You need to have confidence that there is desire for your products. It is vital to have a good understanding of who your target market is and what they value.
Logistics
When researching a market, think about what your business would need to physically exist in that location. Where would you base your new premises? What equipment would you need? How would you distribute your products?
You should also research what licences are required to provide your services. Licencing requirements vary from country to country and among industries; so, know how much it will cost and how long it will take to acquire any necessary licences.
Regulations
Setting up in a new location will mean you have to meet local regulations. You should consider if and how you would get products approved. Also, think about if your packaging will need to be localized and remember that standards will vary from country to country. This could mean different instructions in another language, different dosage recommendations, etc.
It is also worth considering if a market has an early access program. Some leading markets in Europe and other regions will offer early access programs (EAPs), which will allow you to provide patients with important drugs before they can be commercialised and to develop valuable clinical experience that may support additional labelling and product-related publications.
Calculate the cost
Make sure you have an estimate of how much it will cost and if this is something you will be able to afford. Find out how much your business will need to invest to set up your operations in that country, as well as the cost of legalities and recruiting in your chosen market.
Even if you have carefully researched the legalities and all the production costs of setting up in a new territory, other expenses are bound to crop up along the way, so make sure you also have a realistic estimate of any unexpected costs too.
Speak to local experts
It can be a good idea to speak with experts that are familiar with the market, this will help you to understand any potential challenges you may need to overcome and recognise any specific market nuances that you may need to account for.
It is also a good idea to start thinking about who you would approach for external support. Think about where your knowledge gaps are and consider what you would want to outsource. Getting external vendors on board early can be useful to help you mitigate potential risks. Having vendors support you with tax and permanent establishment considerations can be really beneficial and save you a lot of time and money.
To find out more about how to expand your business internationally, check out our global expansion guidebook, filled with expert advice to help your life science business thrive in a new foreign market.