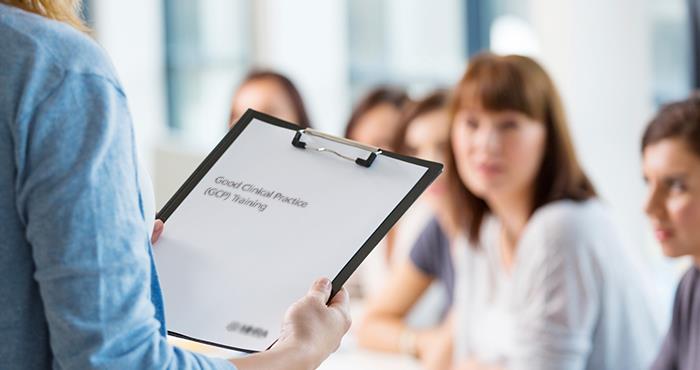 As patient recruitment for clinical trials hit 3 million in 2014, pharmaceutical professionals need to ensure that their skills and training are up-to-date with the latest regulations. Having recent Good Clinical Practice training on your CV bolsters your job application and could help you to secure your next role.
Find out more about Good Clinical Practice, the types of training available and helpful tips when applying for roles such as Clinical Trials Assistant, Clinical Research Associate and Clinical Project Manager.
What are the Good Clinical Practice (GCP) guidelines and how are they regulated?
If you work in clinical research you will no doubt be responsible for complying with Good Clinical Practice, which is an internationally recognised quality standard formally regulated by the GCP inspectorate. Any company that carries out clinical research will be visited by trained GCP inspectors who review and investigate records, systems and processes to check that clinical studies are compliant. Depending on how long you have been in the industry you might have had experience of inspections already.
The Good Clinical Practice guidelines ensure that clinical trial participants are protected during the research process. The EU directive gives the following definition:
"Good clinical practice is a set of internationally recognised ethical and scientific quality requirements which must be observed for designing, conducting, recording and reporting clinical trials that involve the participation of human subjects."
What types of GCP training are available?
There is no 'one size fits all' accreditation for GCP training. From our experience of placing candidates in small and large companies such as Pfizer and GlaxoSmithKline, we find that GCP can be taught in the following ways:
Initial and refresher courses
E-learning
On-the-job training
Broadly speaking, if you are working in a clinical research job then employers will make sure that your training is up-to-date every few months and will often provide the necessary support to refresh your skills. It is worth asking your employer what options are available to you. Smaller companies might have smaller training budgets, so external courses might be your only option.
There are plenty of training providers, many of which can be found online. Here are just a few we have picked that could be worth getting in touch with:
National Institute for Health Research - offer practical training once you have been accepted onto their portfolio. They offer a combination of e-learning and workshop-style training. They also offer refresher courses if you just need a quick overview of the current GCP changes.
Online GCP - offer certifications in GCP that are delivered online. If you score more than 80% in the written test you receive a certificate.
University College London - offer a day training course designed for those new to clinical research. Courses are free for UCL, UCLH and Royal Free London NHS Trust employees.
Why is GCP training so important?
Keeping your Good Clinical Practice training up-to-date is important for three reasons:
To support job applications now and in the future
To do your job more effectively
To adhere to the necessary clinical trial regulations
As clinical research and quality assurance roles are often centred around supervision and collection data relating to the treatment of patients in clinical trials, employers need to be confident that your knowledge of GCP is up-to-date. It could avoid drugs being recalled or poor inspections that sometimes result in bad press.
Training will also make you more effective in your job, strengthening your skills and experience to impress future employers. Your role might involve responsibility for creating, maintaining or improving systems and procedures. This can involve audits, quality reviews and training of other staff. If your skills are up-to-date you will have the necessary knowledge and tools to hit the ground running.
What do employers look for?
Given that there is no formal accreditation, employers usually ask for a certificate of attendance or training log to show what courses you have attended. Some training providers have written tests, so results can be shown to employers or added to your CV to increase your credibility. Keeping hold of scores and feedback is also important for your own personal development, as it helps to identify gaps in your knowledge where you require extra training.
How often should training be carried out?
There are no formal rules that stipulate how often training should be carried out, but employers typically check every few months to make sure you are up-to-date. It will largely depend on your job role, the study you are working on, and the requirements of your employer. If you have never had formal training, then an initial course would be a good place to start. If you have worked in the field for several years then perhaps a refresher course is all you need. These could typically include a brief overview of what GCP is, and details of any recent changes to legislation. Ad-hoc training might also be required when new regulations and guidelines come into force.
An overview of the key points
As an experienced life sciences recruitment agency, our specialist team have in-depth knowledge of the requirements of clinical research and quality assurance roles. We receive new vacancies every day and work with employers to match the right candidates to the right jobs. We know that up-to-date GCP training is often essential for clinical research and quality assurance roles, especially with the increase in the number of clinical trials. We would recommend regular training to keep your CV up-to-date, set you apart from other candidates and empower you to do your job effectively.
How can we help?
If you are searching for a new role, browse our jobs, register with us or connect on LinkedIn. Our experienced recruitment consultants will discuss your career goals and work with you to find a role that is in line with your needs.