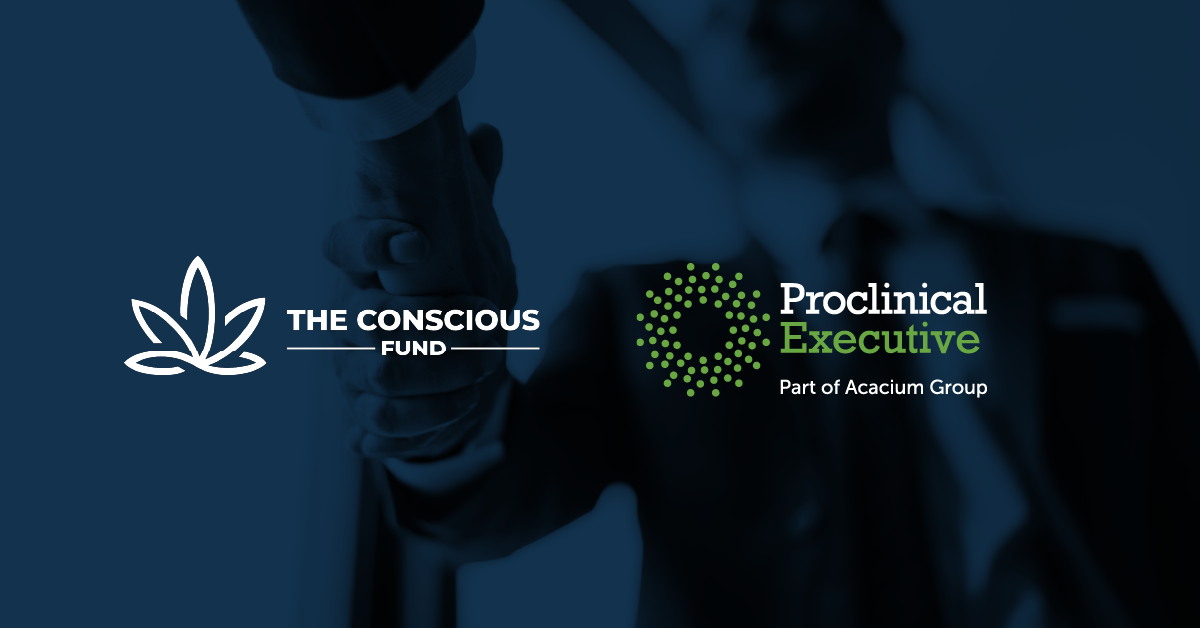 Psychedelic medicine start-ups are set to benefit from a newly-formed partnership between life science executive search specialists, Proclinical Executive, and venture capital investors, The Conscious Fund. The two firms, who aim to accelerate development of businesses in the sector, will facilitate the networking and introduction of people and services that support early-stage ventures in the rapidly growing market, which includes medicinal cannabis, psilocybin therapies, and market enablers in infrastructure and data analysis.
Scientific progress has accelerated exponentially in the medicinal psychedelics space which is destigmatizing these substances and creating unprecedented opportunities. Both businesses are passionate about the potential of these types of therapies to address unmet medical need in a variety of areas – including neurological and psychological conditions – and are clear in their objectives to give businesses in the sector a boost.
Dan Evans, Partner at Proclinical Executive, and one of the architects behind the agreement remarked, "Our formal partnership with The Conscious Fund further complements our growth and success in the alternative medicines and medicinal cannabis markets. It's a market that is rapidly expanding around the world and they are a global organisation with a focus on ethical growth in early ventures in the psychedelic medicines space. As global growth partners in life sciences we saw a synergised partnership with The Conscious Fund as a no-brainer."
"We aim to play a big part in the growth of exciting organisations at the very beginning of an industry that is developing novel therapies in the core therapeutic areas of mental health, addiction and pain – areas of medicine which have had very limited treatments or innovation in recent years and the global need for treatments is now higher than ever before. We intend to utilise our global network to promote and introduce The Conscious Fund to early venture opportunities in this exciting sector and support their network with executive search, staffing, networking, and development at the global level."
Co-founder of The Conscious Fund, Michael Hoyos added, "We are excited to leverage Proclinical's expertise to help accelerate the growth of psychedelic medicine as a sector and together continue to create positive momentum towards addressing some of the biggest global health challenges we currently face. It goes without saying that this endeavour to bring psychedelic medicine to the masses will not be without its obstacles. We feel that Proclinical Executive will be an excellent complimentary team to help us navigate these uncharted waters and achieve our ambitious goals."
Among the Conscious Fund's current portfolio are companies focusing on compounds such as magic mushrooms, ketamine and MDMA as possible treatments for mental illness and addiction as well as their potential use in general mental wellbeing, creativity and mental enhancement.
Proclinical Executive, which also supports biopharmaceutical and medical technology businesses, has developed a track record helping early-stage and publicly listed businesses in the medicinal cannabis and psychedelic therapies market hire for leadership positions, including C-suite executives and board members.
Still in its infancy, the psychedelic drugs market is projected to grow at a CAGR of 16.3% over the next eight years to reach $6.85 billion by 2027, according to Data Bridge Market Research.
About Proclinical Executive
Proclinical Executive operate globally and solely within the life sciences space. Whether you are building leadership teams to expand into new territories, or need to locate and mobilise the very best people with rare, niche skill-sets to drive your business forward, our Executive Search division specialises in securing senior appointments to help you grow.
About The Conscious Fund
The Conscious Fund invests in global early-stage ventures in psychedelic medicine, helping deliver better outcomes for mental health, addiction, and pain.