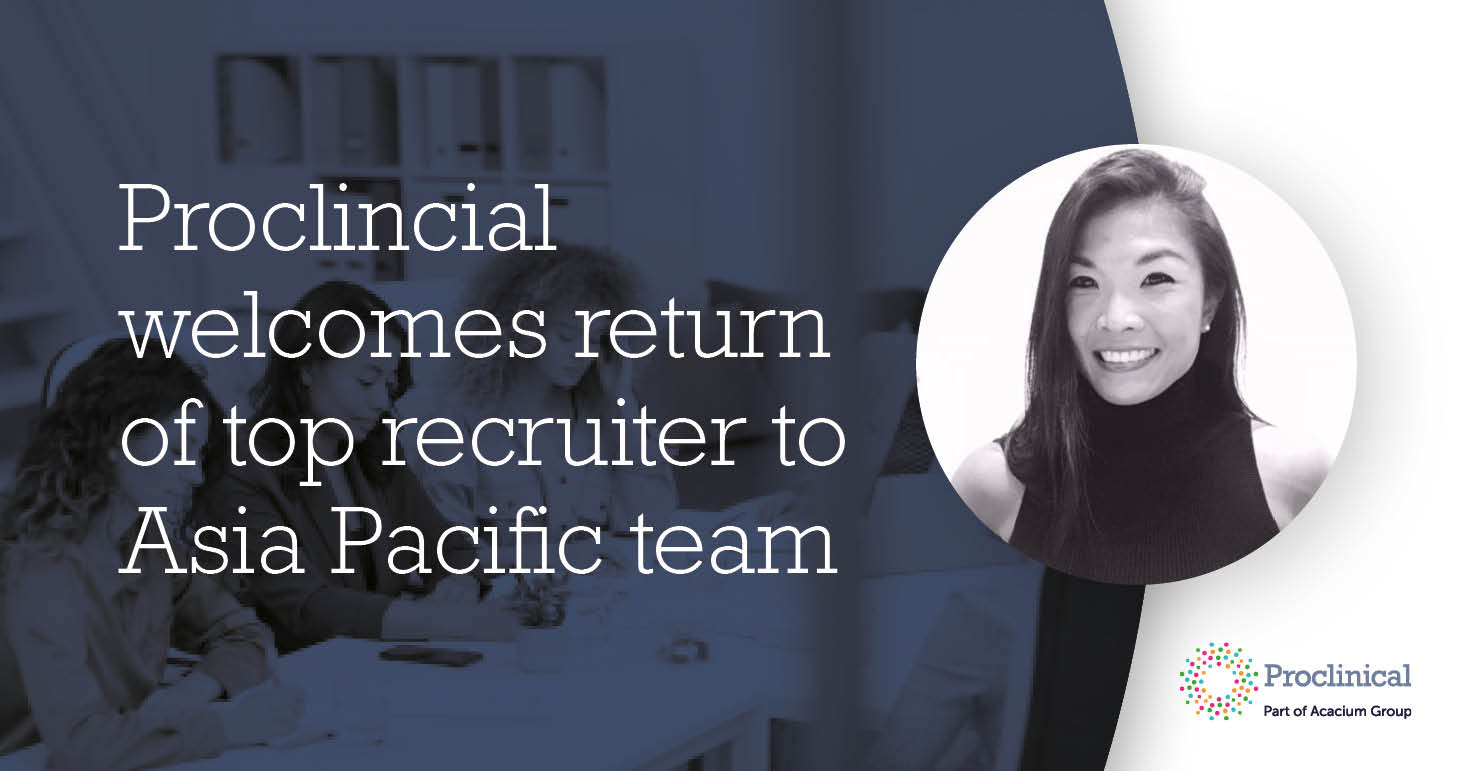 Global life science staffing and consulting business, Proclinical, have begun the year by confirming the return of Jacelyn Lang-Lin, who joins the company's client services team as Client Development Manager for the Asia Pacific. Previously a top performer in the company's Singapore team, Jacelyn re-joins Proclinical having gained valuable experience working in-house for global life science firm DKSH's talent acquisition team and taking time out to care for her two children.
Formerly Principal Consultant, based in Singapore, Jacelyn has a wealth of experience supporting the region's life science businesses in hiring for predominantly senior commercial roles. Between 2014 and 2017, Proclinical's partners benefited from her expertise and people skills in helping them to hire local and regional directors, department heads and managers for positions posted throughout the continent, including Singapore, Japan, South Korea, Hong Kong and Thailand.
After departing Proclinical in 2017, she spent the following two years working in-house for DKSH, continuing to apply her talent for recruiting the industry's leading talent. There she continued to focus on making senior level hires, including regional directors, general managers and global VPs across healthcare, legal, HR, supply chain and technology, and gained experience designing, planning and executing talent related projects at a global level.
Neil Winn, Proclinical's head of global client services said, "We're absolutely delighted that Jacelyn has rejoined our team and will be helping us to continue growing across the Asia Pacific. We were very sad to see Jacelyn leave in 2017 but she parted on good terms to pursue new goals. Since then, we've made significant investment into supporting our life science partners in this region, putting down roots in China and Japan to compliment our existing office in Singapore. Her return is a testament to the culture and future vision of Proclinical. The experience and new perspective she has gained by managing an in-house talent acquisition team can only benefit us further."
Jacelyn added, "I'm very excited to return to Proclinical and have been amazed at how much the business has grown in the years that I have been away. I've remained in touch with my friends there and although I've loved spending more time with my family recently, I've missed being part of the action. I feel privileged to have been welcomed back with such open arms. The growth and ambition that Proclinical continues to demonstrate has really impressed and excited me and can't wait to play my part in the company's bright future."
About Proclinical
As Global Growth Partners, Proclinical provides a unique proposition; delivering on every stage of the life science process to help individuals, teams and whole organizations reach their goals faster. Through our suite of services – Proclinical Staffing, Proclinical Executive, Proclinical Consulting and Proclinical Engage – we help you to grow so that you can bring about a positive impact on global health.