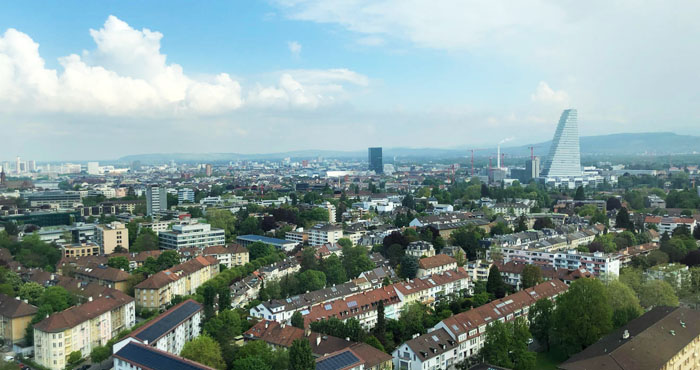 21st May 2019 - Basel, Switzerland
At the end of May 2019, Proclinical AG, the company's Swiss operation moved to a new location in Basel. The office move is a result of the company's rapidly expanding business in this region and increasing demand for skilled R&D professionals from leading Swiss-based pharmaceutical, biopharmaceutical, medical device and clinical research organisations.
The new offices in the state-of-the-art Grosspeter Tower boast a spectacular view over the city of Basel. In the distance, the 'Dreiländereck' can be seen, which is the tri-point where the borders of France, Germany and Switzerland meet. The new location also brings the team closer to some of their most important and valued clients, as the impressive Roche Tower and expansive Novartis campus can easily be seen from the offices. The offices are a great place for candidates, clients and employees alike to enjoy a coffee and some spectacular views of the city.
John Bowler, Proclinical AG's General Manager, is delighted to have moved into the Grosspeter Tower, "This milestone relocation really reflects the success story of our business here in Switzerland over the past few years. The new office means we have more room to accommodate our clientele and expand our innovative service lines to continuously improve our capabilities for life science candidates and clients in these regions." With the surge of success, Proclinical AG looks further strengthen its reputation in the market as an industry leading staffing provider.
About Proclinical
Proclinical
is a leading global staffing services provider that specialises exclusively within the life sciences industry. Our client base includes leading global pharmaceutical and biotechnology companies, medical device and health tech pioneers, and associated life science companies, including CROs and the outsourcing sector.