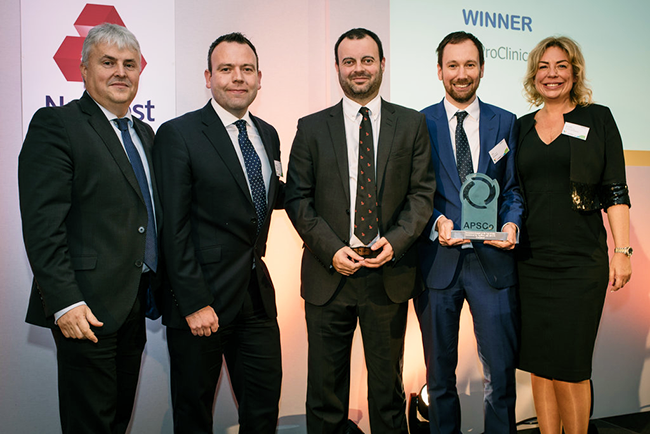 London, 20th October 2017 – For the second year in succession, Proclinical collected the Recruitment Company of the Year accolade in the £5m-50m turnover category at the Association of Professional Staffing Companies (APSCo) 2017 award ceremony, which took place at a business luncheon in London on Wednesday 18th October.
Proclinical's Global Client Services Director Richard Thomas and European Managing Director Daniel Jones attended the awards ceremony having collected awards at the previous year's event. Proclinical also received a special commendation from the judges in the category of Most Sustainable Growth, and were shortlisted in the category International Recruitment Company of the Year.
Accepting the award, Daniel Jones commented, "The hard work, personal sacrifice and good humour of our employees have gone into building a business that has clear desire to be a true partner to the life science industry, and receiving further recognition from APSCO is just fantastic."
Recruitment industry body APSCo, which sets professional standards of excellence for recruitment companies, holds the annual Awards for Excellence – sponsored by NatWest and 6CATS International – to recognise professional standards and all-round performance. The awards for the Recruitment Company of the Year are categorised by turnover (<5m, 5-50m, and >50m) and awarded to the company that has most consistently demonstrated the professional values and exceptional performance associated with APSCo membership.
Ann Swain, APSCo chief executive, said, "These awards are now firmly recognised as the most prestigious accolade in professional recruitment and are a unique indicator of standards throughout the sector. The annual event has become the premier showcase for innovation, best practice and outstanding achievements which acts as a catalyst for firms to attract publicity and build their brand amongst key stakeholders.
"We are no longer surprised by the volume and quality of entries that we receive each year, which, as always, invokes a great sense of pride here at APSCo. A commonality which all shortlisted organisations share is a strong commitment to training and development – and I'm sure it is no coincidence that this is why these companies maintain such high professional standards and excel in innovation. All winners should feel extremely proud of their hard work and success in demonstrating a true and unwavering commitment to the ethos of APSCo."
About Proclinical
Proclinical is a leading global staffing services provider that specialises exclusively within the life sciences industry. Our client base includes leading global pharmaceutical companies, biopharmaceutical companies, biotechs, medical device pioneers, and associated life science companies, including CROs and the outsourcing sector.