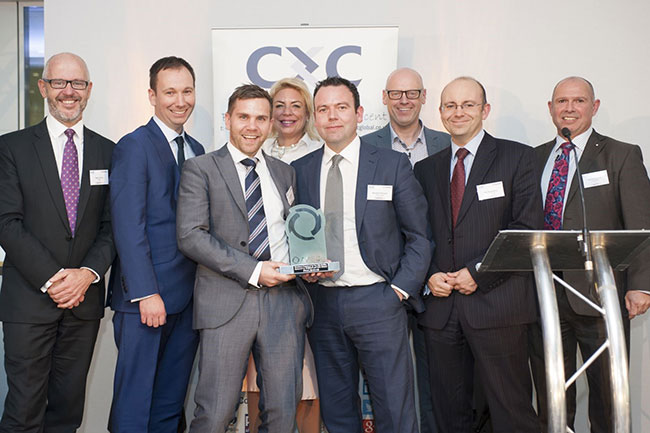 20th October 2016

Proclinical claimed a remarkable double at the Association of Professional Staffing Companies (APSCo) 2016 award ceremony – receiving both the Recruitment Company of the Year in the £5m-50m turnover category, and the International Recruitment Company of the Year awards.
The life sciences recruitment specialists proudly accepted the accolades at APSCo's annual awards ceremony, which took place at the offices of RBS in London on Tuesday 18th October 2016. Recruitment industry body, APSCo, which sets professional standards of excellence for recruitment companies, holds the annual Awards for Excellence – sponsored by NatWest and CXC Global – to recognise professional standards and all round performance.
"The APSCo Awards for Excellence are widely considered to be the premier showcase for innovation and best practice in professional recruitment", said Marilyn Davidson, director of APSCo. "The process has a reputation for being the most testing, demanding and perhaps most challenging out there, and for good reason. The standard of submissions we receive is incredible, and all of this year's finalists have demonstrated a real commitment to the ethos of APSCo."
Proclinical Managing Director for the EU, Daniel Jones said "This is a proud moment for the business and we are delighted to receive these two prestigious awards, which mean a great deal within the recruitment industry. I would like to pay particular thanks to all our staff for being part of the Proclinical story and their hard work in achieving today's success."
The two awards mark a successful year to date for Proclinical, which has seen record growth in terms of income, international client-base and number of employees. The company was also shortlisted as finalists for a third award of Recruitment Company of the Year with the most Sustainable Growth.
Proclinical, which successfully expanded its global footprint this year by adding offices in the USA to its existing European and Asia-Pacific operations, was named International Recruitment Company of the Year by APSCo, whose judges attributed their selection to a "well thought out strategy" and a "nurturing and engaging attitude to staff" which gives Proclinical "a clear differentiator in a very specialist sector".
The awards for the Recruitment Company of the Year are categorised by turnover: (<5m, 5-50m and >50m) and awarded to the company that has most consistently demonstrated the professional values and exceptional performance associated with APSCo membership. APSCo's judges pointed to Proclinical's strategy of "hiring subject matter experts to develop long term strategic relationships" and demonstrating "added value and thought leadership to their clients" as being key reasons for their decision in naming the life sciences specialists as the winners within their category.
About Proclinical
Proclinical is a leading global staffing services provider that specialises exclusively within the life sciences industry. Our client base includes leading global pharmaceutical companies, biopharmaceutical companies, biotechs, and medical device pioneers. We also provide our services to associated life science companies including CROs and the outsourcing sector.