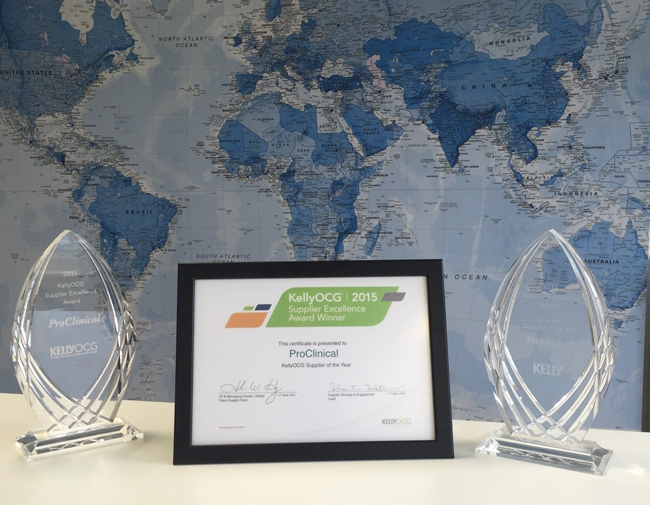 Supplier honoured for continued delivery of outstanding workforce solutions for life sciences
18th April 2016
Life sciences recruitment specialists, Proclinical, received another award for supplier excellence from KellyOCG, the Outsourcing and Consulting Group of workforce solutions provider, Kelly Services.
At the official recognition event at Kelly Service's global headquarters in Michigan, Proclinical were named as leading suppliers in the EMEA category for 2015, adding to their 2014 award. This is the fourth consecutive year that KellyOCG has honoured suppliers who are members of the Company's preferred supplier network.
Award winners were selected from contributors to KellyOCG's managed workforce solutions programs and are evaluated by spend development, compliance, engagement survey results and performance on program scorecards.
Proclinical's Global Client Services Director, Richard Thomas, was delighted to receive the award and said, "Being recognised as a Supplier of Excellence by Kelly OCG for the 2nd year in succession is a proud moment for everyone at Proclinical. I would like to pay particular thanks to our outstanding account managers, delivery teams and business support functions whose contributions on a daily basis have led to this prestigious recognition. With shared values of trust, collaboration and excellence in delivery we look forward to another successful year ahead in delivering outstanding talent to the life sciences market in partnership with Kelly OCG".
Thorsten Koletschka, supplier strategy and engagement lead, Global Talent Supply Chain Management, KellyOCG stated "KellyOCG is taking deliberate actions to grow our business through our Talent Supply Chain strategy," said "Expanding our capabilities and supplier network to deliver the world's best workforce solutions in every discipline and geography is one such action that will strengthen our ability to meet our clients' holistic talent needs."
About Proclinical
Proclinical is a global staffing services company operating exclusively within the life sciences sector for roles across the entire product lifecycle, from research and development (R&D) through to manufacturing and commercialisation. Proclinical's client-base includes leading pharmaceutical, biotechnology, medical device and contract research organisations across Europe, the USA and Asia Pacific.