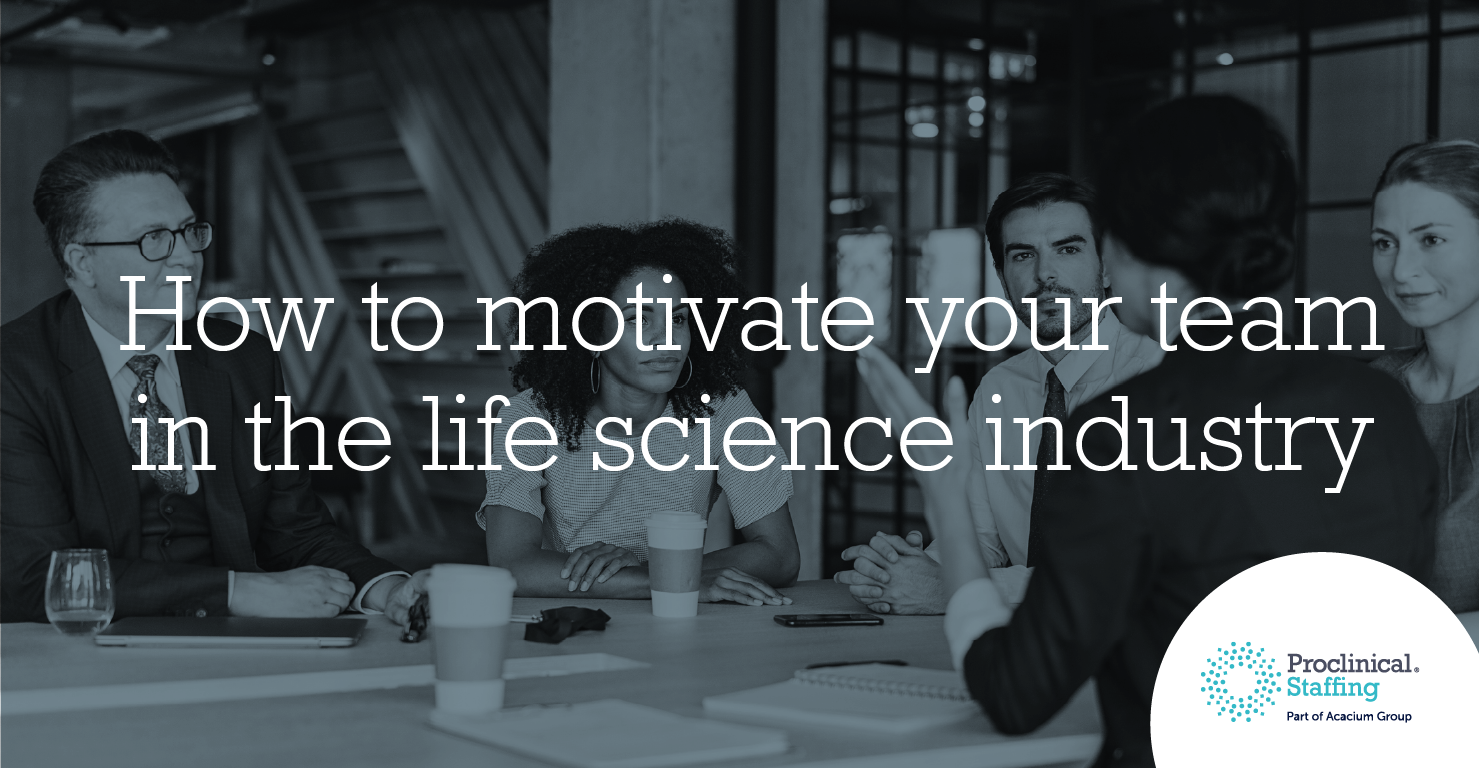 To make a positive impact on the life sciences industry as a leader, you should constantly be thinking about how you can motivate and inspire your team to allow them to make a difference to patients. Motivated employees feel happy in their jobs and are willing to apply themselves to reach individual and organisational goals. However, employees are not always motivated by the same thing. Here we explore how to significantly improve engagement and commitment in your team.
Provide a platform to influence and innovate
According to recent research (FirstUp 2022), 74% of employees report being more effective at their job when they feel heard. It is human nature to want your voice to be heard and to make a difference so unsurprisingly, this has one of the biggest effects on how engaged your team will be. This is particularly important in life sciences, as most employees enter the industry with the intention of having an impact on patient's lives whilst immersing themselves in an innovative environment.
However, having the chance to voice their ideas and impact decision-making within their organisation is not always possible for every employee, and those who are not in a recognised leadership position generally feel less able to innovate and influence decision-making. The increasing presence of technology and the shift towards more remote working has compounded this issue. Employees may have less face-to-face communication with their manager and colleagues, creating even fewer opportunities to share ideas. Without the opportunity to have organic conversations in person, it takes a more concentrated effort for remote workers to engage with others. A lack of engagement can lead to isolation, a lack of passion for the company's vision, and feeling unappreciated and unheard.
As a leader, you can help support your employees need to innovate and influence decision-making by creating an inclusive and innovative climate for all and giving them the opportunity to voice their ideas and introduce new concepts easily. This not only benefits employees, it's a great chance for you to make the most of the diversity of your team drawing on their expertise and varying perspectives to create something new and truly innovative.
Give recognition for efforts and achievements
It's no secret, employees whose efforts and achievements are recognised tend to feel more engaged and motivated at work. People tend to work much harder and with more enthusiasm when they feel valued. This links up with the previous point about being able to innovate and influence. After all, employees want to know that their hard work and effort is making a real difference; both within the organisation and the wider industry. Employees who feel valued are generally more committed and often act as advocates of their company as a great place to work.
Celebrating the achievements of your team is an effective way of motivating them, boosting team morale, and encouraging your team to keep striving for success. Marking achievements can take many forms, including team lunches, bonuses, or a simple acknowledgment of a job well done. You can make a big impact on how employees feel towards the company by making only a few small changes. For example, get into the habit of simply saying 'thank you', either publicly or privately, when employees complete a difficult task, come up with great ideas, or go above and beyond to ensure the success of a project. Also, consider increasing face-to-face communication between you and your team to provide a platform on which you can discuss things that have gone well with their performance at work.
Push them outside their comfort zone
Having challenging work is also important. While a small percentage of people may be happy to coast along, most people feel a greater sense of fulfilment by a degree of mental stimulation at work. This could involve problem solving or using their initiative to develop creative solutions and new ideas to benefit the business.
In the life science industry, highly skilled and educated employees want to put their expertise to use in their day-to-day role. People are very motivated by a sense of purpose and will be more satisfied if they can see the impact of their individual contributions. Employees could also benefit from being assigned tasks that stretch their current capabilities. While managers should be careful not to overwhelm their employees, setting challenging yet appropriate tasks will help keep employees alert, motivated, and productive.
Setting clear goals and expectations for your team is shown to be an effective motivator. When your team understands what they need to aim for, it becomes easier for them to focus and work towards their targets – and even exceed them. Goals can be set on an individual, team, or organisational level. Ensure that they are specific, measurable, achievable, relevant, and time-bound (SMART).
provide development opportunities
Each employee will also have their own personal goals and ambitions for their career and research has shown that when they feel there are opportunities for professional growth, they are also more engaged at work. As a leader, you should be looking to unlock the potential of your team by ensuring that career support and development is accessible to them. For your team, the opportunity to learn new skills and gain more influence will help them to feel truly motivated and connected to the company.
This weaves into many of the other leading factors of engagement. Giving an employee a promotion will simultaneously give recognition, reward, bigger challenges, and more influence. However, your support is needed to help them prepare for the next promotion or new challenge.
Stay one step ahead by creating career development and training programmes that are up-to-date with employees' career aspirations, as these are ever-evolving thanks to the changing nature of the workplace. As a leader, you can gather this information by asking questions during interviews, when onboarding new staff or by discussing career development issues during one-on-one meetings between managers and employees.