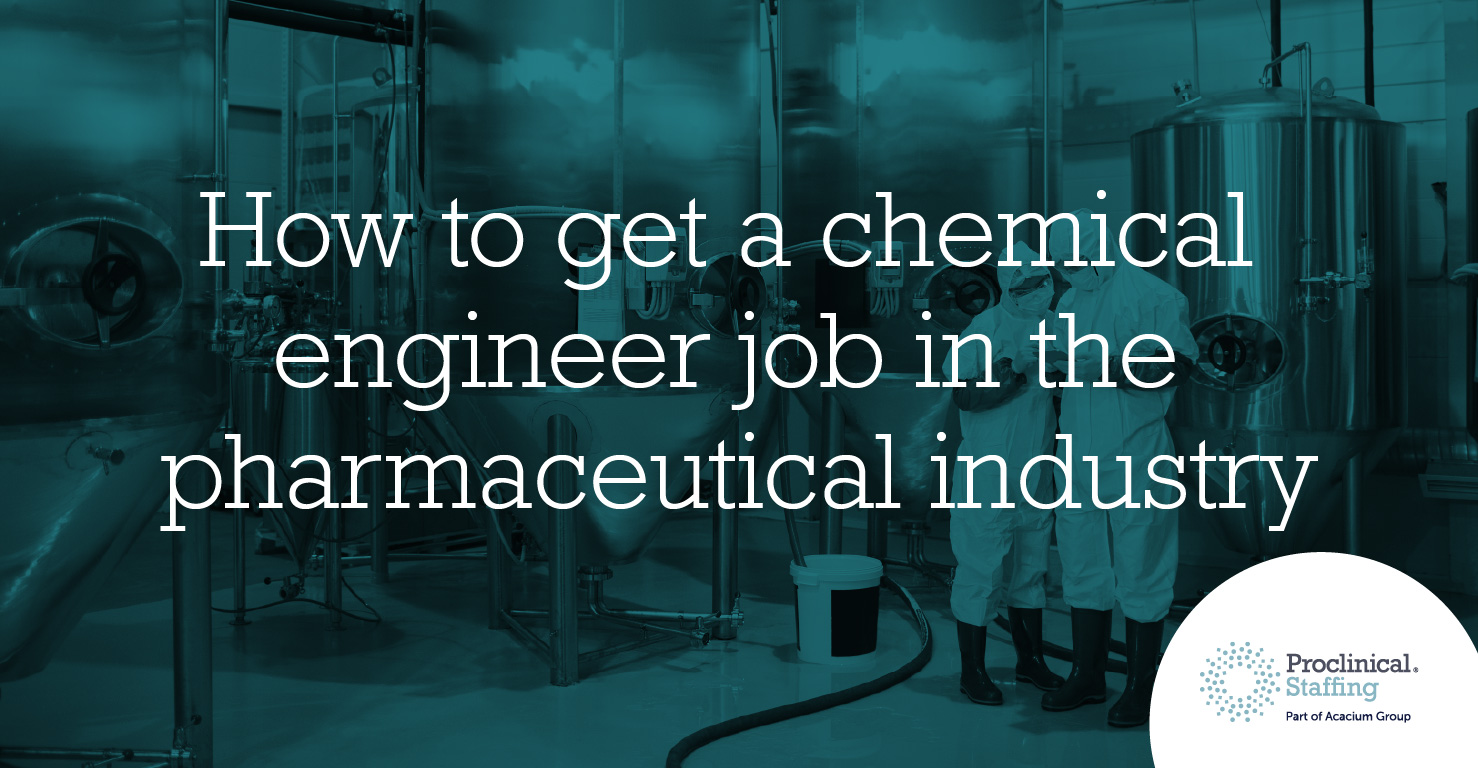 Have you ever considered a career as a chemical engineer in the pharmaceutical industry? As the pharmaceutical industry continues to grow rapidly, more and more life science companies are in need of chemical engineers as they play an integral part in the drug development process. However, since most roles require in-depth knowledge and extensive experience, so getting your foot in the door can prove challenging.
So, how do you get a job as an engineer in the pharmaceutical industry? Below we explore some of the most commonly asked questions by those looking to break into the pharmaceutical industry as a chemical engineer.
What skills do I need to get a chemical engineering job?
First and foremost, in order to ensure a successful career in chemical engineering, you must start early. If you want to get ahead in the field, beginning during your university years is highly recommended. IChemE offers the standard in accreditation for a chemical engineering degree. This means that, if you are studying at a school with an IChemE accreditation, you are giving yourself a better chance of getting the position you want once you graduate. Many recruiters, human resources representatives and hiring managers will exclusively hire graduates from IChemE accredited institutions.
As a university student, even in a top programme, you must make sure that you are working as hard as possible to achieve first class honors. Many top employers only want students who are at the top of their class. Additionally, if you want to increase your chances for working in pharmaceuticals, completing an internship (or two or three) during your studies is paramount.
As the life sciences industry continues to pioneer treatments across a broad range of diseases, there has been more widespread investment into cell and gene therapies that offer bespoke treatments for patients. Great strides have been made by many life sciences players in Cell and Gene Therapy in recent times, and the efficiency and efficacy of these technologies have improved momentously. Patients are now able to access life-saving and life-changing therapies, treating a range of conditions from advanced stages of cancer to infectious diseases. With Cell and Gene therapies now developing beyond the research stage of development, into process development, more employers are looking for a sound understanding of how these therapies are scaled up and industrialise at larger GMP (Good manufacturing practice) scales.
Chemical engineers with an interest in the pharmaceutical industry should acquire Good Manufacturing Practice (GMP) environment experience. GMP contains over 1200 rules that need to be followed in order to ensure the quality and safety of manufacturing environments. Lack of GMP experience could easily cost you a job and might prevent you from even getting an interview. Experience with a GMP environment is vital in your candidacy for any of the top pharmaceutical organisations.
How do I gain chemical engineering experience?
If you are currently studying at a university, get in touch with your career adviser as soon as possible. Getting valid internship experience is integral to your career as a chemical engineer in pharmaceuticals. An internship is a great way to gain the GMP experience that you will need upon graduation. Have you finished your university career without GMP experience? You might need to take an internship to gain this experience. It truly is that important.
Additionally, we recommend joining the International Society for Pharmaceutical Engineering (ISPE). ISPE offers many courses for engineers in pharmaceuticals. Their courses and events reign supreme in this industry and will help your CV. In addition to providing great knowledge, the courses and events offer great networking opportunities to prospective chemical engineers.
What qualifications do I need to work in chemical engineering role?
Prerequisite qualifications for any position include GMP experience and expertise, and the chemical engineering training gained during your bachelor's degree. However, there are also several less tangible skills needed to be successful in this industry.
First, you must have the ability to multitask. To work effectively, you need to be organised and able to work on multiple projects simultaneously. Next, working with teams requires excellent communication skills. If you are shy and have difficulty speaking with others, you might need to force yourself out of your shell. Lastly, the ability to apply engineering principles and processes to your position will be essential to your success.
Should I take a contract job in chemical engineering?
The answer to this common question depends on each individual's wants and needs. For engineers in the pharmaceutical industry, there are typically two different career routes. One can either become a contractor or work in-house at a specific company. Each route has different advantages and disadvantages.
As a contractor you will generally be paid more than those working only in-house. Contractors typically work through agencies that will place them at different companies to work on contracts ranging anywhere from 3 months to a year or more. As a contractor, you will gain exposure to many different companies and have more flexibility. However, you will have less control than a stable in-house employee. In-house employees minght feel more a part of the team and can also find internal growth opportunities. There is no cut and dry answer as to which route is better, it truly depends on the person.
How do I progress my career further?
In order to progress your career, we recommend joining industry organisations like IChemE to start networking and continuously developing your skills. Additionally, earning chartered status will qualify you for more senior positions. According to the IChemE website, the chartered status "title is recognised globally and understood across all sectors of the profession." Finally, taking courses through ISPE, will help to supplement your qualifications and grow your credentials.
What do candidates typically look like?
Interested in seeing how you stack up against the compeititon? Below are some examples of actual Proclinical candidates who have been placed with our top pharmaceutical clients.

Candidate A

Completed a Masters' degree in Chemical Engineering before taking an entry level job with a top five pharmaceutical manufacturer, providing technical support for secondary manufacturing. After a few years he was promoted to Process Engineer and moved into the company's primary manufacturing building. This role involved supporting the introduction of new equipment into manufacturing, analysing emissions data building supporting computer models and reviewing engineering line diagrams. He was able to vastly develop his knowledge of operational excellence and gain the opportunity to use many of OPEX tools. This candidate was soon promoted to Senior Process Engineer and had the opportunity to work on much larger projects including the creation of process automation designs, and the delivery of high-value projects.

Candidate B

Completed a Bachelor's degree in Chemical Engineering before taking an entry-level role with a multinational EPCm consultancy. He spent the first part of his career with this business in an office-based role providing support to process design for conceptual studies. He worked on process flow diagrams (PDF), HAZOP studies and simulations and completed data sheets. He gained the opportunity to work with a number of clients and develop broad process design experience. After 3 years in this role he was moved onsite to one of their clients, a top 5 pharmaceutical business, to complete commissioning and qualification activities on a new-build pharmaceutical plant. After completing this project, he was given the opportunity to move overseas to work for another high-profile new build.

Candidate C

Completed a Bachelor's degree in Chemical Engineering with German before taking an internship with a pharmaceutical manufacturer in their validation department. Here he was involved in IQ/OQ/PQ works on sterile drug products manufacturing facilities, utilities and process validation. After working in this function for some years he became a freelance contractor working on a number of high-profile projects throughout Europe.
We are currently hiring for a number of Chemical Engineer roles based across the world. If you are interested please upload your CV to our candidate database or apply online.