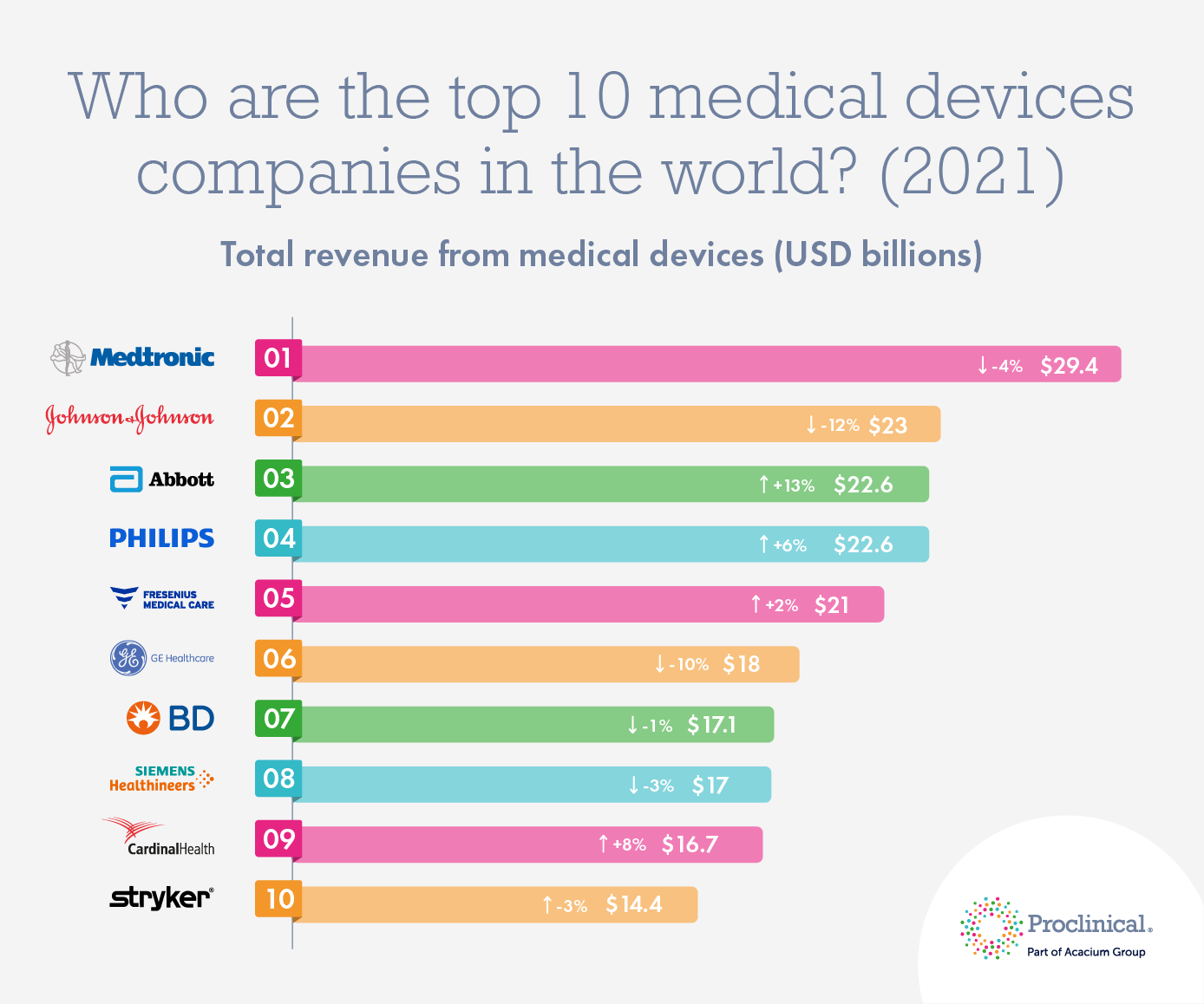 The medical devices market continued to generate stellar growth in 2020, with the complex needs of patients, coupled with the Covid-19 pandemic, encouraging companies to develop and create new innovative solutions. In 2020, the global medical devices market reached a value of nearly $456.9bn, and is likely to reach an impressive US$612.7bn by 2025. Growth is being powered by a combination of factors, including a rise in the number of healthcare facilities, increasing healthcare expenditure, technological advancements, and an aging population.
Below, we have ranked the leading medical device companies by their 2020 revenue, looking at their medical devices segment results only. The list shows the top 10 biggest medical device companies in the world in 2021:

10. Stryker
American multinational medical technology specialists, Stryker, takes tenth spot in 2020. With 43,000 employees worldwide, Stryker focuses on creating innovative solutions in orthopaedics, medical and surgical solutions, neurotechnology and spinal care that help improve patients' conditions and hospital outcomes. Up until 2020, Stryker had experienced 40 straight years of growth, but with a reduction in medical procedures due to the Covid-19 pandemic, the company's sales fell by 3.6% in 2020. In late 2020, Stryker acquired Wright Medical Group, a medical device company focused on extremities and biologics. Going forward, the acquisition has greatly enhanced the company's position in trauma and extremities, providing significant opportunities to advance innovation and reach more patients.

With over 100 years' of experience and 50,000 employees, Cardinal Health is widely recognised for providing pharmaceuticals, medical products and services that help healthcare providers. In the fiscal year 2021, Cardinal Health's medical segment grew by a solid 8%, driven by the positive impact of PPE sales and higher volume sales for the lab business as a result of demand from the Covid-19 pandemic. Looking ahead, the company expects to see flat growth in 2022, assuming elective procedures return to pre-covid levels. Outside of Covid-19, the company recently announced that it had completed the sale of its Cordis business and moving forward, the company remains committed to concentrating on their focused portfolio and investing in technology advancements to improve patient outcomes.

8. Siemens Healthineers
Siemens Healthineers remains in eighth place on the list of top medical device companies. Headquartered in Germany, Siemens Healthineers is the medical technology branch of automation and electrics conglomerate Siemens. The company's revenue decreased slightly, with sales down by 3% at $17.0bn (€14.5bn) this was due to a decline for diagnostics, because of less routine testing appointments due to social restrictions put in place to manage the spread of Covid-19. There was slight growth on a comparable basis in the imaging and advanced therapy segments. In imaging, computed tomography in particular reported very strong growth because CT scans became increasingly important for treating Covid-19 positive patients. Moving forward, the company continues to progress with their digital transformation and remains committed to supporting healthcare providers by empowering them on their journey towards expanding precision medicine, transforming care delivery, and improving patient experience.

7. Becton Dickinson & Company
Commonly referred to as BD, Beckton Dickinson & Company is an American multinational medical technology company that manufactures and sells medical devices, instrument systems, and reagents. BD's revenues fell slightly (-1%) with sales of $17.1bn; this was as a result of negative impacts caused by the Covid-19 pandemic with healthcare services being significantly disrupted. The company also had to invest a great deal to cover the cost of fixing its problematic Alaris infusion pumps. However, the business returned to growth in Q4 thanks to the notable success of BD life sciences with the integrated diagnostic solutions division developing innovative Covid-19 testing. Going forward, BD is driving growth by building a strong portfolio of innovations that address unmet clinical needs, developing solutions for both acute and nonacute settings and bringing to market products that meet patients' needs at home, in hospital or wherever they are.

6. GE Healthcare
A staple to the top 10 is leading global medical technology and life sciences company, GE Healthcare. With a broad portfolio of products, GE Healthcare is widely recognised for its imaging, ultrasound, software and life care solutions. In 2020, sales fell by 10% due to the disposition of BioPharma, now known as Cytiva, which manufactures medical equipment to support the biotech industry. However, life care solutions performed well with quadrupled Carescape R860 ventilator production capacity and increased manufacturing capacity of other technologies used in the diagnosis and treatment of Covid-19. In an annual letter to their shareholders, CEO, H. Lawrence Culp Jr. commented "Healthcare grew revenue organically and delivered strong margin and cash performance in 2020. Through it all, we invested for the future, launching more than 40 new products and acquiring Prismatic Sensors, which specializes in photon-counting CT technology. Healthcare remains focused on breakthrough imaging technologies with digital at the forefront".

5. Fresenius Medical Care
German-based international healthcare company, Fresenius, takes fifth place in the list of top medical device companies. With over 300,000 employees in more than 100 countries, Fresenius Medical Care is the world's largest provider for services and products for those with renal diseases. In 2020, Fresenius Medical Care's sales rose by 2% with revenues reaching $21.0bn (€17.9bn). Despite the challenges of the pandemic, Fresenius Medical Care was able to provide more dialysis treatments at home for patients. In 2020, the company presented their 2025 strategy, keeping their products and healthcare services at the core and with a plan to concentrate on three key areas: renal care continuum, critical care solutions and complementary assets.
4. Philips
With over a hundred years in business, Philips is a diversified technology company. Philips' health care division makes up 42% of their global revenue and is made up of three key areas: Diagnosis & Treatment, Connected Care, and Personal Health. In 2020, Philips' health products and solutions delivered 6% year-on-year growth, with sales reaching $22.6bn (€19.1bn), positively impacted by a more favourable currency exchange rate. This was as a result of a stronger performance in the second half of the year, following a challenging first half due to the impact of Covid-19. For diagnosis and treatment, sales declined slightly, with weak growth for diagnostic imaging, and a decline for image-guided therapies and ultrasounds. Connected care grew well, with a strong performance for monitoring & analytics and sleep & respiratory care, mainly driven by Covid-19-generated demand. In a letter to shareholders, CEO, Frans van Houten commented "The developments of the past year validate our strategy to innovate the provision of care along the health continuum – putting the patient at the centre, improving diagnosis and treatment pathways, enabling the integration of care across care settings, and increasing care provider productivity. At the same time, we help consumers to live healthier lifestyles and to cope with chronic disease. Increasingly, we are able to connect home and hospital care through telehealth platforms. This approach is resonating more strongly than ever".

3. Abbott
American multinational, Abbott, secures its place in the top 3 medical device companies this year. Founded over 130 years ago, Abbott is headquartered in Illinois and delivers medical devices and healthcare solutions to more than 160 countries. With 107,000 employees worldwide, the company is well known for creating breakthrough products in diagnostics, medical devices, nutrition and branded generic pharmaceuticals. Abbott's medical devices and diagnostics divisions grew well, up 13% on a year-on-year basis. Abbott played an integral role in tackling the early phases of the Covid-19 pandemic creating diagnostic tests and supplying them on a global scale. Outside of Covid-19, other areas of the business continued to flourish, with a host of new medical devices being released including the next-generation MitraClip repair device and the Tendyne device, which replaces the whole valve for patients for whom repair is not an option, as well as the FreeStyle Libre 3 system — the thinnest and most discreet glucose sensor ever. Going forward, Abbott plans to solve not only the medical challenge that their products address, but at the same time, the challenge of access and affordability.

2. Johnson & Johnson
After a tough 2020, Johnson & Johnson takes the second spot again in 2021. J&J's medical devices segment includes a wide range of products used in the orthopaedic, surgery, interventional solutions, and eye health fields. Medical devices worldwide declined by 12%, primarily driven by the negative impact of the Covid-19 pandemic and the associated delay of medical procedures to their surgery, orthopaedics, and vision businesses. The decline was partially offset by growth in the interventional solutions business led by electrophysiology products. Chairman and Chief Executive Officer, Alex Gorsky, stated in a press release: "We remain incredibly excited about the great potential of the end-to-end digital surgery ecosystem and are simultaneously developing three differentiated robotic programs and recently achieved a significant milestone with the FDA clearance for our Velys Robotic-Assisted Solution designed for use with the Attune Total Knee System. Our industry is just starting to unlock the full potential and benefits of these robotic and digital technologies—and it seems only fitting that the same company that helped pioneer sterile surgery 135 years ago is now poised to lead the way".

1. Medtronic
Medtronic once again tops the list as the largest medical device company in the world. With a workforce of over 90,000, operating in 150 countries, Medtronic is at the forefront of medical technology. Although in 2020, Medtronic's sales fell by 4%, results were consistent with the impact felt across the medical devices industry from deferred procedures as a result of the pandemic. Continuing to drive therapy innovation, the Medtronic's pipeline remains strong with several recent approvals and delayed product launches. Despite Covid-19, Micra VR together with Micra AV, the world's smallest pacemakers for bradyarrhythmia management, launched and grew well in the US. Looking forward, the company remains focused on investing in innovation to keep their industry-leading pipeline of breakthrough innovations flowing. They have also made a series of acquisitions, including Digital Surgery, Medicrea, and Companion Medical, which will help them to drive increased and sustained growth in the future.
Interested in working for one of the top medical device companies? At Proclinical Staffing, we are specialists at recruiting for all types of
medical device jobs
– including diagnostics, implants, prosthetics, non-invasive and invasive devices, software, digital health technology, wearables, robotics and artificial intelligence. If you're looking for a new role simply
send us your CV
or use our job search tool to find the right role for you.