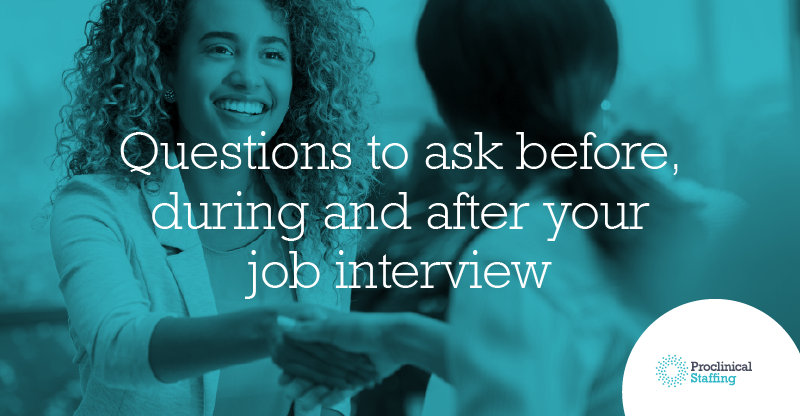 Interviewing for a new job can be an overwhelmingly stressful experience. If the interview goes well, you could be changing the trajectory of your life science career. However, if it doesn't you will be left back at square one. Knowing what to ask can be the key to a successful interviewing process. Asking the right questions can impress the interviewer and also help you to evaluate the role effectively to see if it is a good fit for you.
Here are some key interview questions to ask before, during and after a job interview:
Questions to ask before your job interview
In order to be as prepared as possible, you need to find out key pieces of information about the interview. There is nothing worse than going into an interview unprepared, with little knowledge of the company or the interview process. Asking the below questions of your recruiter or the human resources representative will assist you in preparing yourself properly for the interview.
What to ask:
Who will I be meeting with?
Knowing who you will be meeting will help you in many ways. Once you know who you are meeting with, you can do your research. Take a look at their LinkedIn profile and check for any similarities with yourself. Perhaps you attended the same university or have a similar background; this can help to build rapport when you first meet. Doing your research on your interviewers can also help you to form your questions. For example: "I see you have been with Company X for 10 years, why do you like working here?" or "I saw on your LinkedIn profile you graduated with a degree in civil engineering, how did you get into the pharmaceutical industry?".
What is the typical interview process like?
Asking this question provides you with information about what to expect during the interview process. Perhaps you have to take a personality test or prepare a project. Asking about the process can help you to plan accordingly and negotiate with your current position for time off. It also helps to manage your expectations and can help you to prepare further.
What does the ideal candidate look like for this role?
Learning about the ideal candidate will allow you to know whether you are in fact a good fit for this position. If they are looking for someone with completely opposite characteristics or knowledge in other areas, you should consider if it is worth progressing with the process However, the answer to this question could also help you to shape your answers and approach to the face-to-face or video interview.
Questions to ask during your job interview
Asking the right questions during the interview is essential. If you are asked "do you have any questions?" whether you are on a pharmaceutical job interview, clinical research job interview, or medical science liaison job interview, the answer is always the same. YES!
Before asking questions, try to gage what kind of person the interviewer is: Can you have relaxed conversation? Or do they just want to talk business? This will help you when it comes to knowing how behave and what kind of questions will be appropriate to ask.
The questions asked during the interview are most important. Try and write down a few before your interview so you are not racking your brain trying to remember them. Make sure to cater your questions to your industry. If you are interviewing for a pharmaceutical job, you will want to adjust your questions accordingly.
What to ask:
What are the opportunities for career growth in this role? / What is the expected career path for someone in this role?
Asking about the career path and growth in a role shows initiative. It also shows you are ambitious and thinking about the future. Additionally, this question gives you insight into your potential future with the company.
What are your expectations of someone in this role in the first three months?
This question shows that you want to perform well if you are given this position. It will also give you an example of how the company evaluates employees. Perhaps their expectations are too high for you; if so it is better to know now than after accepting the position.
What are the training opportunities offered for this position?
This is important information to know. First, because it allows you to know how the company takes care of employees. Next, it exhibits how real the growth opportunities at a company are. Companies who grow employees from within through training usually have more concrete career paths.
What will be my biggest challenge or objective in the first six months?
There are two objectives in asking this question: Firstly, it will help you grasp what difficulties you are likely to run into, and secondly; it gives you the opportunity to really sell yourself on those points as someone who is willing and capable of taking on the challenge.
What does success look like in this position, and how do you measure it?
It's crucial to have a deep understanding of how a company measures success. What are the key performance indicators (KPIs) for the role? How often are they measured? This shows understanding of the role and will also give you more of an indication as to if this is something you could manage.
Questions to ask after your job interview
After the questions have been exchanged, now is your chance to really shine. When the interview is wrapping up, you can ask questions that will give you a better idea of your candidacy.
What to ask:
Do you have any hesitations or doubts with me as a candidate? / Do you have any doubts in my ability to do this job well?
Depending on the person interviewing, you will get either a very honest answer or a very ambiguous answer. If there are doubts, this is your opportunity to combat them and attempt to change the interviewer's mind.
What is the next step in the interview process?
Unless you have already been told, this question shows you are interested in moving forward with the position. Everyone likes to feel wanted and your future employer is no different. The answer may also give you some insight into the interviewer's feelings towards you as a candidate.
A job interview can lead to an exciting opportunity for you to progress in your life sciences career. In order to achieve success, preparation is key. Your questions should be thoughtful and worded in a way that is comfortable and natural for you. Take your time, be concise and relax.
For more tips and advice on how to stand out at your interview, download our interview guidebook.