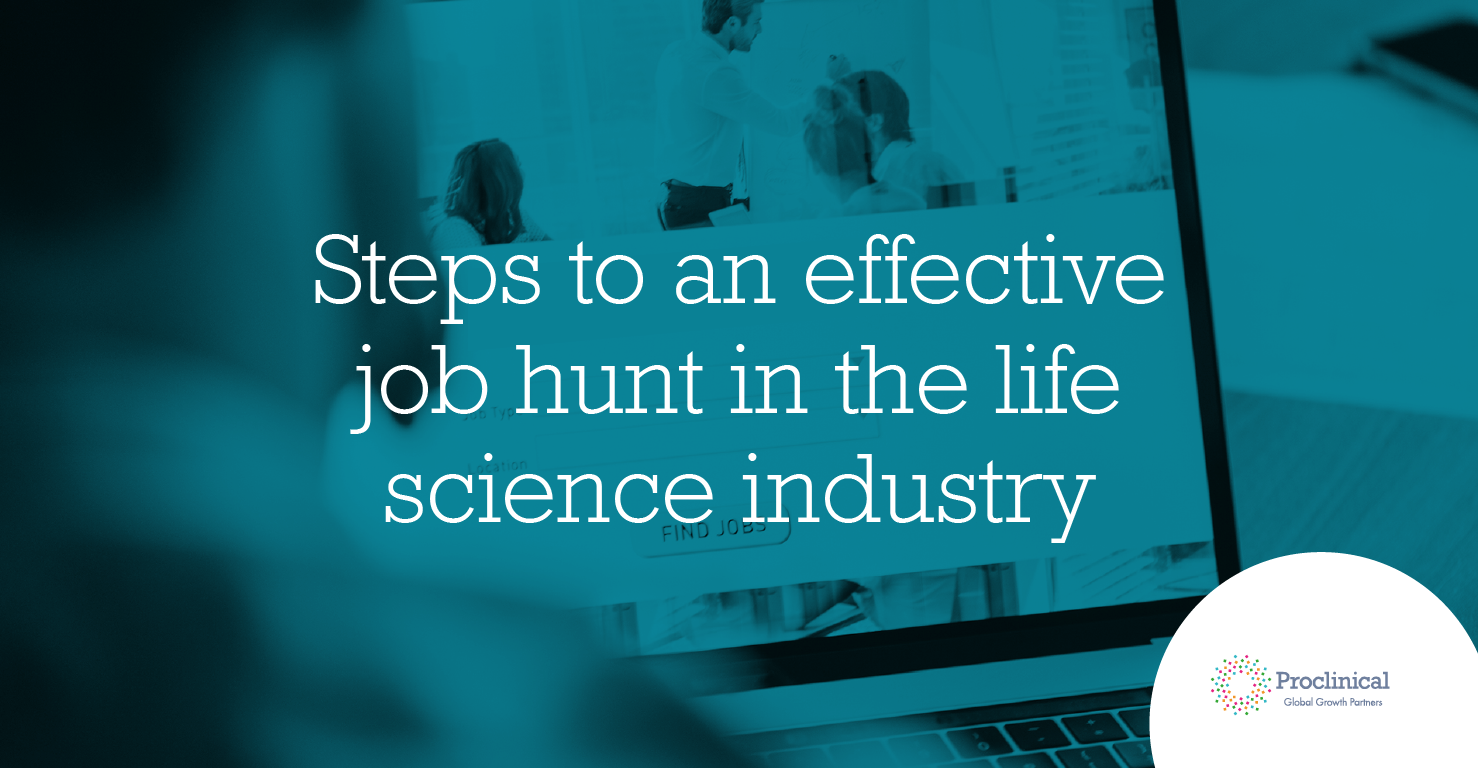 Finding the job you want in the life science industry can be tough due to very competitive landscape and only a small percentage of applicants even make it through to an interview. How can you increase your chances and make sure that you are one of them?
In this article, we've broken down the three main stages of finding a job – preparing, applying for, and securing the role – and give some pro tips to help you become a stand-out candidate. Have a look at each section to see how you can maximise your chances of getting the job you want.
1. Research and preparation
This stage is mostly about ensuring that you are putting your best foot forward from the beginning. Life science jobs are competitive and you'll have to beat a lot of other experienced candidates in the early stages of your application.
Update
Be sure to fully update your most recent experience any new skills you have gained in your current role. Taking time to showcase your key attributes helps busy HR personnel and hiring managers see immediately to what extent you are qualified for the job. This is a huge advantage as they are likely to skim read your CV/resume and if important information is not present or easily seen, this will affect your chances of getting an interview.
Customise
For highly specialist roles, of which there are so many in life sciences, there is nothing worse than a generic CV or resume. Each company is unique, working with different materials and technologies in various therapeutic areas. HR and hiring managers will want to see very specific examples of how your skills and experience will advance the technologies, specialisms and processes that drive their company. Filtering out irrelevant skills and experiences will streamline your CV and ensure you look like the ideal person for the job.
Optimise
In this instance, we mean optimizing your application for the various technologies that it may pass through. Most likely an applicant tracking system (ATS). These highly efficient systems will scan through your CV/resume looking for pre-programmed key words and phrases that match the job description in question. If these keywords, phrases and acronyms aren't written in a recognisable way you risk your key skills and experience not registering with the ATS, sending your application to the bottom of the pile. Over half of candidates are eliminated for a job via the ATS system if they don't match the job description.
Here are a few common CV/resume writing mistakes to avoid!
Review your online presence:
So much of the job hunting process happens online. That's why it's crucial to make sure that you are presenting yourself well on both job searching AND social media platforms. You can count on prospective employers googling you once they receive your job application or just before they reach out to you. Would you be happy with what comes up on your Facebook, Twitter, Instagram etc.? Either keep these social feeds free from appropriate pictures, a lot of bad language and ravings over sensitive subjects or take time to make them private! 70% of employers say that they turned down candidates because they discovered something negative or inappropriate online.
LinkedIn
Sometimes the best job come to you. Recruiters or a company's talent acquisition may conduct their own searches and approach you with an opportunity. This saves you a lot of hassle of trolling through job sites/boards and almost guarantees you an interview. However, only the best candidates are approached like this. Aside from updating and optimising their CV, these professionals have taken care in creating and maintaining professional profiles. This could be their profile on a job board, or more likely - on LinkedIn.
LinkedIn is a great way to broadcast the best bits of your CV/resume in a fully optimised profile that can be seen by an array of recruiters and employers. Most recruiters use social media to advertise job opportunities, and 70% of employers are using social networks to screen potential hires.
2. Applying for jobs
Are you looking in the right places?
Job boards
Aside from the major job boards like Indeed, CareerBuilder and Monster there are a number of life science specific job boards that you may have come across. Some of the most prominent life science job boards include PharmiWeb, Emed, Biospace and of course and you'll find a great deal of opportunities with us at Proclinical Staffing. To refine your job search even more, you can seek out job boards that are specific to your field or specialism.
Applying directly
It is thought that as many as 80% of jobs are not posted on industry job boards or social media. Therefore, you may gain advantage by making a list of companies you want to work for and contacting them directly.
Networking
Better yet, do some homework and work out who the key decision makers or hiring managers are in your field within your ideal company and begin networking with them. LinkedIn is a great tool for networking – another great reason to set up a profile. Generally, networking adds another string to your bow when searching for jobs that may not be publicly advertised. Here's some top tips on how to network for jobs in the life science industry.
Recruitment
A proportion of jobs not advertised online will be assigned to recruitment and staffing companies to help companies find the specialist skills and experience they need. These specialist staffing agencies build up networks of these professionals to call upon when they match the job description. Bear in mind that if you are approached by a recruiter that the job may be exclusively available through their agency, so it is certainly worth considering.
Finding a job through a recruitment company can also simplify your job hunt significantly and can increase your chances of being put forward for an interview. We've outlined a few reasons why you should consider using a specialist life science recruitment agency to enhance your job search.
3. Getting the job
Once you've successfully made it to interview, it's your chance to convince them you're the best candidate. To actually get a job takes so much more than having the right qualifications and experience, and meeting your prospective employers in person is the opportunity to showcase everything else you can bring to the role.
We could reel off a long list of what not to do in a life science interview but instead we've got some key points on what to expect, how to prepare and some important things to remember during the interview.
Preparation is king
Preparation should go beyond researching the company's history and products. Spend time understanding their unique medicines, technologies, indications and therapies and what drives them to save and improve patients' lives. It's important to remember that this sense of purpose is an important part of what fuels the life science industry.
To show an even wider understanding, be sure to research the current market (whether pharma, biotech, medical devices etc.). Try to identify trends and forces that may be influencing or causing changes in the market.
Also, give the impression of being prepared by bringing along a copy of your CV/resume, a notepad to make notes, and even a few of your own pre-written notes to refer to during the interview. This may strike you as strange, but an interview is not an exam. Having some key points written down or even some questions you wanted to ask is a great way to stay on track and ensure you get all the information you need.
Appearance and body language
While your interviewer will certainly be looking for well thought out answers to questions, they're also on the lookout for a professional appearance and composed body language. Some light-hearted pleasantries at the beginning of the interview won't go amiss, adding to the impression that you are calm and collected.
Remember not to talk over your interviewers, speak abruptly to any administrative staff before/after the interview and most importantly, avoid speaking about your previous employers in a negative light.
Answering questions
You can never know exactly which questions you are going to be asked, but preparing for common interview questions is a good start. Prepare answers around the specific therapy area or field of science that may be involved in the role you are applying for.
Competency-based questions are common so it's advisable to brush up on some frequently asked questions. It's worth following the STAR (Situation, Task, Action, Result) framework when preparing potential questions, and also in the moment when you're answering.
A quick note on answering questions you're not prepared for – try not to get flustered, instead taking a few moments to process and formulate something as relevant as possible. As a general rule, interviewers will appreciate a slight pause because launching into your answer as it shows that you are giving it due consideration instead of reeling off memorised answers.
Asking questions
Interviewers will expect you to have a few questions of your own. There is likely a lot information you will want to gather as you are also assessing whether the position is right for you. Asking considered, targeted questions shows you're interested, engaged and focused on the company and role.
Here's some ideas on questions to ask before, during and after an interview!
Going for a management role? Here's some specific advice if you're preparing for a management interview.
We hope you've found these tips useful and that they help you make those small adjustments that make a big difference. There's no guarantees you'll suddenly get a flood of job offers, but we're confident that by following the advice in this blog, you'll start to get noticed by more employers and recruiters. Remember to stay positive and stay focussed, and if you encounter rejection, keep going! There are always more jobs in this industry.
Did you find these tips useful? To find out more about what life sciences companies are looking for on your CV and increase the success rate of your job applications, check our our Guide to creating a successful CV.