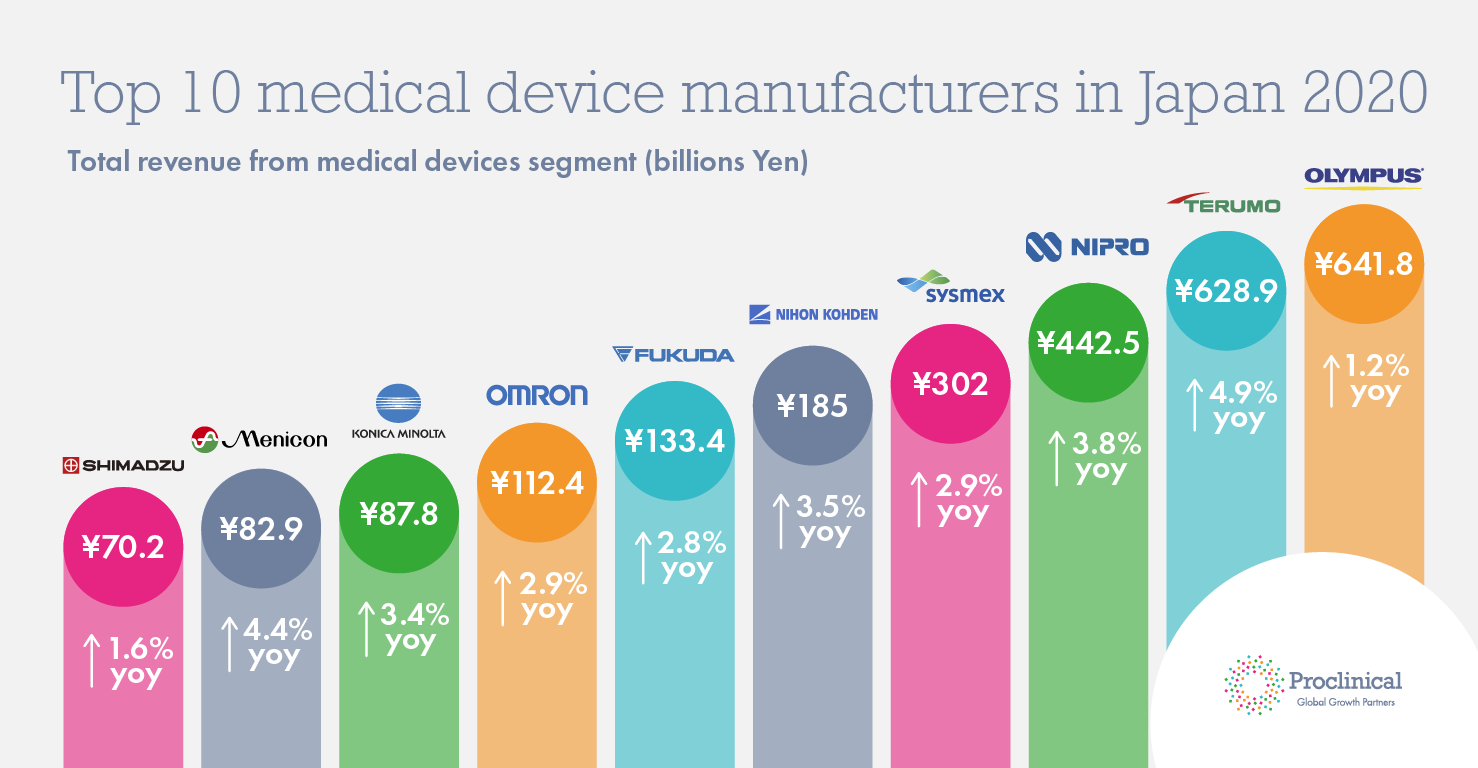 Japan stands as one of the world's top contributors to the medical devices market. medical devices market in Japan is predicted to grow by JP¥695 billion (US$6.65 billion) between 2020-2024. This innovative industry continues to expand against the background of an ageing population and the unmet needs for minimally invasive treatment.
We have ranked the leading medical device companies in Japan by 2019 revenue, looking at their medical devices segment results only. The list below shows the top 10 leading Japanese medical device companies in 2020:

10. Shimadzu Corporation
Shimadzu Corporation is a Japanese company that specialises in manufacturing precision instruments, measuring instruments and medical equipment such as X-ray TV systems and angiography systems. With increased sales of diagnostic X-ray systems in Japan, the medical systems segment rose by 1.6% on a year-on-year basis.


8. Konica Minolta
Japanese multinational, Konica Minolta, is a technology company headquartered in Marunouchi, Tokyo. Konica Minolta's Healthcare business sales increased by 3.4% in fiscal 2019. At the start of 2020, the FDA approved the company's new dynamic X-ray system that enables the visualisation of lung functions, this is expected to boost the company's earnings in the next fiscal year.

7. Omron
Established in 1933, Omron's primary business is the manufacturing and sale of automation  components, equipment and systems, but it is generally known for medical equipment such as digital thermometers,  blood pressure monitors and nebulizers and holds an impressive 50% global market share of home blood pressure monitors. In fiscal 2019, sales rose by 2.9% with the demand for blood pressure monitors in China, Europe and Asia remaining high. Meanwhile, demand in Japan was sluggish due to the increase in consumption tax and other factors, while in North America, demand declined too.

6. Fukuda
Established in 1939 in Tokyo, Fukuda Denshi has today become one of the largest suppliers of medical equipment solutions in the world. Sales rose by 2.8% in fiscal 2019 with pacemakers and home medical equipment rentals performing well. To improve its positioning going forward, the company has formed a partnership with OMRON Healthcare to help strengthen its home-based field and overseas business.

5. Nihon Kohden
At number five is Nihon Kohden, a leading manufacturer, developer, and distributor of medical electronic equipment, including biometric equipment, biometric information monitors, and AEDs. Sales increased by 3.5% as the overall demand for medical equipment remained steady. However, the COVID-19 outbreak adversely affected national healthcare systems, so Nihon Kohden implemented its three-year mid-term business plan, Transform 2020 with the aim of achieving the transformation to a highly profitable structure through creating high customer value and improving productivity.

4. Sysmex
With its mission to "shape the advancement of healthcare", Sysmex has been providing customers around the world with the solutions that enable in vitro testing of blood and urine samples since 1968. Sales for the life science company rose by 2.9% in 2019.

3. Nipro
With over 29,000 employees worldwide, Nipro serves the medical device, pharmaceutical, and pharma packaging industries. Nipro's Medical Device business develops, manufactures, and sells medical equipment for injection-infusion and dialysis treatment, and products related to diabetes and cell cultures, as well as artificial organ-related products. In 2019, net sales increased by 3.8% from fiscal 2019 due to favourable medical and pharmaceutical sales.

2. Terumo
With nearly a century in business, Terumo is in second place. Based in Tokyo and operating globally, Terumo employs more than 25,000 worldwide to provide innovative medical solutions in more than 160 countries. The company started as a Japanese thermometer manufacturer and today it is a strong in cardiovascular areas such as catheters and stents. In fiscal 2019, Terumo posted record highs for revenue and adjusted operating profit due to the relatively strong performance and the fact that the impacts of the global COVID-19 pandemic felt during the fourth quarter were minimal.

1. Olympus
Beating Terumo to the top spot is Olympus. With the top share (over 70%) in gastrointestinal endoscopy, the company's revenues reached ¥641.8 bn in 2019. Growth was due to increased sales in for its Endoscopic Solutions Business, Therapeutic Solutions Business and Scientific Solutions Business. In 2019, announced its business transformation plan "Transform Olympus" in January 2019 to develop itself as a truly global med tech company. Going forward, Olympus is working to achieve sustainable growth based on this management strategy.