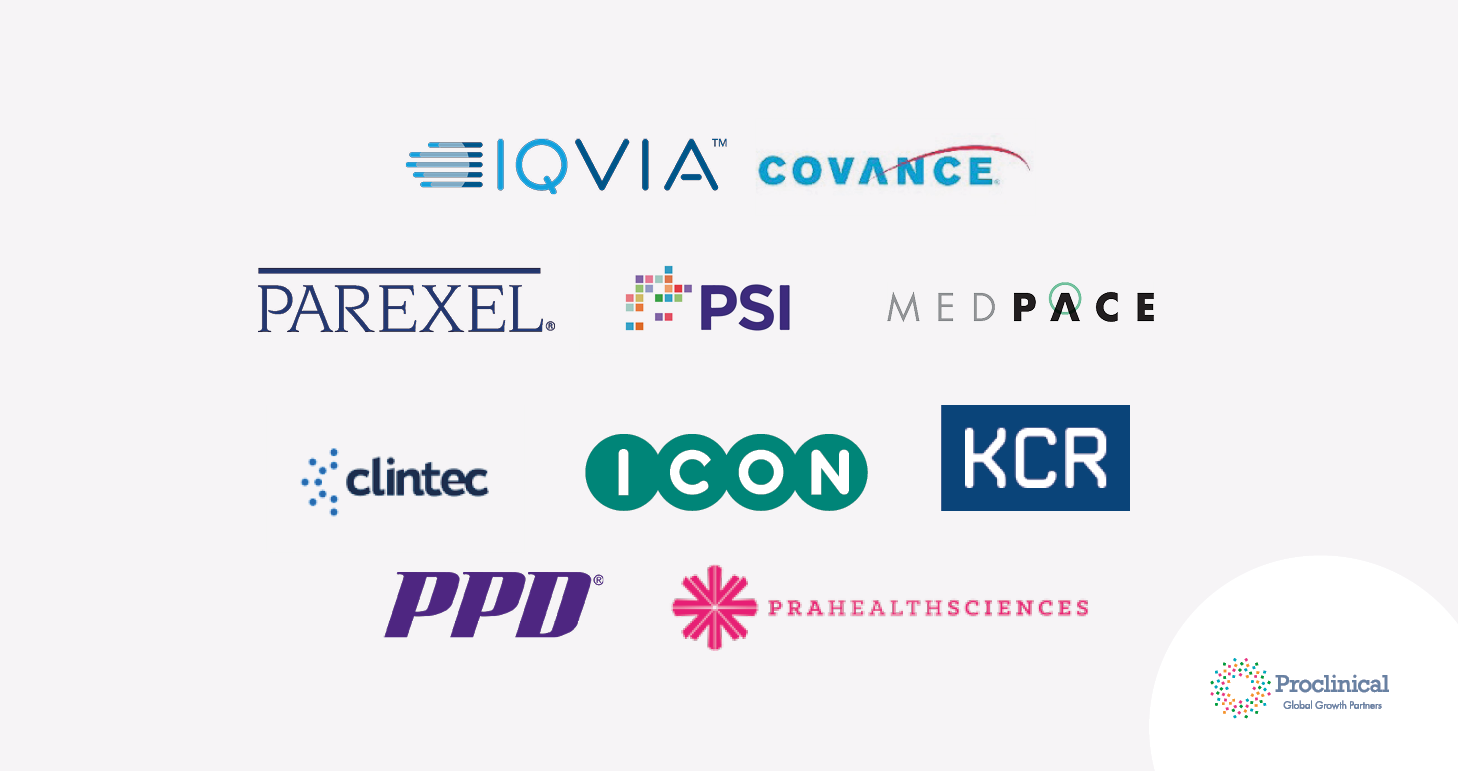 Contract research organisations (CROs) are essential to the pharma, biotech, and MedTech industries. They support clients' efforts to test, refine, and market the latest pharmaceuticals and medical devices. Our list of the top CROs to watch profiles the industry's leaders and emerging companies.
The global CRO market value reached $39 billion in 2018 and is expected to exceed $44 billion by 2021, as patent expiration, proliferation of generic medications, and technological innovations like mHealth and big data influence product development all leading to greater outsourcing of work to CROs.
At the same time, the CRO marketplace is becoming increasingly competitive: a trend of mergers and acquisitions enhance larger companies' full-service capabilities and international reach. Other mid-sized and smaller CROs are focusing on niche sectors and a more personalised approach to their sponsors. The growing market is also creating a wealth of new clinical research jobs for candidates and clinical recruitment agencies in major hubs throughout Europe, the USA, and emerging markets in Asia Pacific countries.
With expansions, consolidations, and innovations continuing throughout the CRO industry, 2019 is sure to be another year of change and excitement for large and small CROs alike, as well as boosting employment through increased demand for Clinical trial assistants (CTA) and clinical research associates (CRA). in the pharmaceutical sectors and beyond. The below top ten CROs to watch in 2019 are listed in no particular order but include both industry leaders by market share and revenue, and up-and-comers who are steadily increasing their presence through strategic partnerships and innovative service offerings.
PPD
Pharmaceutical Product Development (PPD) is a leading CRO that operates in 48 countries across the globe. They are considered a premium CRO provider for many pharma and biotech companies globally. In May 2019, PPD was recognised by biotech industry leaders as top supplier based on their capability, compatibility and expertise in assisting clinical research programmes.
After acquiring Evidera in 2016, PPD solidified itself as a leader in real-world research. The company has leveraged Evidera's real-world evidence expertise to provide life science companies with an increasingly crucial element of the clinical development process, helping PPD to remain competitive. We can expect even greater things from PPD in the coming year thanks to their acquisition of Synexus, a patient recruitment company, in 2018. Soon after, PPD launched a new enrollment model that 'inverts' the typical site-first approach, instead identifying potential participants first before delivering them on-site. This allows for more rapid enrolment from the company's established databases and modelling.
MedPace
A mid-sized CRO, MedPace focuses on clinical research for drugs and devices globally. Unlike many of the larger CROs, MedPace have not invested time and effort in acquisitions but instead chosen to reinvest in their own workforce. This has led to them experiencing growth organically rather than externally by acquiring other well-established CROs. They have a focus on an office-based culture, which is certainly interesting in the ever-evolving CRO business which is heavily home-based.
MedPace's smaller size helps them retain the intimacy of a cohesive office culture. This is thought to directly affect how employees feel about the job and how they interact with clients on a daily basis, offering a unique service. This CRO is one to watch as it's one of the few that is steadily growing yet hasn't acquired or been acquired. Will they be acquired or put in a bid to acquire a small CRO to further their growth? How long can they keep their independence?
Clintec
Clintec was a Scottish women-owned independent CRO, before its acquisition by IQVIA, that specialises in oncology and rare disease clinical research services. The company is medium-sized but has a global reach across 50 countries, including several emerging markets such as Sub-Saharan Africa. Clintec has enjoyed annual growth of 55% since 2017 and is one of the fastest-growing CROs in the UK.
Despite its acquisition by CRO giant IQVIA the company has continued to operate quite independently. It will be interesting to see whether Clintec follow in the steps of Novella which was acquired by the group in 2013. Novella operated independently for many years and was rebranded as IQVIA Biotech in 2018. Clintec's ethos has remained largely unchanged and there seems to be a scope for movement and autonomy, bolstered by the support of their giant CRO parent company.
PRA Health Sciences
PRA is an American CRO established in 1982 but was only brought public following it's acquisition by Kohlberg Kravis Roberts in 2014. PRA's drive toward international markets has grown since the company went public, with a specific focus on Singapore, China and other regional sectors. In 2018, the company was named best CRO in Asia by BioPharm Asia and in the same year, their global coverage expanded to 85 countries.
PRA has an excellent company culture, with a low staff turnover compared with other big CRO players in the industry. The company's growing impact on the industry is mostly thanks to it's pioneering of the unique 'embedded' outsourcing model after acquiring ReSearch Pharmaceutical Services Inc (RPS) in 2013. This model, which recruits specialists before integrating them within their clients, is thought to be the future of the industry and is helping PRA differentiate its service within a very competitive landscape.
KCR
KCR is a boutique CRO that has spent the last few years expanding through Europe, including Germany and UK, finding its feet and creating a more manageable presence. Last year, KCR opened their operations in the USA and has really begun to bid for business. Their growing impact on the industry is the pride they take in a human approach, with a belief that there is a human behind every number. KCR's services are closely related to patient data and patient recruitment and it will be interesting to see them continue to develop rapidly in this space.
ICON
This top-tier CRO posted revenues of $2.4 billion in 2018 – an impressive 7.9% increase since 2017 - and has completed a series of acquisitions in recent years, including ICHOM, Genomics England and most recently, MolecularMD in early 2019. In 2016 Icon partnered with Genomics England on the UKs 100,000 Genomes Project, and IBM Watson for oncology research support to further expand service offerings and clinical research jobs in the genomic science and oncology sectors. However, ICON is currently the on the watch list thanks to its acquisition of MAPI Group, a French late stage focused CRO which has helped them boost their real-world evidence (RWE) foothold hugely. ICON is certainly one to watch for giving other CRO giants like IQVIA competition for this key driver in clinical development.
IQVIA
The company adopted the name IQVIA in 2017 following the merger of Quintiles and information and technology group IMS, which offers their clients an end-to-end clinical and commercial service. It is currently the largest CRO in the world, with a $10.4 billion revenue in 2018. After a string of further acquisitions of smaller specialist companies, the company is going from strength to strength and are truly at the forefront of the CRO world. This is particularly true in the real-world evidence and data space. Currently the services they provide are unparalleled by other leading CROs but it is worth watching how IQVIA will navigate emerging key drivers of the industry, such as digital health and artificial intelligence.
PSI
PSI is a fast growing CRO that specialises in a range of fields such as oncology, haematology, infectious diseases and multiple sclerosis. The company has a very close-knit culture and their leading philosophy was established by the CEO/Founder - to create a CRO that he himself would like to work with. Originally a European head-quartered CRO, PSI quickly expanded into the USA and has operated there for 14 years. However, since 2017 the company has further globalised their business into the APAC region, opening offices in Australia and South Korea in 2017 and most recently, India and Hong Kong.
Parexel
In 2018, industry giant Parexel achieved $2.4 billion in revenues as it pursues cost-controlling measures and expansion into lower-cost emerging markets. while simultaneously forging partnerships with Eli Lilly to develop clinical research in China, and SHYFT to deliver better real-world data studies. In 2017, Parexel was bought by Pamplona, a private equity firm, which has served to bolster their profit margin as well as the quality of their market-leading services to biotechnology companies across the globe.
Covance
Purchased by LabCorp in early 2015, Covance boasted annual revenues greater than $2.5 billion before its acquisition, and now achieves full year revenue of $11.3 billion in 2018. Covance's future looks brighter still following its acquisition of top 10 CRO Chiltern in 2017, which is a specialist oncology organisation and will bring cancer patients innovative medicines faster. The acquisition has planted Covance as a leader in the oncology space and will enable the company to work with a wide and interesting range of oncology clients.
Proclinical Staffing is currently recruiting for a number of vacancies at many of the leading CROs listed above. If you are interested in working at one of the top contract research organisations in the world, please upload your CV to our candidate database or apply online to some of our current live jobs.