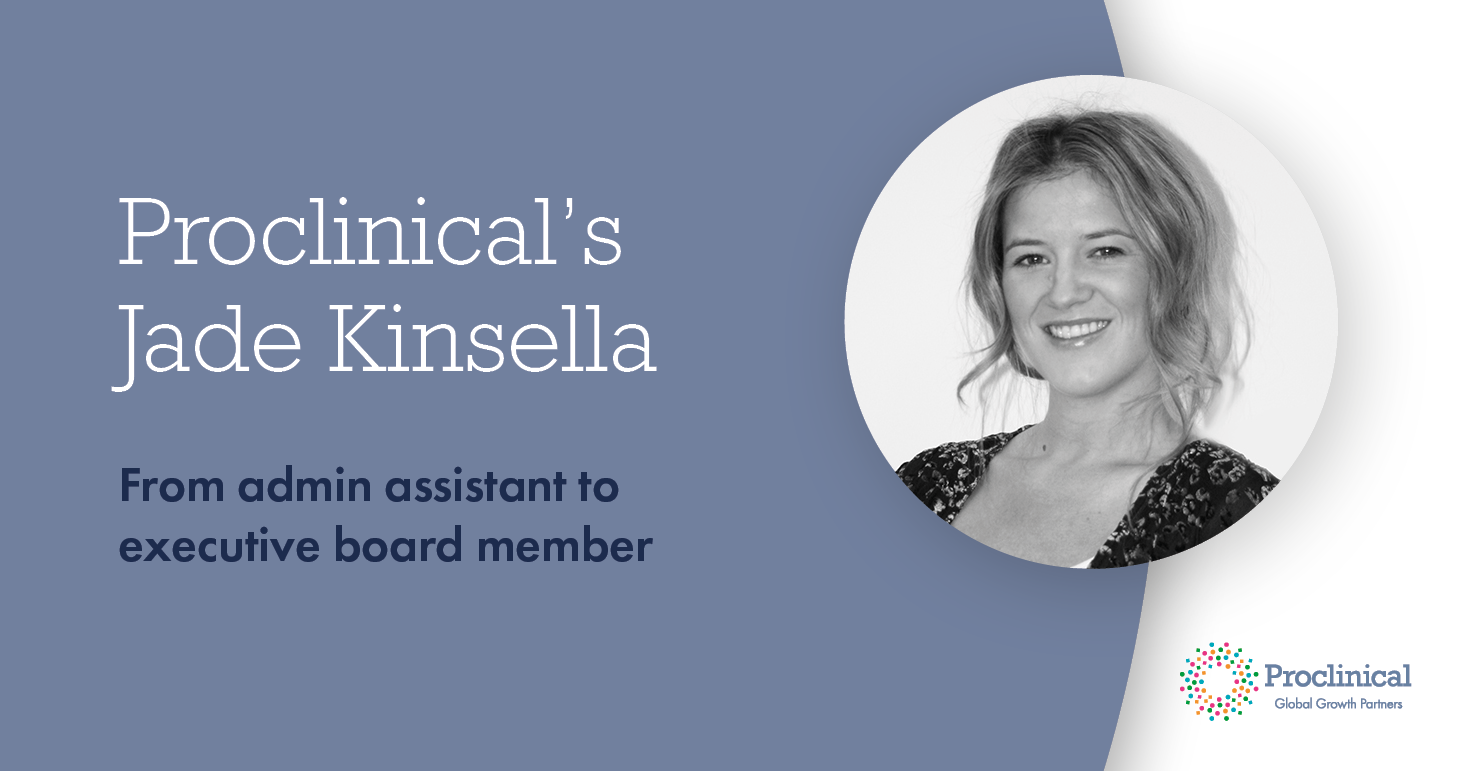 Jade Kinsella joined Proclinical in August 2009 as an admin assistant at a time when Proclinical had only six employees. Jade now sits on the executive board as Global Head of Human Resources, overseeing 178 employees across Proclinical's twelve international offices.
With a background in visual merchandising, Jade says she "barely knew what an invoice was" when she assumed her first office-based role at Proclinical! Over the following years, Jade began to shape her career, moving into office management within her first year, expanding into compliance and finance before realising her true talent and passion lay in HR. In 2014, she went on maternity leave following the birth of her first son and studied Human Resource Management (CIPD), returning as the company's HR Manager. Jade grew the HR function to support the company's rapid growth internationally, and was promoted to Global Head of HR in early 2018. Jade is an inspiration to many women at Proclinical, having transformed her career to pursue her passion while taking time to enjoy being a mum to her two young sons. Here are her insights into what's been the key to her success at Proclinical:
What drew you to a career in HR?
I have always dealt with HR aspects throughout my time at Proclinical and when I looked at the many hats I had worn for the business, HR was the one I had the most passion for. I get a real sense of purpose when I know I have helped solve someone's problem, both from a personal and professional perspective. I found time to study during my first period of maternity leave, which enabled me to progress fully into Human Resources.
Has your progression here taken you beyond your original career aspirations?
Proclinical is a company that naturally encourages progression, at all levels. At times where I didn't have much self-belief, there was always someone in the background here encouraging me to strive for more. I have had the support of Proclinical's leadership team since I joined the company and that has continued throughout my career. The journey from a shy girl who didn't know how to make coffee to a confident woman on Proclinical's executive board has been challenging but definitely reached beyond my expectations!
What would you put your success down to?
I have worked since I was 13 years old and I have always had strong work ethic, no matter which role I have been in. I don't dwell on negatives for too long which helps me maintain a positive outlook. I have also found that having a reliable nature and being able to find creative solutions has helped me excel, particularly within human resources. I am where I am today because I always strive to better myself for my two children, and want to inspire them to do the same.
What inspiring women have you met in the recruitment industry?
I work with extremely intelligent, empowering and successful women every day at Proclinical, who inspire me to be the best version of myself. Recruitment demands hard work and perseverance, and I really admire women who seek to drive innovation and are happy to have challenging conversations that support change in how a business recruits and supports females transitioning throughout the workforce. In general, I admire both men and women in recruitment who are genuine, authentic, and demonstrate an ability to learn, grow and evolve the industry for the better.
What would you say to women looking to succeed in a corporate environment?
Believe in yourself. It may not be easy to stand up and express your thoughts and opinions but you'll be amazed at how empowering, and important it can be. Nothing can prepare you for what might happen, but ensuring you are confident in the way that you deal with situations will get you far.
What qualities do you think are important to success?
There are many qualities people need to succeed, but I have personally found that two stick out as most important in my experience. 1) Be decisive: people who sit on the fence are not appreciated! 2) Maintain personal and professional integrity: a successful person conducts themselves in a respectable manner and always acts fairly and responsibly.
How have you found juggling being a mum whilst continuously growing your career?
I have been on maternity leave twice in the past five years and each time I was fully supported by Proclinical, whilst on maternity leave and on my return to work. Even when I was away I still felt connected to the business, so although it was slightly nerve-wracking returning, after the first day back it was like I never left. Having children has made me feel proud that I can juggle career growth whilst enjoying time with my kids. Being a mum and working full time can be very tough at times, which I don't think anyone would dispute. However, finding a career you're passionate about makes it that little bit easier and the rewards by far outweigh the tougher days.
Do you have any advice for other working mothers?
You can only achieve what you can achieve. Don't be too hard on yourself - you will get there, even if it takes that little bit longer. The time I have spent with my little ones by far outweighs anything I have ever achieved professionally. Mostly, remember not to lose faith in yourself. Just because you have taken time out to raise a child, you are still as capable as you were before and when you do return, always strive to be a better version of yourself.
Proclinical is delighted to celebrate Jade's achievements and the many other talented, successful women employed by the company globally. We look forward to seeing our female employees grow in confidence, work together and support each other as they pursue their careers at Proclinical - where the sky is the limit.

If you're a woman in the recruitment industry seeking to join a company that will fully support your career aspirations, consider applying to
work for Proclinical
. We have a range of junior and senior recruitment consultant jobs available, as well as management and director level positions.
Apply today
to give your career a boost!