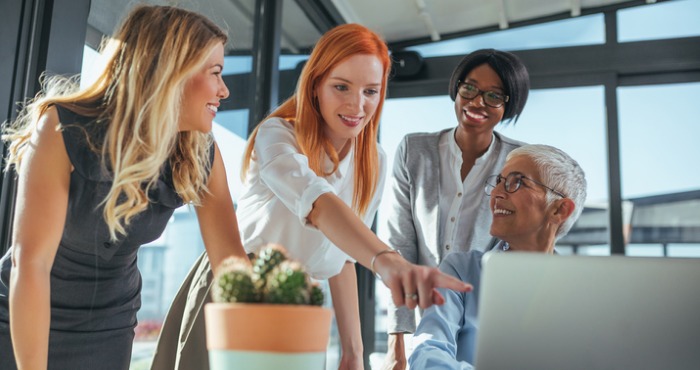 Women consist of 49% of the global life science workforce, which is a higher percentage than other STEM industries, showing that life science companies are certainly on the way to bridging the gender gap at work. However, studies still show that women's engagement levels at work are consistently lower than men's, and they hold significantly fewer positions of power at work. Issues over work/life balance, career opportunities and pay gap are common causes of female disengagement and is particularly true for women in senior management roles. Data surrounding the gender divide within life sciences suggests that companies are not fully leveraging the female talent available to them, stopping them from reaping the benefits of a fully utilised workforce.
Proclinical's employee engagement report uncovered a few factors that could be contributing to the gender engagement gap in the life science industry. The findings suggest that companies could go a few steps further to ensure women are as engaged, motivated and supported as men at work. Discovering more about the wider root causes of female disengagement and gaining insight into what motivates and helps them succeed in the workplace is a good first step for organisations wanting to improve engagement levels for women.
Feeling valued
The engagement report revealed that receiving recognition was one of the biggest motivators for women working for life science companies across the globe. This is the feeling that their ideas and efforts at work are recognised and rewarded by more senior management. Feeling valued is an important factor in engagement for all employees regardless of gender, yet statistics suggest women are feeling under-appreciated for their hard work.
While it's important for female employee to self-promote and prove their competency, senior management can help encourage women by properly recognising their achievements, rewarding excellent performance and nurturing their potential. Providing a platform for management to recognise women's (and men's) performance - whether it's making more time for one-to-one communication or implementing a more structured performance review system - could be the key to increasing female engagement at work. This will be most effective if these behaviours start at the top, with the C-suite setting an example to the rest of the organisation of how to recognise and reward employees, regardless of gender.
Feeling useful
The life science industry employs a very high number of highly educated and skilled professionals. All too often, female employees express that they feel their skills are not fully leveraged and their potential not fully realised by the company. This can lead to them feeling deflated, underchallenged and underutilised in a role which has an impact on both their engagement and commitment to the company. Companies could rectify this by making a conscious effort to ensure that there are proportionate numbers of women placed in leadership positions in key areas within the business, such as research and development, finance and operations.
Proclinical's employee engagement highlighted that having the ability to influence and innovate at work was another major influence on female engagement. Being able to share ideas and make decisions at work helps female employees feel challenged by and valued by the organisation. While methods may vary, employers should seek to create an environment where diversity is a priority and both men and women are given an equal opportunity to innovate, take the lead on new projects and influence important decisions within the business. Another method is to focus on both men and women employees' expertise, interests and ambitions and then tailor their job descriptions to best leverage their unique offering. Overall, the important idea to instil from the bottom to the top is that gender diversity is an asset; even if people believe that women and men think differently, this will bring fresh ideas and encourage the innovation the organisation needs to grow.
Feeling supported
Proclinical's employee engagement reports over the years have highlighted that career support and development opportunities is an important factor of engagement for women working for life science companies. The good news is that women outside of senior leadership and board-level, appear to have very satisfactory levels of engagement, often surpassing men. However, more senior female employees still report that there is a lack of adequate career progression opportunities for them at work, or at least easily accessible to them. Current statistics support this, as only 20% of board positions are filled by women, and perhaps unsurprisingly, women at board level tend to be among the least engaged.
Studies on female engagement have suggested that women in junior positions often have a mentor to help them, whereas senior women tend to have less support by those in a position to help them progress further. As women climb the career ladder, they become less in need of a mentor and more in need of a sponsor who can help them network and use their own influence to facilitate their career progression. Companies could change this by doing their best to foster a culture at top level that makes the road to senior leadership as accessible to women than it is for men.
Giving senior females more constructive feedback on their performance and focusing equally on what is great about their performance and what needs improvement are both effective (and necessary) ways of supporting women at this high level. Companies can always implement a more structured feedback/review process to ensure this happens regularly. Other ways to better facilitate career progression for women include making social and networking events more accessible to women, ensuring they have the opportunity to take on more challenging projects, and making it a priority to eliminate gender bias when making hiring and promoting decisions at board level.
Companies cannot to truly improve female employee engagement unless they have taken steps to understand women's experience at all levels throughout the business. Carrying out engagement surveys to get to the root-cause of why female employees are not as engaged as they could be is the first step to reinventing a working culture that fully recognises women as valuable assets to the company.
For more insights on employee engagement in the life science industry, with data on many different countries and regions, please download your report today.