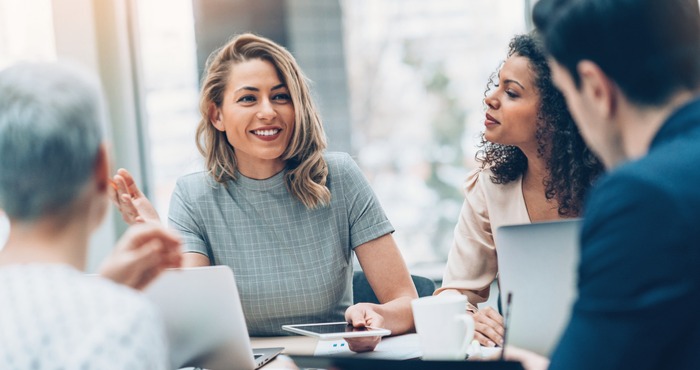 What does it mean to have motivated employees? Does motivation in the workplace benefit both employer and employee? Motivated employees feel happy in their jobs and are willing to apply themselves to reach individual and organisational goals. Motivation is an excellent way to cultivate a productive and committed workforce as it has such a big impact on engagement. However, employees are not always motivated by the same thing. Motivators can vary from sector to sector, according to their level of seniority and depending on various demographics within the company.
Proclinical's 2018 Employee Engagement report goes straight to the source, pinpointing exactly what makes life science employees feel most motivated at work. The report suggests that incorporating the following behaviours could significantly improve engagement and commitment within your team:
Provide a platform to influence and innovate
According to employees, feeling that their ideas and contributions are listened to has perhaps the biggest effect on how engaged they are at work. It is human nature to want to be heard and to make a difference. This is particularly important in life sciences, as most employees enter the industry with the intention of having an impact on patient's lives whilst immersing themselves in an innovative environment, which is a major characteristic of life science companies.
However, getting the chance to voice their ideas and impact decision making within their organisation is not always possible for employees. Proclinical's engagement report highlighted that female employees and those in non-management generally feel less able to innovate and influence at their company than male employees and senior staff. The increasing presence of technology has compounded this issue as employees may have less face-to-face communication with their manager and/or team, creating even fewer opportunities to share ideas.
You can help support employees' need to innovate and influence decision making by creating an innovative climate for all, making sure they can voice controversial ideas and introduce new concepts easily. This not only benefits employees as it's a great chance for you to make the most of the diversity of your team, drawing on their expertise and varying perspectives to create something new and truly innovate.
Give recognition for efforts and achievements
Employees whose efforts and achievements are recognised tend to feel more engaged and motivated at work. It's no surprise that this was often the top motivator amongst various employee types across the industry, as people tend to work much harder and with more enthusiasm when they feel valued. This links up with the previous point about being able to innovate and influence as, after all, employees want to know that their hard work and effort is making a real difference; both within the organisation and the wider industry. Employees who feel valued are generally more committed and often act as advocates of their company as a great place to work.
You can make a big impact on how employees feel towards the company by making only a few small changes. For example, get into the habit of simply saying 'thank you', either publicly or privately, when employees complete a difficult task, come up with great ideas and go above and beyond to ensure the success of a project. Also, encouraging more face-to-face communication between you and your team provides a platform on which you can discuss things that have gone well with their performance at work.
Push them outside their comfort zone
Having challenging work is another important factor in how engaged employees are at work. While a small percentage of people may be happy to coast along, most seek a certain amount of stimulation work to feel truly motivated. This could involve problem solving or using their initiative to come up with creative solutions and new ideas to benefit the business.
In the life science industry, employees are likely to be highly educated and/or highly skilled and therefore will want to put their expertise to use in their day-to-day role. People are very motivated by a sense of purpose and will be more satisfied if they can see the impact of their individual contributions. Employees could also benefit from being assigned tasks that stretch their current capabilities. While managers should be careful not to overwhelm their employees, setting challenging yet appropriate tasks will help keep employees alert, motivated and productive.
Support their growth and provide development opportunities
Employees that are satisfied with their opportunities for professional growth are more engaged, Proclinical's report suggests. The need for more career support and development opportunities was a trend across most employee demographics and locations, highlighting an area of improvement for life science companies. Ensuring that career support and development is accessible for all employees is certainly a great way to increase employee engagement as most require the opportunity to learn new skills and gain more influence to feel truly motivated and connected to their company.
This weaves into many of the other leading factors of engagement, such as having challenging work and being able to innovate and influence, as most employees are continually working towards their ultimate professional goal: to fulfil their potential. Giving an employee a promotion is a great way to give recognition, reward, bigger challenges and more influence in one go. However, it is not possible without your support to help them prepare for the next promotion or new challenge.
The company can stay one step ahead by creating career development and training programmes that are up-to-date with employees' career aspirations, as these are ever-evolving thanks to the changing nature of the workplace. Companies can gather this information by asking questions during interviews, when onboarding new staff or by discussing career development issues during one-on-one meetings between managers and employees.
For more information on employee engagement in the life science industry, download one of Proclinical's 2018 reports. Each report covers a different territory, with specific insights into what motivates employees within different sub sectors and among various demographics, helping companies develop the most relevant and effective engagement strategies for their employees.