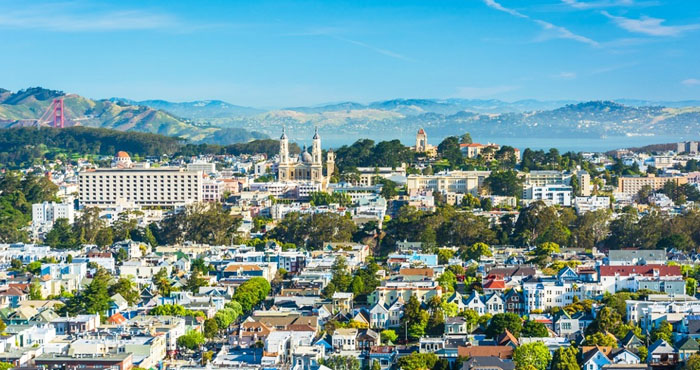 The West Coast of America is home to many major life science hubs that contribute to the USA's thriving life science industry, which is currently the best in the world. Aside from well-established clusters in Boston, New York and New Jersey, some of the most ground-breaking life science activity springs from the West Coast. Major cities along the coast benefit from generous R&D incentives, access to lab space, government funding and venture capital funding, and have become leaders in some of today's most exciting medical innovations.
Below are five of the best places on the West Coast for life science professionals to consider when looking to progress their career in the pharma, biotech, medical devices or health technology industries:
5. Greater Portland, Oregon
The previously underrated Greater Portland area has enjoyed more employment growth in recent years, surpassing that of both California and Massachusetts. This is mostly thanks to its location at the cross section between two states as well as its growing status as a medical device hub within the US, linked with the area's booming computer and electronics industry. Driving innovation forward are various institutes such as the Oregon Health & Science University, Oregon State University, Portland State University, Oregon Translational Research and Development Institute and OTRADI BioScience Incubator – all of which are working towards solving some of the biggest biomedical challenges we face today by focusing on research and advanced diagnostic testing. This is supported by the presence of many major global life science players like Genentech and Bayer, as well as other locally based companies and innovative start-ups.
Life science professionals looking to relocate here will find that, although wages are lower than some nearby areas such as California, they will go a lot further in the Greater Portland region. They will also benefit from being at the centre of medical device innovation and in close proximity of many medical research, engineering and technology hubs.
4. Los Angeles, California
LA is quickly establishing itself as a leader in personalized medicine, regenerative medicine and digital healthcare. The nearby Orange County territory is a hot bed for regenerative medicine and research into central nervous system (CNS) diseases.
The area as a whole is home to many world class academic and research institutions that make it a real driving force in life science innovation, both in biopharma and health technology. It already has a strong presence of pharma and biotech companies such as Amgen, Baxter, Kite Pharma and Spectrum Pharmaceuticals, and has an ever-increasing number of med tech and health IT companies popping up, many of them pioneering start-ups. The LA life science industry is also supported by local institutions such as University of California Los Angeles (UCLA) and the University of Southern California, and research has become one of its biggest strengths in recent decades.
LA's life science industry currently employs approximately 70,000 people and is a great option for life science professionals wanting to experience a fast-paced, varied environment that boasts a great mix of global corporations, SMEs and innovative start-ups across many life science industries.
3. Seattle, Washington
Another of the leading life science hubs on the West Coast is Seattle, Washington, a little further north from the other popular locations on this list. Seattle has gained its status among the best in the nation thanks to its biotech scene, mostly concentrated in the South Lake Union area where over 55 biotech companies are already established, including Juno Therapeutics. As more and more start-ups pop up, there's plenty of opportunity for professionals wishing to work in this environment to experience the future of biotechnology first hand.
Life science research in Seattle is also flourishing, particularly in the area of immunology thanks to the close proximity of the University of Washington, Seattle Children's Hospital and Fred Hutch Cancer Institute and other small institutes that are leaders in this field of research.
2. San Diego, California
2nd on our list of top life science locations on the West Coast of the USA is San Diego, another major city in California. Employing over 50,000 across sectors such as biopharma manufacturing, medical devices and diagnostics, research and lab services, and bio-renewables, San Diego is recognised as a life science powerhouse. The area gathers strength from venture capital funding, generous research funds and an abundance of high quality life science and STEM talent in the area. San Diego is especially strong in areas like digital health, mobile health, big data and personalized medicine, across many therapy areas. Research into genomics, sequencing and stem cells is currently on the rise.
San Diego's establishments such as its universities and various biotech institutes, notably the San Diego Consortium for Regenerative Medicine, are also a major driving force of innovation for the area, having spun off around 200 life science companies.
With high wages and a great standard of living, San Diego is a magnet for life science professionals looking to work in a robust, well-establish but unique life science hub.
1. San Francisco Bay Area, California
Top of Proclinical's list of best life science hubs on the West Coast of the USA is the San Francisco Bay Area. This vast region includes San Francisco, Oakland/East Bay and Mission Bay and is thought to employ nearly 70,000 life science professionals, primarily in research and development (51%) and pharma and medicine manufacturing (20%). There is also a healthy collection of academic and research institutions of the highest quality and some of the densest concentrations of highly skilled workers in the country.
The region benefits from generous federal and venture capital funding and, in recent years, technological advancement has further strengthened the position of the San Francisco Bay area which now hosts many of the nation's most exciting biotech and health technology start-ups. It's also home to Silicon Valley, the global centre of technology, where many health tech companies are based. Here, ground-breaking new ways of diagnosing and treating disease is being discovered with the help of the most advanced technology available to us, including artificial intelligence. Google is a great example of a pioneering tech company that is currently working on developing health-monitoring software and carrying out biomedical research.
The San Francisco Bay Area is also the birthplace of genetics engineering, one of the most innovative medical concepts of today, which started off with Genentech and has now spread among other major life science companies, such as Gilead, Illumina and Merck.
San Francisco is, for many reasons, an attractive place to work for life science professionals, and the other West Coast life science hubs listed here also offer a wide range of advantages, depending on the area of expertise and/or interest for each individual. For example, Portland may be more attractive for those looking to be at the forefront of medical device innovation, whereas Seattle is an ideal candidate for those interested in working for a biotech company.
Proclinical's San Francisco office is in contact with a variety of life science companies along the entire West Coast, so if you're interested in finding a new role within any of these areas - or are considering relocating - simply get in touch with a recruitment specialist today.