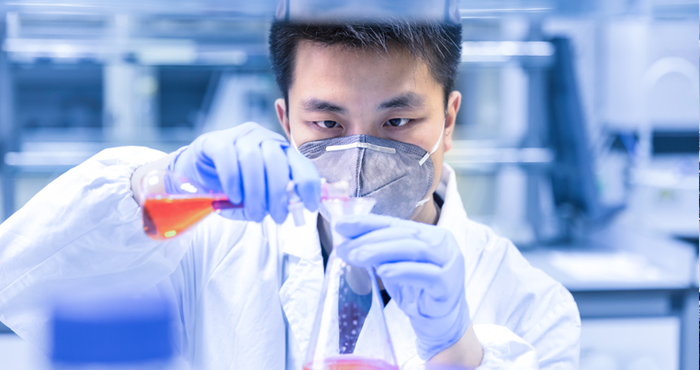 China is home to a quarter of the world's cancer patient population but has in previous years been behind the curve in terms of developing innovative oncology therapies. However, in just a few short years the Chinese life science industry has rapidly transformed into one of the most watched biotech hubs in the world. It's now the place to be for life science professionals looking to be at the forefront of scientific discovery, particularly following the explosion of the immunotherapy approach to treating cancer. Here are just six of the most innovative Chinese biotechs to watch in 2018:

CStone Pharma
CStone is a biopharmaceutical company, headquartered in Shanghai, led by an industry-leading team made up of executives from top pharmaceutical companies. This innovative biopharma has a broad immuno-oncology pipeline with a particular focus on combination therapy, but also ventures into targeted therapy and immuno-oncology. For example, CS1001 was China's first fully human anti-PD-L1 monoclonal antibody to be approved by the China Food and Drug Administration (CFDA) for clinical development. The immuno-oncology drug is targeted at patients with advanced cancer, reducing the risk of immunogenicity - an unwanted immune response - and toxicities in patients. This is a unique advantage over other immuno-oncology drugs in development.
CARsgen Therapeutics
Founded in Shanghai, biotech start-up CARsgen Therapeutics gained attention in 2015 when it initiated the world's first Phase I CAR-GPC3 HCC trial. CAR-GPC3 is a type of CAR-T cell therapy and is the first of its kind to be tested on human subjects following encouraging preclinical safety and efficacy outcomes in the lab. The innovative therapy will be used to treat advanced hepatocellular carcinoma, a common type of liver cancer that is often found in patients living with chronic liver conditions like hepatitis B or C. This is not the only exciting CAR-T therapy expected from the immuno-oncology experts; their portfolio features treatments for a variety of other cancers including lung, pancreatic, stomach leukaemia, lymphoma and skin cancer.
JW Therapeutics
Shanghai-based biotech JW Therapeutics is the child of life science industry leaders, American biopharma Juno Therapeutics and Chinese CRO WuXi AppTec, and was established with the purpose of developing cell therapies to treat Chinese patients with cancer. In recent years, China has experienced an unprecedented increase in patients being diagnosed with cancer, particularly lung cancer, as is now the leading cause of death in the province. To tackle this widening area of unmet medical need, JW Therapeutics recently announced that they have initiated the development of its first CAR-T therapy, JWCAR029, that will initially be used to treat a type of lymphoma. The biotech has a unique advantage as it can harness Juno's cutting-edge cell therapy technologies and WuXi App Tech's expertise to develop the most advanced and innovative cancer treatments, becoming a leading domestic player in its own right.
BeiGene
BeiGene is biotechnology start-up headquartered in Beijing made famous by its immuno-oncology therapy BGB-A317. What makes this therapy different is that it is a type of humanised antibody that belongs to a class of new drugs known as PD-1 inhibitors that stop cancer cells hiding from a patient's immune system. The treatment is to be used in combination with another of their creations, the PARP- inhibitor (BGB-290), making them the only biotech to propose a combination treatment made up of their own products. Early phase I results show promising anti-tumour activity and was tolerated well in patients with bladder cancer or Hodgkin lymphoma. In 2017, news broke of a partnership between BeiGene and global biotech leader in oncology and immuno-oncology, Celgene. BeiGene will benefit from Celgene's expertise in oncology that will likely help progress their pioneering pipeline into late-stage clinical study and help with regulatory submission. Celgene will benefit from taking ownership of the drug's commercialisation post-approval.
(Nanjing) Legend Biotech Co.
Headquartered in Nanjing, China, Legend Biotech is a subsidiary of Genescript Biotech Co., a leading science research company that offers research products and services. Legend gained instant attention when its experimental anti-BCMA (a protein that binds to tumours) therapy, LCAR-B38M, demonstrated that it was both safe and effective in patients with relapsed or refractory multiple myeloma, a type of bone marrow cancer. In fact, early-phase trials showed that 94% of clinical trial patients achieved clinical remission within two months of treatment, and overall objective response rate was 100%. While they are still dealing with some neurological side effects, Legend's product is a serious contender in the CAR-T therapy race, rivalling Bluebird's Bio's bb2121 which also targets BCMA in the same therapy area. Legend Biotech is collaborating with Janssen Biotech to boost the development and commercialisation of the cutting-edge therapy.
Zai Lab
Shanghai-based biopharmaceutical company, Zai Lab, develops innovative medicines in three key indications: infectious disease, auto-immune disorders and oncology. The company's mission is to bring innovative medicines to China, which they feel is lacking compared with other global life science markets such as the USA and Europe. To this end, Zai Lab has developed its own novel CAR-T therapy, ZL-2306, to be used as a second-line maintenance therapy for patients with recurrent platinum-sensitive ovarian cancer. If successful, the once-daily oral pill has the potential to be a first-in-class drug that uses a unique mechanism of action that could eventually treat a variety of solid tumour types in China.
The Chinese life science industry is forecast to reach the top three globally by 2022 and with more investment into the Chinese biotech sector expected in the months and years to come, we can look forward to many more exciting advancements in the treatment of cancer.
Are you interested in experiencing cutting-edge scientific discovery first-hand? Proclinical has job opportunities (including preclinical and R&D) across China, particularly in the Shanghai region. If you're interested in finding out more, please get in touch.