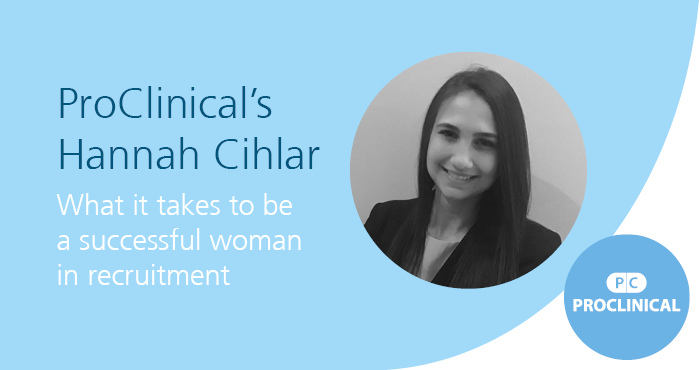 Hannah Cihlar is now one of Proclinical's most senior female employees following her promotion to Director of Contract Delivery at Proclinical's office in the USA. In this spotlight interview, Hannah sheds light on what she believes it takes to be a successful female leader in the recruitment industry.
Hannah has dedicated her career to the staffing industry since graduating, honing her expertise in the life science sector for the last five years. Since joining Proclinical in 2016, Hannah has overseen the gradual evolution of contract operations in the USA, ensuring timely and high-quality delivery to life science clients across North America.
Since her very first recruitment consultant job over six years ago, Hannah has climbed the career ladder with record speed thanks to her streamlined approach to delivering a superior service to her clients and her infectious team spirit. Josie Hargreaves, another female director at Proclinical, attributes Hannah's success to her "firm approach to quality and being unafraid to demand the best from the people she manages. Her clients see that she is strong and capable but importantly, caring when it comes to the candidate's needs."
Hannah is also an excellent role model for the junior recruitment consultants in her office, displaying her natural capabilities as a mentor. Proclinical's Global Contract Director, Luke Webber cements this with his views on Hannah's attitude to managing and training her team: "I am always impressed by Hannah's ability to manage a huge amount of work while inspiring her team to work hard. It's wonderful to know that we have a strong leader managing an office of young people at such a critical stage in their development as recruiters".
Here's what Hannah herself had to say about what it means to be a female leader today:
What would you put your success down to?
Determination and perseverance. Throughout my career, I never gave up on myself, what I believed in and all the success I believed that I could achieve. I was committed to myself and my abilities, and mindful to never let distractions get in the way. I used each opportunity that I was given as a way to push myself harder than I did the time before. It was never about meeting an expectation; it was about how was I going to exceed expectations.
What is one characteristic that you believe every leader should possess whether they be male or female?
Passion. Without passion there is no motivation or encouragement. Every leader should believe in what they do, and what they are looking to achieve. The best leaders are selfless; they care about each individual and motivating those individuals to believe in themselves enough to commit to their own passion.
What would you say to other successful women in the industry looking to gain influence and become better leaders?
Together we can make a difference! We need to stand by, support, encourage and empower one another. Females are powerful individuals who come ready to collaborate regardless of gender. We as women shouldn't be afraid of what others may think or the fear of failing, that's what makes us who we are and who we will become.
What qualities do you look for in those you choose to hire into your team, male or female?
Professionalism, motivation and a willingness to learn! It's also really important that they're a self-starter.
What inspiring woman have you met in the recruitment industry?
I've been lucky enough to have the opportunity to not only meet but work with quite a few inspiring women throughout my years in the staffing industry. There was one characteristic that stood out about each of them, and it was their confidence. They presented themselves with the utmost professionalism and poise. Each of them always had the courage to voice their opinions without hesitation. They had the ability to empower, mentor, and motivate both females and males alike.
What would you say to a younger you five years ago to ensure she is best equipped to succeed as a woman in recruitment?
Take each day as a learning experience. Be prepared and remain open to receiving both positive feedback and areas for improvement. Constructive criticism has shaped me into the leader that I am today.
Proclinical is glad to celebrate Hannah's achievements and the many other talented, successful women employed by the company globally. We look forward to seeing our female consultants grow in confidence, work together and support each other as they pursue their careers at Proclinical - where the sky is the limit.
If you're a woman in the recruitment industry seeking to join a company that will fully support your career aspirations, consider applying to work for Proclinical. We have a range of junior and senior recruitment consultant jobs available, as well as management and director level positions. Apply today to give your career a boost!