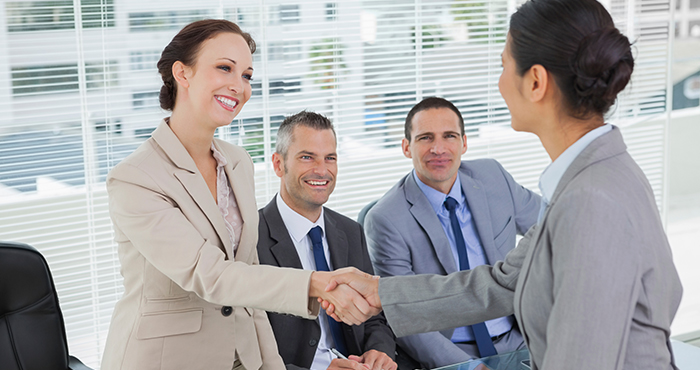 A recent industry report of employment in pharma highlights some interesting findings as to which companies are creating the most new jobs in the pharmaceutical industry. Here we can reveal who the biggest employers are in pharma, and which companies have been busiest with their recruitment.
The global pharmaceutical industry employs approximately 4.2 million people worldwide and there are no real surprises about which companies sit among pharma's top 10 employers, yet the numbers make interesting reading all the same. Table 1 (below) shows that big pharma companies remain the largest employers overall and in many cases these companies are still the best source of employment opportunities in pharma for active job seekers. However, recent restructuring programmes at many large pharma companies have offset the number of new hires to create only marginal changes in the amount of new jobs created. Of the companies that added the most staff to their headcount last year, the emerging biopharmaceutical companies are outstripping the pharma industries big players.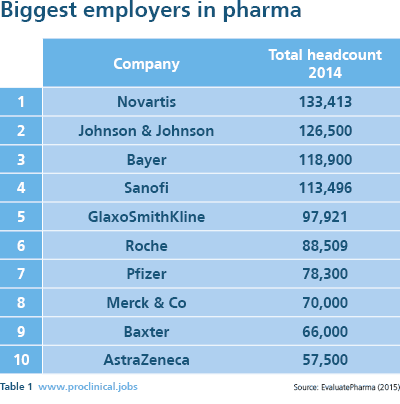 AstraZeneca added an impressive 6000 employees last year, indicating that the UK-based pharma company is flourishing under recently appointed Chief Executive Pascal Soriot. However, not all of the staff increases at the companies in table 2 have come from organic growth. Mergers and acquisitions (M&A) have contributed to swelling headcounts in many pharma companies, including Bayer, which benefitted from the addition to its payroll of staff from Merck & Co's consumer care business that was acquired last year.
Those that have been creating new pharma jobs in the more traditional sense include Novo, Celgene, Biogen, Gilead and Regeneron, who have all added employees on the back of recent product launches. The absence of big pharma companies in this list is a also a reflection of the highly impressive growth of some of the smaller players in the industry, shown in table 3.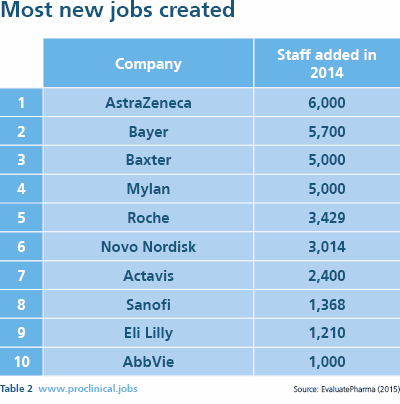 Alexion and Regeneron started the year relatively small and expanded drastically in 2014, adding 499 and 585 new employees, respectively. Mylan too showed huge growth, adding a further 5000 employees — equal to a quarter of its workforce — in just 1 year. While AstraZeneca's and Baxter's efforts see them included in all three tables, relative to company size, it is the industy's smaller players that are now leading the charge in terms of job creation.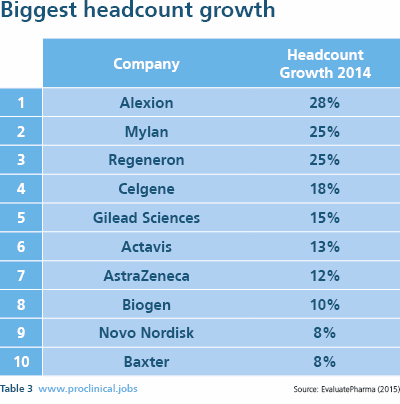 Figures are based on the annual report by Evaluate Pharma which evaluates trends in employment and staff efficiency within pharma. While figures in the report separate mid-cap speciality and biotech from big pharma, this article combines analysis of the whole sector to give a comparative overview.