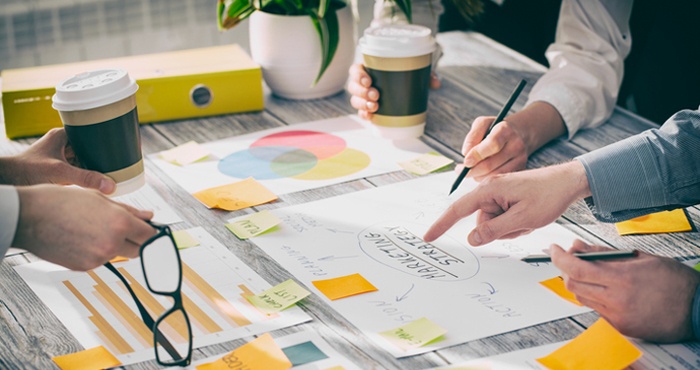 A product manager plays a very important role in getting life-saving drugs and treatments out to patients. Like any other industry, pharmaceutical, medical device and biotechnology companies have roles in sales and marketing that are responsible for spreading the word about their products among the medical community.
What is a product manager?
A product manager is a senior member of a life science company's marketing team. They are the point of interaction between the pharma company and the customer user experience. Usually reporting to a marketing manager, their role will be concerned with one of the company's products within a certain therapy area, such as HIV or oncology. The product manager will hold several responsibilities commercially, working on anything from brand image, overall strategy of a product(s) to pricing and distribution. They often deal with the product at market entry before it has been commercialised.
On a basic level, product managers develop strategies that reach key opinion leaders (KOLs), physicians, nurses and other professionals within the medical community, to spread awareness and key information about their product. A product manager role is usually office-based, but meeting with the above medical professionals involves some travel to where they will represent the company and product, such as a hospital.
What are the responsibilities of a product manager role?
The main responsibility of a product manager is to identify where the product is going. They may spend a lot of time investigating competitive intelligence, which involves comparing their company's strategy with pharmaceutical competitors. They will also carry out KOL development mapping and spend a lot of time meeting/holding events for them in order to get the brand name circulating in the industry. This is important as it gives the drug or treatment the best possible chance of reaching the patients who will most benefit from it.
Another key part of a product manager job is organising and implementing product launches. Having this experience is extremely desirable and will prove very useful when progressing your career.
Other day-to-day responsibilities include:
Budget management and forecasting
Brand image
Implementing campaigns
Digital marketing
Supporting sales professionals in the field
Attending conferences and congresses to keep up-to-date with the therapy area, or to network
What is the demand for product managers?
The role of a product manager is crucial during the beginning stages of a product being brought to market. Product manager roles can also be concerned with marketing a drug that has been in the market for several years. Therefore, due to the high number of new drugs and treatments being developed every year, as well as those already in market, the demand for product managers will always be high.
What qualifications or training do I need to get a product manager job?
The basic educational requirements to become a product manager would be a Bachelor's degree, in any subject. However, to be more competitive, undertaking a Master's in a marketing-related subject would be advantageous.
Alternatively, to demonstrate that you have an invested interested in becoming a product manager, obtaining a marketing qualification will show that you are dedicated to this career path. For instance, in the UK, you can earn a qualification from the Chartered Institute of Marketing (CIM).
To be successful in a product manager role, excellent communication and presentation skills are needed. The ability to understand both market and customer needs is also crucial to this type of role, as it is the product manager's responsibility to develop a strategy that will best meet these needs. Only by doing this will a product be successfully brought into market and can prosper.
Scientific knowledge is advantageous as it will give the product manager a deeper understanding of the product that they are trying to market.
How do I get the right experience for a product manager job?
There are a few ways in which to get the right experience for project manager jobs. The most common path chosen is going into a sales representative role, usually through a pharmaceutical graduate scheme. Choosing a large pharmaceutical company is the best course of action as they have bigger budgets and will be able to give you more responsibility with less risk.
As a sales representative, you will be a field-based resource, allowing you to build confidence and start establishing a network with relevant professionals. You will have crucial contact with KOLs, physicians and senior sales and marketing people from other pharma companies. With this experience, you can transition smoothly into a junior product manager role, which entails remote responsibility that is focused on enhancing the reputation of the product. It is less strategic and more of a liaison position.
Other relevant roles include medical representative and GP representative, or working cross-functionally in a senior sales/marketing role. Working in a customer-facing role within the pharmaceutical role is also a good way to build up the right skills needed to become a product manager.
What are the different directions you can take?
Candidate A
Candidate A is an experienced product manager, who has specialised in a particular therapy area. With strong experience behind them, candidate A would like to become a self-employed contractor/ consultant. Contract positions afford greater freedom and flexibility, as well as higher pay rates.
If you are a permanent product manager looking to transition to contracting, please speak to our commercial specialist consultants at Proclinical, who are experienced in finding the most suitable contract roles for candidates.
Candidate B
Candidate B has been working as a product manager for a number of years. They have been involved in successful product launches, establishing a wealth of experience marketing products and an excellent network of medical professionals. Candidate B looks to move into a senior product manager role that will afford a high salary and increased recognition within the medical community. They are interested in mentoring and managing a team of junior product managers and product managers.
Candidate C
Candidate C would prefer to take a side-step within the marketing team and move into a brand management or marketing management role. This will afford greater commercial responsibility and exposure for candidate C. With their valuable experience of marketing drugs and treatments, they will be able to put their skills to use to ensure that all strategy and marketing material adheres to the company brand.
Candidate D
Candidate D is interested in climbing up the ranks to become a commercial director. This role is concerned with sales and marketing and leading a business function, so this candidate will have proven experience working in both a sales and marketing role.
If you would like to have a look at our current sales and marketing opportunities, which include several product manager jobs, please visit our job board for more information.