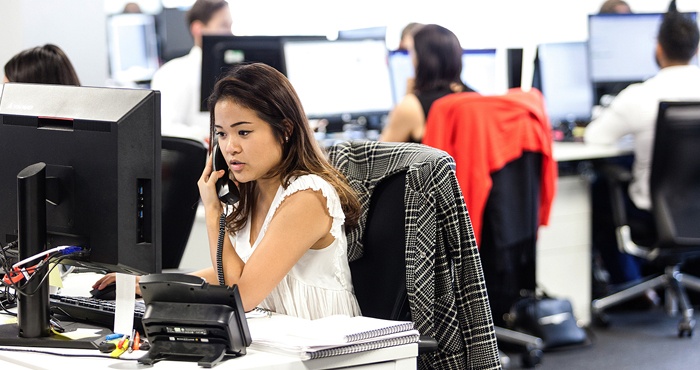 Undertaking a career in recruitment is both complex and straightforward. If you have the right attitude and are hungry for success, nothing can stand in your way. However, the making of a truly successful recruitment consultant involves a developed and multi-faceted set of skills that only a few possess.

Fortunately, many of the skills and behaviours typical of a champion recruiter can be learned. Proclinical is proud to boast a number of highly successful life science recruitment consultants, allowing us to place exceptional talent in important life science roles.
How do you describe the ideal recruitment consultant?
At Proclinical, our consultants have the opportunity to vote for their Employee of the Month, in support of the merits and achievements of their colleagues. Here's how the stars of Proclinical are described by their peers:
By studying their daily activities and witnessing many client and candidate interactions, we have been able to compile a list of the key indicators of an outstanding recruitment consultant:
Excellent communicator
Our recruitment consultants spend a lot of time speaking on the phone and meeting with people face-to-face each day. Recruitment consultants act as a liaison between employer and prospective employee, trying to negotiate a mutually-beneficial agreement for all parties. As candidates and HR personnel have busy professional and social lives, this can sometimes be challenging and frustrating for recruiters, but it is important for many reasons, including:
Relationship building – ensuring that each party is satisfied with the service being provided
Candidate referrals – referrals are a great way to get in touch with talented candidates who are similar to those that they already know and trust
Networking – the more candidates and clients that they speak to, the broader their network and the greater their ability to connect with experienced talent
Sharing information – having an open line of communication with all parties and ensuring that everyone is on the same page
Keeping in regular contact with candidate and client networks after a placement is also good practice for all involved. Taking an interest in a candidate's career allows the recruiter to keep a look out for roles that will suit them when they make their next career move. This is helpful to contractors who are regularly looking for new postings, and for candidates in a time of need i.e. redundancies. Similarly, keeping up a rapport with clients will keep recruitment consultants in tune with their hiring needs, allowing them to continuously meet their requirements and deliver results quickly.
Question master
The best of our recruitment consultants have exceptional questioning skills. This does not mean interrogating the candidate or client on the other end of the phone. Rather it is about asking the right questions that will enable the recruiter to fully understand their needs and motivations. This is crucial as without the right information, candidates will be placed in unsuitable roles. This can only result in higher short-term turnover and a significant breakdown in trust between recruiter and candidate/client. If they do not believe that the recruiter is concerned with their best interests or willing to fulfil their needs, the relationship will suffer.
Asking the right questions will help to ensure a technical and cultural fit. A high percentage of employers value candidates who will complement the existing workforce over the best technical skillset. Similarly, candidates are more committed and motivated when they identify with their company. For example, at Proclinical, our consultants ask candidates questions about their ideal company culture, pay and benefits, preferred location and willingness to relocate to ensure that the company will meet their personal needs. Not knowing these important details from the outset can cause difficulties and delays further down the recruitment process.
The process of gathering information is also very useful for when recruiters are trying to manage expectations. This involves things like giving clients a realistic time to hire, briefing candidates on what to expect from the recruitment/interview process and handling notice periods.
Knowledgeable
Recruitment consultants cannot hope to locate, connect with and place suitable candidates if they do not possess a strong understanding of the market and industry that they are working within. Candidates and clients alike will only trust their recruiting partner if they believe that they also fully understand the technical requirements of the role, and how it fits into the company and wider industry.
For example, Proclinical operates within the life sciences industry and primarily employs specialist consultants who have a life science degree or industry experience. This means that they will have an in-depth understanding of the roles that they are filling. For those who do not have this background, Proclinical offers complete training to ensure that they are fully equipped with the knowledge and expertise needed.
Understanding what motivates candidates within their industry is also key to being a well-informed recruitment consultant. A lot of this can be achieved by asking questions, as discussed above, but can also be gathered through research. For example, life science recruiters would benefit from reading something like Proclinical's employee engagement report that sheds light on what life science employees are most motivated by, be it salary, career development or benefits package. This is particularly useful when trying to engage with passive talent or very senior candidates.
It is also good practice for recruiters to keep track of changes and look out for emerging trends within the industry, so that they can stay one step ahead. In the life sciences industry, these can include regulation changes, redundancies or remediation projects that may call for staffing solutions. This will put them in a better position to prepare for the changing needs of candidates and clients.
Always growing
A truly pioneering recruitment consultant will always have in mind professional growth. This is not only limited to their own career development, but also the growth of their company, as this in turn will benefit them. Truly successful recruiters will look to the future, building a strong pipeline, utilising new technology to maximise their productivity and setting aside time each week for business development. It will not do to merely go through the motions as a recruiter.
In terms of career development, recruiters will naturally always be working towards a promotion. Things that will get them there much faster is being on the lookout for courses they can take or new skills they can learn, and picking up best practice tips from colleagues.
Social media is a powerful tool and recruiters that harness this power are more likely to be successful. Optimising job adverts for search can extend your reach to the right candidates and dramatically improve the relevance of advert responses. LinkedIn is considered the most major business social media platform with millions of job postings and 500 million users that are active in over 200 countries. Learning how to make the most of candidate search tools such as LinkedIn Recruiter can transform recruitment consultants' search capabilities.
The right personality
Recruitment consultant jobs call for a certain personality type. Those who are ultra-sociable and exude confidence are assumed to be a natural fit for the role. As much as this is certainly true as confidence and excellent social skills will help with relationship building, there are many other personality traits that are needed to be a truly successful recruitment consultant.
Day-to-day, recruiters work with many people from all walks of life. They must be able to read body language, understand the motivations behind words and identify with people on a personal level. This is not possible without being naturally inquisitive and genuinely interested in people, and having the drive to engage with them.
Given the competitive nature of the recruitment industry, Proclinical's recruitment consultants must also possess the desire to achieve goals against rival pharmaceutical recruitment agencies, as well as being in direct competition with their colleagues.
Due to the nature of the industry, to have a successful career in recruitment, consultants must be innately results-orientated and target-driven. As much as this works in their favour, it is also a positive trait for candidates and clients who benefit from their focused and efficient approach to delivering a mutually-beneficial outcome. A recruitment consultant who is results-orientated is more likely to ensure that the recruitment process is on track and continuously moving forward.
The right approach
Having the right approach is just as important as personality in the recruitment world. This is how recruiters conduct themselves with candidates, clients and colleagues, and the unique methods they use to reach goals. This can differ from consultant to consultant. Some may be more measured and strategic while others may be more enthusiastic with a 'cover all bases' approach.
What they all have in common, however, is resilience and flexibility. Recruitment consultants will have several obstacles to face, some of which may be very challenging and disruptive, but they must be able to adapt and power on towards the end-goal.
Approach also describes their ability to modify the way that they communicate according to their audience. For example, recruitment consultants at Proclinical understand that line managers at life science companies often have limited knowledge of recruitment processes. Therefore, recruiters must work to combine the line manager's technical knowledge of the role with their recruitment expertise to find a suitable candidate.
Hard grafter
To be successful, there is no way around the hard work that a recruitment consultant job demands. Consultants must be willing to invest the time into the role, being 100% dedicated to finding the right match. Without this time and effort, much of the above will become ineffective.
If you are interested in recruitment jobs and would like to know how to become a recruitment consultant, Proclinical is happy to speak to you regarding entry level positions available. If you are a seasoned recruiter interested in working within the life science industry, consider joining our team at one of our global offices. Choose from New York, San Francisco, Singapore, Germany and London to name just a few of the possibilities!