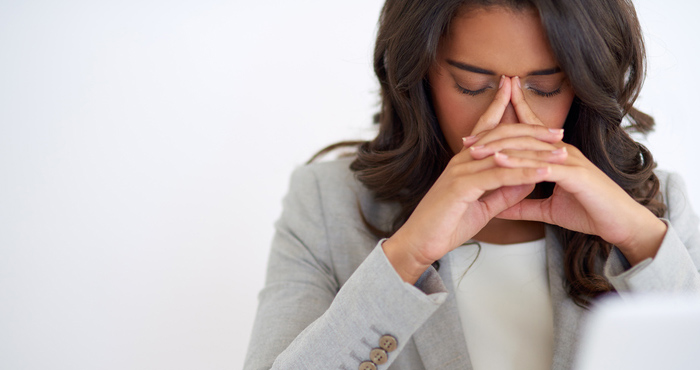 You may have already considered looking for new life science jobs, but doubts about whether it's the right moment could be clouding your decision. While it's true that no job is perfect and there will likely be some aspects of a role that you don't enjoy as much, it's not always a case of taking the bad with the good and getting on with it. Take a look at our list of signs that may indicate it's time to break ties with your current employer and look to the horizons.
1. Feeling consistently bored and unchallenged.
There is nothing worse than clock-watching day in and day out. If you find yourself doing the bare minimum to get by each day, then this is a clear sign that you are not challenged or fulfilled within your current role. It's easy to think that it's normal to find your job a little boring, but when your work days become endless and you feel disinterested with your tasks, that's a red flag. Many of us will mistake feeling 'content' in our jobs with being too comfortable and becoming 'complacent'. Disengagement is not beneficial to you or your employer, so it's in everyone's best interest to seek a position that you can really throw yourself into.
2. You are not learning or developing.
One thing to beware of is staying in a dead-end role. A dead-end could be disguised as a busy, interesting role but the reality is that it will not develop the skills that you need to progress in your career. If you haven't been promoted for over 2 years, and the coming year looks like it will be exactly the same as last year - with no extra responsibilities or projects taken on - then this is a clear sign that seeking a new job is the best career move for you.
3. Stress is taking over.
Only in recent years has the dangerous effects of stress on our health become more widely understood. Stress can be extremely destructive in a person's life, from the toll it takes on our health to personal relationships. It has become normal to link stress with success; it is assumed that higher levels of stress come with increased responsibilities. Yet, if you think that your current role is causing unhealthy levels of stress and anxiety, then this is a definite sign that you need to start looking for a new role that won't jeopardise your well-being.
4. You would like a better work/life balance.
There should be no guilt in wanting to seek out opportunities that will afford you a reasonable work/life balance. Even the most ambitious and hard-working among us deserve to have enough time to spend with family, go on holiday and pursue hobbies and interests. If you are working long hours during the week consistently, perhaps weekends as well, take some time to consider introducing some balance into your life. Seeking a new job with a different employer may help you to find a balance between your personal life and career. It will be good for you!
5. Bad relationships with your manager or colleagues.
It's often challenging to maintain good relationships with your manager or colleagues, especially when your working environment is fraught with stress and looming deadlines. Sometimes it can be down to a clash of personality. If difficult relationships at work get to a stage when they are unlikely to improve, the best solution is to find another job in an environment where you feel supported by your manager and team.
6. The company and/or your role has changed.
Has your company recently undergone significant changes, such as restructuring or a change in direction? Perhaps your role has shifted as a result. This may leave you with altered responsibilities that are no longer in line with your career goals, or take you away from utilising your key skills. Another possibility could be that you are now at odds with the company's new direction; they may be becoming too corporate or their core values have changed. It could be that you are not interested in the markets or clients that they are working with. Whatever the reason, if you have outgrown your current employer this is a sure sign that you need to spread your wings and find a better career or cultural fit elsewhere.
7. You are constantly contacted by pharmaceutical recruiters.
If your LinkedIn inbox is filled with messages from eager recruiters and talent acquisition staff, or you're often called and emailed, this could be less of a bother than you might think. A lot of interest from pharmaceutical recruiters is a healthy indication that your skill set is currently in demand, or that your industry is booming. It's the best time to explore what opportunities are out there.
8. Issues with your salary.
This is a common sign that you may need to look for a new role. Feeling under-compensated for the hard work you are doing can cause a lack of motivation and feelings of resentment. If attempts to negotiate a higher salary have fallen on deaf ears, find yourself an employer who will value you and pay you fairly.
9. Planning for the future.
Has your situation in life changed recently? You may be planning to start a family and find that your current location or benefits package is no longer suited to your needs. For various other reasons, you might not be in a position to undertake short-term/contract roles or be able to travel as much. If your current employer is unlikely to cater to your changing needs, it's time to find one that can.
10. Opportunities for academic growth.
If you have an interest in taking on academic challenges, it's worth seeking an employer that will support, and perhaps even sponsor your Master's or PhD qualification. Several contract resource organisations (CROs) and pharmaceutical companies offer these opportunities if you take the time to seek them out.
If you find yourself identifying with one or more of these points, considering a change in jobs may be the key to giving your career the boost it needs. Have a look at Proclinical's current job opportunities to kick-start a new chapter of your professional journey, or simply upload your CV and our recruiters will contact you regarding roles. Proclinical recruit for a number of positions including biotechnology, medical devices and pharmaceutical jobs.