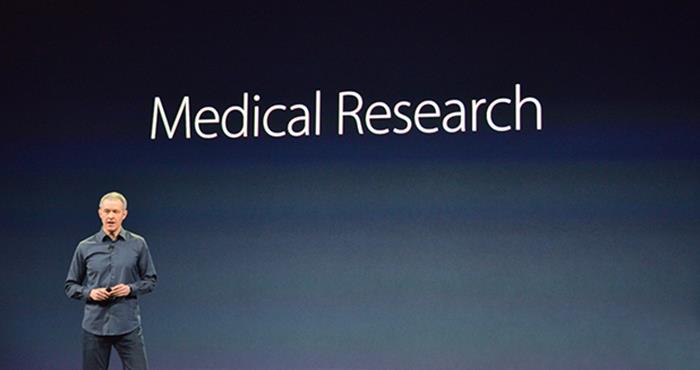 Apple has now entered the healthcare industry with a product that has been described as a "game-changer". With their revolutionary sensor technology and ability to capture vast amounts of data, the company that brought us the iPhone is well placed to make a significant imprint in medical devices and clinical research. But what does this mean for your job?
In the build-up to its release, the Apple Watch was widely described as a revolutionary new medical device. Apple hired numerous digital health sensor experts and were in close contact with the FDA throughout its development.
Unfortunately, Apple were unable to overcome technical, regulatory and usability challenges to sensing and helping consumers to act on vital data such as blood pressure, glucose, oxygenation and stress levels. However, the first edition of the Apple Watch does launch with a few health-based features, such as accelerometers, touch inputs and an optical heart rate sensor that feeds directly into the iOS Health app.
Apple reportedly investigated blood pressure and blood oxygen measurement features but decided not to go ahead because readings were inconclusive. Sensors for skin conductivity were included in early designs but had to be dropped after issues such as the tightness of the strap and hairy arms caused unreliable readings. Apple however, feels that it has a moral obligation to develop health products, so we can expect further health monitoring features to be included in future editions.
Another Apple health product release has been welcomed with excitement and has alleviated some of the disappointment among the health industry in the Apple Watch. ResearchKit, Apple's new medical research framework, aims to do for clinical research what iTunes did for the music industry. The open source framework will enable researchers to easily design mHealth apps for the iPhone, which is already equipped with powerful processors and advanced sensors that can track movement, take measurements, and record information — functions that are perfect for medical studies.
What does Apple ResearchKit do?
Apple ResearchKit is an exciting innovation in healthcare technology because it allows people to participate in studies more easily. The more people who contribute their data, the bigger the numbers, the truer the representation of a population, and the more powerful the results.
The iPhone is carried by hundreds of millions of people all over the world so an iPhone mHealth app can engage unprecedented numbers of individuals in large geographical areas, many of which have never been able to participate in research.
Apple launched ResearchKit with 5 mHealth apps targeting Parkinson's disease, diabetes, cardiovascular disease, asthma and breast cancer, which have been developed by leading research institutes.
Time will tell what kind of apps will be developed by other healthcare and pharmaceutical companies, but what is certain is that a platform is now in place that will open endless possibilities to future mHealth innovation.
Although currently confined to the iPhone, the reach of ResearchKit is likely to expand further with future versions of the Apple Watch, which are likely to include more advanced sensors and could work independently of other devices.
What impact will ResearchKit apps have on clinical research jobs?
The ResearchKit platform and the ongoing development of the type of sensor technology used in the iPhone and the Apple Watch could have significant implications for the way that clinical trials are conducted in the near future. That change is likely to create a shift in the types of roles and responsibilities of people involved in clinical research jobs and influence which skills will be most in-demand by employers.
According to Apple, ResearchKit will take research "out of the lab and into the real world", and instead of collecting data once every 3 months at a site visit, real-world data can be collected remotely once every second.
With this type of disruptive technology there is always going to be winners and losers. As more apps are developed, adoption of the technology increases and regulatory barriers are overcome, new positions will be created but some roles could change or even become obsolete. For instance, clinical monitoring jobs will see a shift towards remote monitoring, and site visits will be required only in the event of incidents or when data points are met — if at all. The roles of CTAs, CRAs and site managers might have to change significantly and these professionals could find themselves in far less demand at companies that adopt this technology than they are today.
Apple claims that ResearchKit will "do away with stacks of handwritten surveys and lengthy forms — and the expensive data entry and storage that come with them", which will be welcome news for those trying to increase efficiency and reduce costs but not such great news for entry-level jobseekers who rely on clinical data entry jobs as a way of gaining industry experience.
eCRF vendors could find the technology disruptive too. There can be high outlay costs associated with setting up eCRF management, so use of electronic forms is currently something that only large pharmaceutical companies can afford. ResearchKit will make the technology more accessible and reduce the reliance of small companies on paper forms by allowing participants to complete tasks or submit surveys directly from their iPhone. Apple have alleviated security concerns by announcing that it will never see the data that are collected on this platform.
Increase in use of mHealth technology is likely to increase demand for skills in other areas. Data management, data analyst and statistician jobs are all likely to become more important to companies as more data than ever before are collected. Jobs in mHealth product and app development are likely to increase demand for technical jobs, such as developers and programmers too.
With Apple now entering the picture, mHealth is gathering pace and the implications on the future of current clinical research roles should not be ignored. Google, IBM, Microsoft, Samsung and hundreds of start-ups are also developing their own mHealth products, including a smart contact lens that Google has licenced to Novartis.
Although it is still in it's infancy, experts predict that the big leaps will start to happen at around the end of this decade so for those working in clinical research it is a topic well worth keeping yourself informed about to assist you in making smart career decisions.