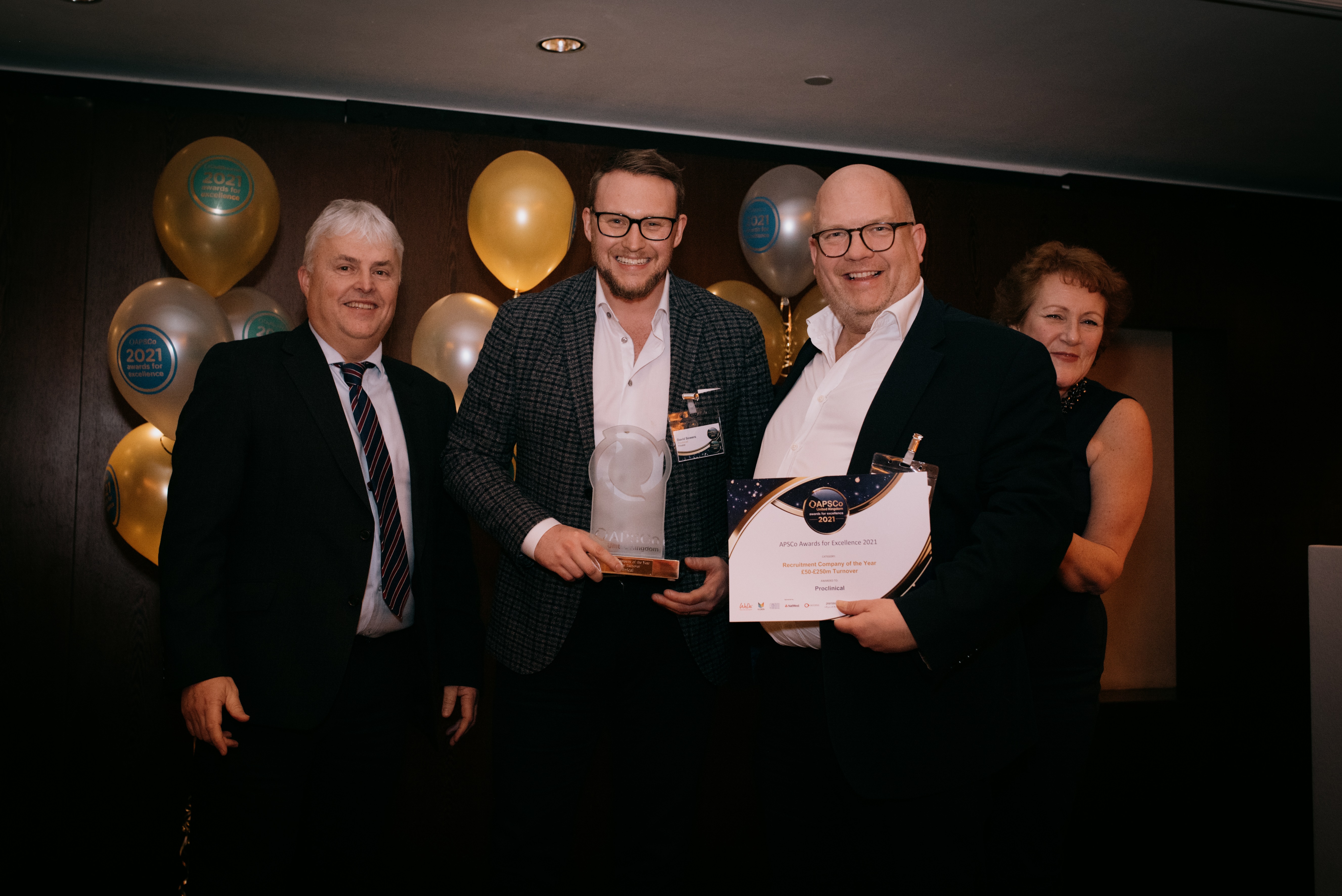 London, 9th December 2021
Proclinical reaped the reward for a stellar performance in 2021 as they collected the Recruitment Company of the Year accolade in the £50m-250m turnover category at the Association of Professional Staffing Companies (APSCo) Awards for Excellence. The award was presented by APSCo CEO, Ann Swain, to Proclinical's European Managing Director, David Bowers, and CFO, John Andre, at an invitation-only dinner in London on 6th December.
For the life sciences recruitment specialists, who were also finalists in the International Recruitment Company of the Year category, the accolade demonstrates the company's continuing prosperity and growth as part of Acacium Group, having collected a series of APSCo honours over the years.
Accepting the award, David Bowers commented, "This is a genuinely great achievement and is testament to everybody's hard work at Proclinical. The standard of competition was extremely high, so we feel very grateful to have been recognised as winners."
Recruitment industry body APSCo, which sets professional standards of excellence for recruitment companies, holds the annual Awards for Excellence – sponsored by 6CATS International, Access Group, giant group, NatWest, Parasol and WeDo Finance – to recognise professional standards and all-round performance. The awards programme is rigorous but most importantly transparent and impartial, so accolades are highly sought after and are recognised by the industry as the gold standard of recruitment awards. The Recruitment Company of the Year awards are categorised by turnover and awarded to the company that has most consistently demonstrated the professional values and exceptional performance associated with APSCo membership.
Ann Swain, APSCo Chief Executive, congratulated the winners, "The number and quality of award entries we had this year exceeded all of our expectations. After what has been a time of incredible challenges and opportunities for the staffing sector, it's amazing to see that our members and Trusted Partners have continued to deliver the best services that we've come to expect from the APSCo community. Congratulations to all the winners and to those who were shortlisted as well – it was certainly a tough decision for our judges this year. I'd like to also thank our sponsors for making these awards happen once again."  
About Proclinical
Proclinical is a global provider of tailored workforce solutions exclusively within the life sciences industry. We help individuals, teams, and whole organizations grow so they can innovate life-saving and life-changing therapies and technologies and get them into the hands of more patients around the world faster.