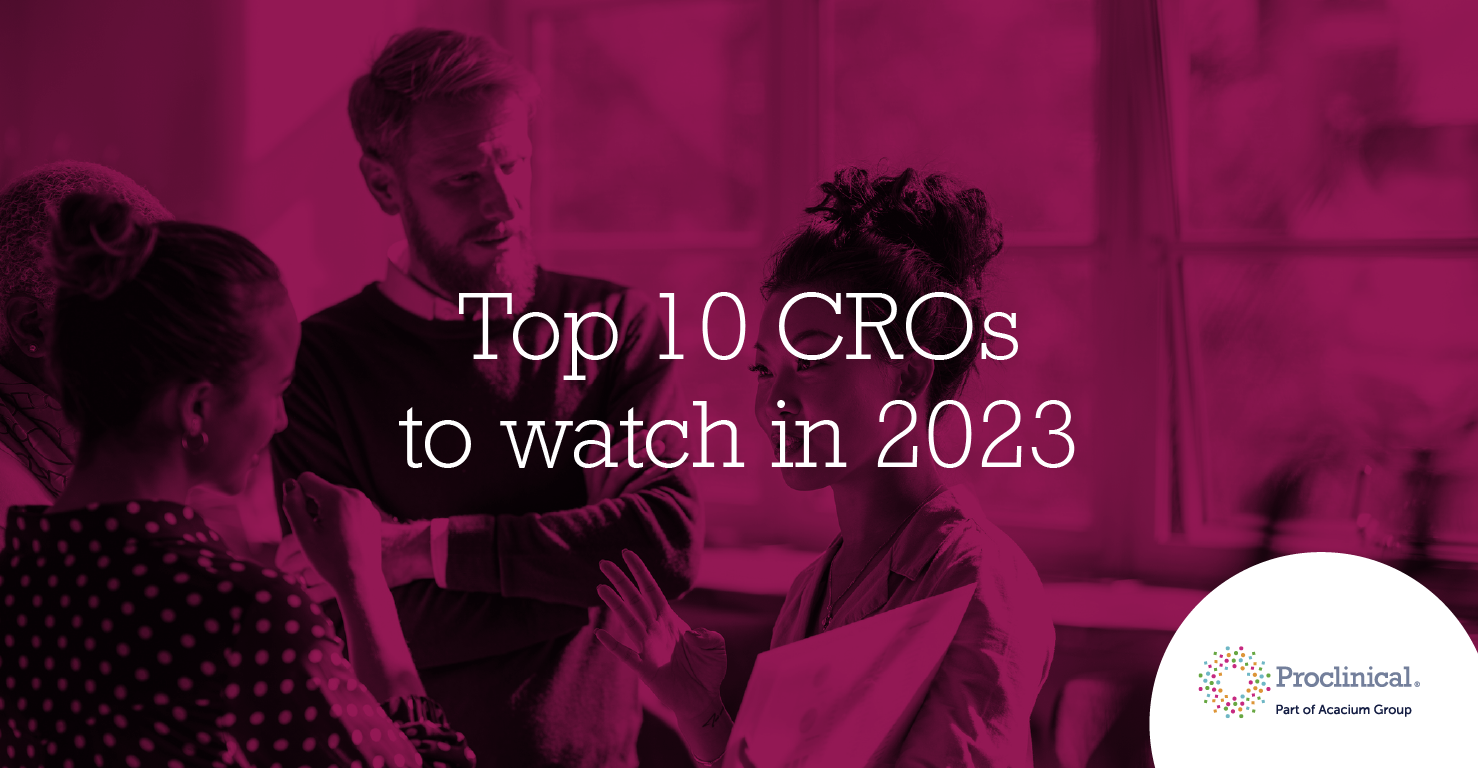 Contract research organisations – also called clinical research organizations (CROs) – are essential to the pharma, biotech, and medtech industries, supporting their efforts to test, refine and market their latest drugs and devices. According to Global Market Insights, in 2022 the global CRO market was valued at US$56.5 billion and by 2028, it is expected to reach an impressive US$108 billion, with a CAGR of 6.5% from 2023 to 2032.
Growth is being powered by a surge in research and development expenditures and activities, and a significant rise in the number of clinical trials with the need for medical advancements. This is due to patent expiration, an increase in generic medications, and technological innovations like mHealth and big data influence on product development, all leading to greater outsourcing of work to CRO companies.
With a rise in research and development (R&D), we have seen record hiring levels within the CRO market in recent times. The Covid-19 pandemic drove large numbers of clinical trials in the race to find a preventive vaccine and treatment options which meant contract research organisations needed to expand their teams rapidly. As we emerge further from the start of the pandemic, 2023 is likely to be a period of bedding in, and we expect to see strategic growth for companies compared to hiring for volume.
In the last few years, mergers and acquisitions (M&A) have progressively changed the marketplace and some of the largest CROs have been strengthened through joining forces or being bought out by other companies. Some of the most notable changes in the market have included:
• Clintec being absorbed by IQVIA
• PRA being bought by ICON
• Thermo Fisher Scientific acquiring PPD
• EQT Private Equity and Goldman Sachs Asset Management buying out Parexel
With expansions, partnerships, and innovations continuing throughout the CRO industry, 2023 is set to be another interesting year. The top ten CROs to watch in 2023 are listed below, this list is based on our knowledge of the industry and is in no particular order but includes both industry leaders by market share and revenue, and up-and-comers who are steadily increasing their presence through strategic collaboration and innovative service offerings.
1. Labcorp / Fortrea 
Labcorp, provides comprehensive drug development solutions for a range of industries. In 2015, Labcorp completed its $6 billion purchase of Covance. The combination of Covance's drug development leadership and Labcorp's medical testing expertise has created the world's leading health care diagnostics company. In addition to this, over the last decade Labcorp has made a further series of acquisitions including: LipoScience, Inc., Bode Technology Group, Sequenom, MNG Laboratories, and Personal Genome Diagnostics (PGDx), which has strengthened their position in the market.
In 2022, Labcorp announced its plans to spin off its CRO segment. Moving forward the new company, Fortrea, which stands to "forward trials with ease" will operate as an independent publicly trade CRO, and provide drug and medical device services, including clinical trial management and commercialisation offerings. In a press release, Labcorp chief marketing officer Amy Summy commented, "The debut of the Fortrea brand is a defining moment in our journey to create a transformative force in clinical drug and device development." She went on to add that the Fortrea brand "represents innovation and agility—improving the trial process and delivering life-changing solutions faster". The separation is due to be complete in mid-2023 and it will employ about 19,000 people under CEO, Tom Pike, who was previously the CEO QuintilesIMS (now IQVIA).
2. IQVIA
In 2016, Quintiles and IMS Health came together and rebranded as IQVIA. As the largest CRO in the world, IQVIA operates in over 100 countries across the globe and brings together advances in data science, technology, and human science expertise, offering their clients an end-to-end clinical and commercial service. After a string of further acquisitions of smaller specialist companies, the company is going from strength-to-strength and remains truly at the forefront of the CRO world.
IQVIA generated revenues of $14,410 million for full year 2022 with growth rising by 3.9% on a reported basis and 7.8% at constant currency, compared to 2021. IQVIA closed the year with strong results and record bookings, they also marked the end of their Vision 22 plan where they exceeded their three-year goals despite the impact of uncertain market conditions. In a press release, Chairman and CEO of IQVIA, Ari Bousbib, commented, "As we begin 2023, the fundamentals of our business and the outlook for our end markets remain healthy. We expect continued robust demand for our differentiated offerings, solid organic growth and sustained operating momentum across the portfolio."
3. Parexel
Parexel remains one of the world's largest CROs, providing the full range of Phase I to IV clinical development services to help speed up and ensure the drug approval process runs smoothly. The company has a wide range of service offerings, covering nearly every type of clinical trial service to assist sponsors in running successful clinical studies.
In November 2021, Parexel was acquired by EQT Private Equity and Goldman Sachs for $8.5 billion. Together, Parexel and Goldman Sachs remain committed to delivering on the patient-first trajectory. The newly appointed board of directors bring together a wealth of life sciences experience. Chief Executive Officer Jamie Macdonald commented, "As the market evolves, we continuously review our structure to ensure Parexel remains well positioned to deliver integrated and innovative solutions for our patients and customers".
4. ICON
Operating from 46 locations across the world, the top-tier CRO, ICON, offers a full range of consulting, clinical development and commercialisation services.
In 2016, ICON partnered with Genomics England on the UK's 100,000 Genomes Project, and IBM Watson for oncology research support to further expand service offerings and clinical research jobs in the genomic science and oncology sectors. In the last few years, ICON has completed a series of acquisitions, including Symphony Clinical Research, MediNova, MolecularMD, MedPass International and PRA.
In 2022, ICON generated full year revenues of US$7.7bn, up by 41.2% on prior year and 45% on a constant currency basis. ICON has worked to advance the speed and efficiency of clinical development which has supported a growing number of customer partnerships. Moving forward, the company remains focused on meeting the evolving needs of their customers and is looking to further invest in their comprehensive offering to deliver enhanced outcomes in clinical development.
5. PPD
Pharmaceutical Product Development (PPD) is a leading global CRO that employs over 30,000 people worldwide. They are considered a premium CRO provider for many pharma and biotech companies, and pride themselves on their "4I values" - integrity, innovation, intensity and involvement.
After acquiring Evidera in 2016, PPD solidified itself as a leader in real-world research. The company has leveraged Evidera's real-world evidence expertise to provide life science companies with an increasingly crucial element of the clinical development process, helping PPD to remain competitive. Since then, PPD has acquired Synexus (now Accelerated Enrollment Solutions), a patient recruitment company, and Bioclinica, a clinical research site business. Evidera has also further strengthened its capabilities by attaining Medimix, a global technology company providing real-world evidence insights.
In 2021, PPD was officially acquired by ThermoFisher, becoming part of ThermoFisher's Laboratory Products and Services Segment. This means PPD are still operating as a CRO with traditional CRO services, as well as their accelerated site solutions. Together, PPD and ThermoFisher are able to further leverage their capabilities to bring life-changing therapies to market and are set for a very promising future with an established drug development platform, patient enrolment expertise and robust laboratory services.
6. CTI
CTI Clinical Trial and Consulting Services is a medium-sized global contract research organisation that has been in operation since 1999, and has driven over 150 new drug and medical device approvals. With offices in over 60 locations around the world, the company has a presence in North America, Europe, Latin America, Middle-East, Africa, and Asia-Pacific regions.
In 2021, CTI announced they were acquiring Dynakin, a European based strategic consulting company, to create a stronger and more robust global full-service clinical research organization.
7. PSI
PSI is a fast-growing CRO that specialises in a range of fields such as oncology, haematology, infectious diseases and multiple sclerosis. Headquartered in Switzerland, PSI has a global reach that operates clinical trials in over 60 countries and has expanded into new locations rapidly over the last few years. The company's mission is to be the best CRO in the world in the eyes of employees, clients, sites, and vendors, showing that their reputation is at the forefront of everything they do.
In 2022, PSI received CRO Leadership Awards in all five core categories, including Compatibility, Expertise, Quality, Reliability, and Capabilities across two respondent groups (Overall and Small Pharma), for the fourth year in a row.
8. MEDPACE
A mid-sized CRO, Medpace focuses on clinical research for drugs and devices globally. Unlike many of the larger CROs, Medpace has not invested in acquisitions but instead chosen to reinvest in their own workforce and grow organically.
Headquartered in Cincinnati, Ohio, Medpace employs over 5,000 people across 40 countries. Even with a general shift towards hybrid working models due to the pandemic, Medpace's smaller size helps it retain the intimacy of a cohesive office culture in contrast to much of the rest of the sector which is heavily home-based. This is thought to directly affect how employees feel about the job and how they interact with clients on a daily basis, offering a unique service and collaboration with their partners.
The company recently reported their full year revenue for 2022 was $1.46 billion, a 27.8% increase from 2021. In an earnings call, Jesse Geiger, President at Medpace, commented "We were able to grow headcount 15.8% from the end of the prior year in a challenging and competitive labor environment and employee retention and continued hiring for future business will remain top priorities in 2023."
9. SYNEOS HEALTH
Formerly known as InVentiv Health Incorporated and INC Research, Syneos Health specialises in assisting companies with late-stage clinical trials. Headquartered in Northern Carolina, USA, the company employs more than 25,000 people over 91 locations worldwide.
Over the last few years, Syneos Health has levelled up with a number of collaborations, investments and initiatives to further accelerate their strategy, enhance their scalability and improve the efficiency of their operations. In 2022, the company generated revenues of $5,393 million, up 5.8% compared to 2021.
Since the start of 2023, Syneos has announced a number of partnerships, including ones with Fosun Pharma, Cryoport and most notably, Haystack Health. The combined capabilities of Syneos Health and Haystack Health will use AI to more effectively and efficiently identify and match clinical trial opportunities for patients, speeding up the process.
10. ERGOMED
With a global footprint covering over 100 countries, Ergomed provides specialised services to the pharma industry and the development of new drugs.
The company has successfully completed 9 acquisitions since IPO in 2014, including Ashfield PV, USA MedSource and most recently, in 2022, ADAMAS a leading global regulatory compliance provider. With a growing presence, Ergomed has grown its teams by employing people from top CRO companies whilst maintaining a small company feel.
In 2022, revenues rose by an impressive 22.5%. Looking ahead, Ergomed remains strategically focused on high growth market segments including oncology, rare disease, and pharmacovigilance.
Is your CRO aiming to grow this year?
At Proclinical, we provide expert clinical research recruitment services and workforce solutions for life sciences companies in search of professional personnel to set up and run clinical trials around the world. Our dedicated CRO delivery recruitment team are specialists in sourcing skilled and experienced professionals for a wide variety of roles at Contract Research Organisations, from preclinical and clinical research, through to regulatory affairs, pharmacovigilance and post-marketing research. Find out more about our range of workforce solutions and how we can help your business grow globally.
Interested in working for one of the CROs?
If you're looking for a new role simply send us your CV or use our job search tool to find the right role for you.