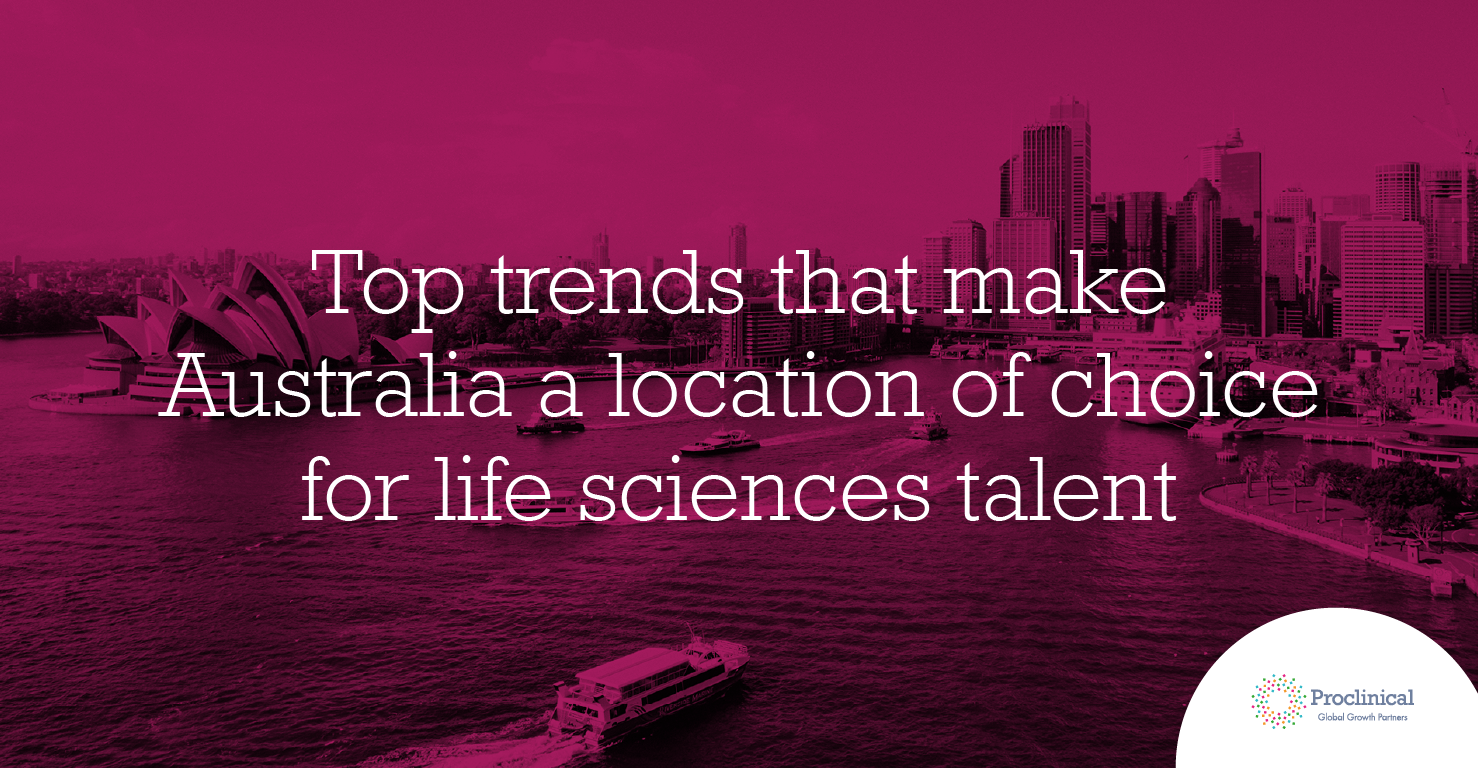 Australia's life science industry has gone from strength to strength, growing by an impressive 16% between 2017 and 2019. Fueled by technological advancement and the rising biotechnology and medical device sectors, Australia is becoming a world-leading life sciences hub, and solidifying its reputation as very attractive place to work for professionals across the industry.
WORLD-CLASS LIFE SCIENCES HUBS
A large percentage of Australia ASX-listed life science companies are found in Melbourne – the costal capital of Victoria – which is known as one of the top 5 biotechnology hubs in the world. Victoria together with New South Wales – particularly the region's capital, Sydney – boast 73% of the 243,406 strong workforce, including businesses, government and regulatory organisations, funding bodies, research institutes and support services.
While Melbourne is the focal point of biotechnology innovation, with a booming cell and gene therapy market, Brisbane is also becoming known as a rising medical device and medical technology base. These growing sectors will provide many exciting opportunities for life science professionals to be at the forefront of innovation in coming years.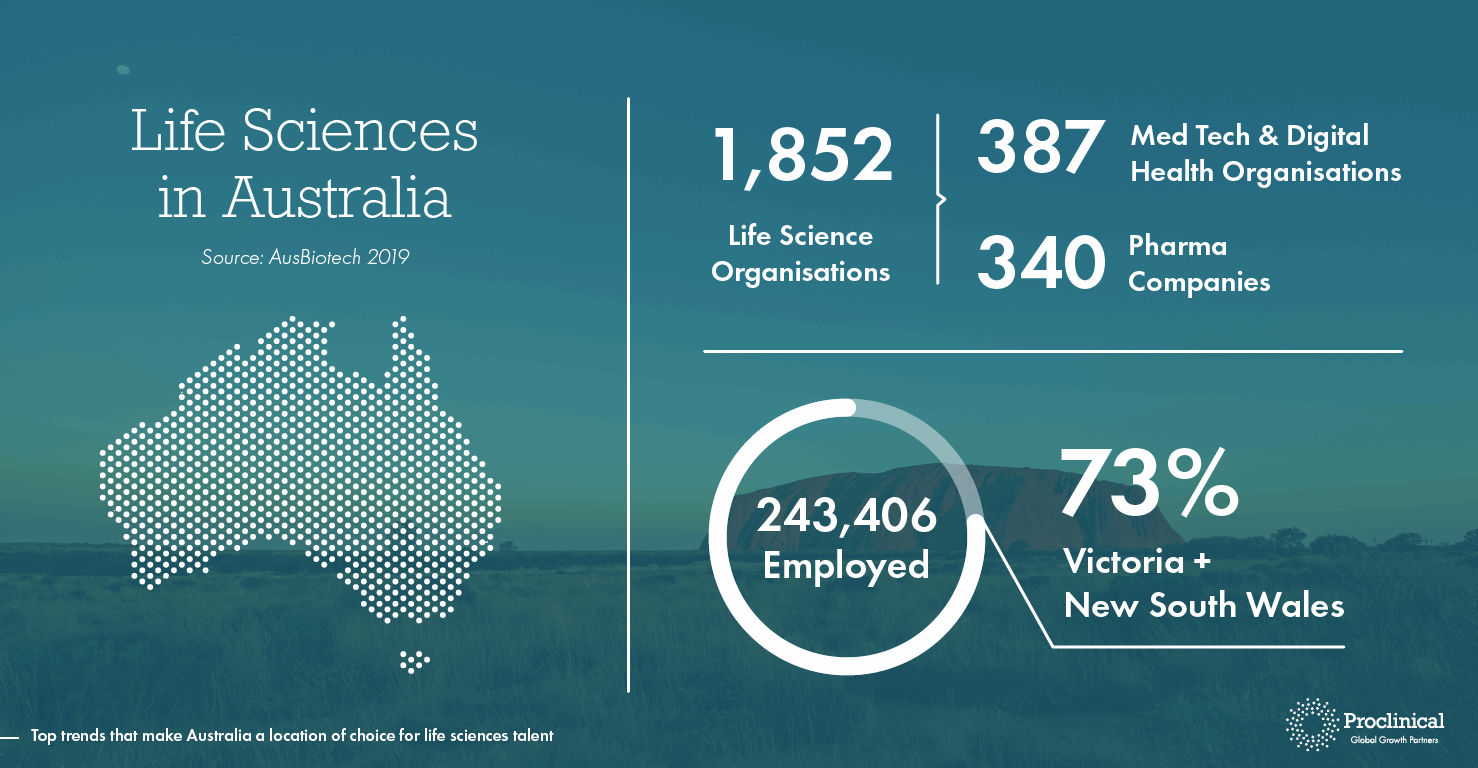 Drive for research and innovation
Generous investment from the world-renowned Australian regulatory bodies along with government R&D tax incentives, has encouraged a number of highly innovative biotechnology and health technology companies – both home-grown and from overseas – to take root in Melbourne, Sydney and Brisbane.
There is a solid presence of leading global life science companies, such as AbbVie, Johnson & Johnson and IQVIA, that provide thousands of job opportunities for life science professionals. However, there is also an impressive base of local talent beginning to shape the industry. Blockbuster Australian-based life science companies such as CSL, Polynovo and Viralytics have grown hugely in recent years – with no sign of slowing down. For example, in 2019 Viralytics was bought by MSD, a leading global life science company, which will boost funding into the company's research into developing viruses that infect and kill cancer cells.
Many other small and medium pharma, biotech and med device/tech companies are partnering with global life science companies – the likes of Roche and Siemens Healthcare – helping these industries with Australia further grow and mature. Life science professionals looking to work in biotech and med tech will find an abundance of opportunity here.
Melbourne is also a great destination for those working in academia, attracting a bulk of Australia's medical research funding (approximately US$370 million) every year. In fact, Melbourne is the one of only three cities in the entire world to have two universities that rank in the top 20 for biomedical research.
Specialist skillsets
A major emerging trend in recruitment patterns in Australia reflect the worldwide demand for life science professionals to become more and more specialised in their field. As medical advancement pushes us towards more targeted, personalised medicine – such as cell and gene therapy – these highly specialised companies require people with specific skillsets and experience to match.
Therefore, a solid expectation moving forward into 2020 and beyond is that life science professionals must adapt to the need for targeted experience in order to keep up with the changing landscape of healthcare in Australia, and the rest of the world.
The landscape in Australia itself is being particularly influenced by the country's focus on biotechnology and medical devices/health technology, which dominates the industry sector. The new life science jobs that these new technologies create need to be filled with qualified professionals who understand how they work.
Another growing focus for the Australian life science industry is the research, development and manufacturing of medicinal cannabis. The extraction of medicinal components within cannabis could change the way we treat various neurological diseases like epilepsy, conditions such as ADD and PTSD, and improve pain management.
Technological advancement
Technological advancements play a big part in the drive for more specialised skillsets across Australia. The rise of health technology and artificial intelligence is helping the life science industry gain more understanding into what causes various diseases, how to better detect and diagnose them and, eventually, how to best manage or cure them.
The medical device/technology industry is making particular strides in this area with the development of wearables and medical mobile apps. These devices enable the life science sector to gather unprecedented amounts of information from patients about their conditions, contributing to a growing influx of big data. Artificial intelligence is making it possible for medical device and health technology companies to analyse this data to check for new disease patterns and even discover new disease indicators.
Therefore, there is a much higher demand for life science professionals to specialise in these growing areas. For example, the collection of vast amounts of patient data from both medical technology and early phase clinical trails in Australia, is raising issues over cyber security. This calls for specialised software engineers and IT security personnel to help build solid and secure infrastructure to support the ever-increasing amount of information. Data scientists and bioinformaticians are also in high demand to help companies understand and interpret biological data.
As an established biotechnology hub that is growing in strength and a rising power within medical devices and health technology, Australia provides ample opportunity for professionals keen to further their careers and specialise within these exciting fields.
As a global company with offices in Australia and the wider APAC region, our life science recruitment experts at Proclinical Staffing are here to help employers looking to recruit across the sector. To speak to a local specialist, get in touch with our team.