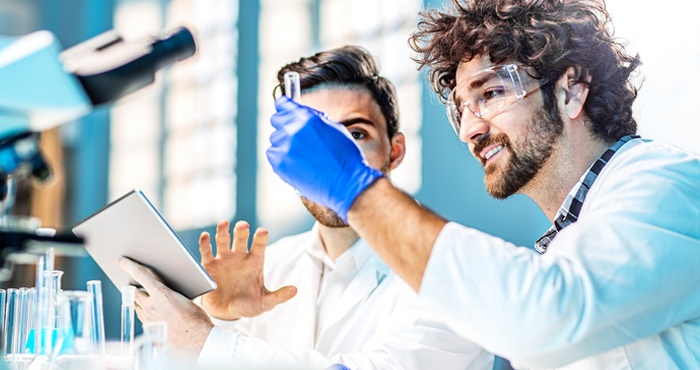 In the face of increasing demand for more effective and affordable healthcare, the life science industry is continuously battling to develop drugs and therapies to save and improve patients' lives across the globe. Using the most technologically and scientifically advanced methods of today, pharmaceutical and biotechnology companies are now capable of developing new and innovative ways to treat disease, including many that were previously thought incurable. 2018 and the years beyond bring promise of an exciting period within R&D.

Here are just a few highlights of what's going on in R&D in 2018:
Aducarumab
Alzheimer's disease is one of the most prevalent challenges of modern medicine. To date, no pharmaceutical company has successfully developed a drug to treat Alzheimer's, a debilitating neurodegenerative disease and the most common form of dementia in the elderly.
Aducarumab is Biogen's last remaining Alzheimer's drug still in development – the others were unfortunately unsuccessful during clinical trials. This experimental drug has been marked as a risky pipeline candidate as it uses a new practice called binding. This binding process has been shown to target and reduce amyloid plaques – responsible for the degeneration of brain cells – in Alzheimer's patients following long-term and gradually increasing dose therapy.
If Phase III clinical trials continue to go well, Biogen could bring to market the first ever drug to treat Alzheimer's disease, making it one of the most anticipated drugs currently in development.
Dupilumab
Dupilumab could be the world's first biologic drug for moderate to severe atopic dermatitis, the most common form of eczema. The condition causes the patient's skin to become dry, cracked, red and inflamed. In the UK alone, 1.5 million adults have this chronic condition, of which 6 out of every 100,000 live with severe cases. Although not life-threatening, the auto-immune disease can seriously affect quality of life, affecting patients' sleep and increasing the likelihood of anxiety and depression.
The biologic drug, developed by Sanofi Genzyme and Regeneron Pharmaceuticals, is a recombinant human monoclonal antibody that blocks the 'signals' of two substances thought to be responsible for the inflammatory response in patients. Dupilumab would be a significant breakthrough for patients who do not respond to topical steroids, which is the primary method of treatment for eczema.
In a series of trials, dupilumab showed that more than 75% of patients experienced a significant improvement in their skin; either achieving a score of 'clear' or 'almost clear'. Once the inflammation is under control, the skin can begin to heal itself, improving quality of life for eczema sufferers.
LEE011
Another R&D project causing a stir in the pharmaceutical industry is Novartis' first-line treatment of HR+/HER2 advanced or metastatic breast cancer (cancer that has spread from the primary tumour) in post-menopausal women. The drug, LEE011, proved very successful in clinical trials when used alongside letrozole, the main therapy used to treat this type of cancer.
LEE011 works by slowing the progression of cancer by blocking two proteins that when over-activated, cause cancer cells to grow and divide at a fast rate. The drug has proved to significantly extend the progression-free survival in all patient types during clinical trials, reducing risk of progression by 44% - even in some of the most serious and advanced cases.
The success of LEE011 so far has caused the US Food & Drug Administration to grant it Priority Review which will mean a shorter review period, allowing patient's quicker access to this potentially life-saving cancer treatment. Similarly, the FDA's European counterpart the European Medicines Agency (EMA) has accepted it for review, and other Health Authorities around the world are also working to authorise LEE011 as soon as possible.
ABP 501
ABP 501 is a biosimilar of adalimumab that is able to treat a wide range of inflammatory conditions including rheumatoid arthritis, chronic plaque psoriasis, Crohn's disease and ulcerative colitis. The biosimilar, developed by Amgen, has an active ingredient called an anti-TNF-α monoclonal antibody, which has the same amino acid sequence as adalimumab.
Amgen's Executive Vice President of R&D hails ABP 501 as "a significant milestone for [Amgen's] biosimilars portfolio and an important step in developing high-quality biologic medicines for patients with chronic inflammatory disease." Indeed, the creation of biosimilars ensure that more patients are able to gain access to affordable treatments that can significantly alleviate the devastating symptoms of chronic diseases.
Lanadelumab
A potential breakthrough for rare blood disorders, lanadelumab is another closely watched drug currently in development. Lanadelumab is an investigational drug created by Shire Pharmaceuticals to treat the hereditary blood disorder angioedema (HAE). The condition causes regular, rapid swelling under the skin, most commonly in the hands, feet, eyes and lips. Swelling is caused by a build-up of fluid in the deeper layers of skin, which can sometimes be life-threatening.
The genetic condition is thought to only affect 1 per 50,000-150,000, granting lanadelumab orphan drug status. Following very successful clinical trials, lanadelumab reduced recurrent swelling attacks by 87% in patients, compared to those taking a placebo. If approved, the new drug could offer HAE patients a long-term treatment that significantly reduces the occurrence of attacks and greatly improves their quality of life.
JCAR017
One of the pharmaceutical industry's hottest topics is CAR-T cancer therapies, which are, an innovative and effective way to treat various types of the deadly disease. JCAR017 is a new CAR-T therapy developed by Juno Therapeutics and Celgene, and is a promising treatment for patients with aggressive B-cell non-Hodgkin's lymphoma (NHL).
JCAR017 works in the same way as other CAR-T therapies, by stimulating the patient's immune system, i.e. their own healthy T-cells, to fight the cancer cells. T-cells are a natural defence against abnormal or infected cells but cancer often overrides them, resulting in malignant tumours that the body cannot fight alone. Juno's JCAR017 reprograms the patient's T-cells to target a specific protein found in cancerous B-cells, effectively telling the T-cells to track down and kill the cancer.
So far, the overall response rate has been positive at 76%, with 39% of patients achieving complete remission and having no traces of cancer remaining. Clinical trials continue to investigate whether higher doses are more effective, and possible without increased toxicity. As of December 2016, JCAR017 was labelled a breakthrough therapy, making it one of the most anticipated R&D projects today.
Although for many of these drugs the road to market authorisation is long and not without setbacks, the rate of progress in key areas such as Alzheimer's disease and cancer is remarkable and will undoubtedly lead to many more breakthroughs in 2018 and beyond.
Proclinical partners with many of these leading life science companies that develop live-saving drugs, therapies and devices. If you are interested in working for innovative pharma, biotech or medical device companies, consider engaging with Proclinical for your next job search. To get started, upload your CV or apply directly to any of our current opportunities.