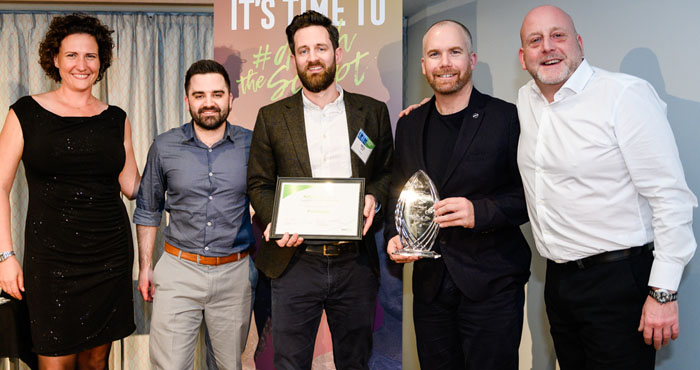 London, UK
3rd May, 2019
Proclinical was recently recognised by KellyOCG®, the outsourcing and consulting group of Kelly Services, with a Supplier Excellence Award at events in Troy, Michigan and Amsterdam, Netherlands. The award is presented to top-performing national and global suppliers that provide superior workforce solutions, and whose service, results and strategic partnerships have made a significant impact on KellyOCG's business.
"We are honoured to present Proclinical with this award for their outstanding efforts to provide diverse delivery models and capabilities. Our partnership with our suppliers are key to supporting our global customers as help them determine what's next for their workforce planning and talent needs," said Thorsten Koletschka, VP and Global Lead Supplier Strategy & Engagement, Global Professional Services Organization for KellyOCG.
Proclinical's US team receiving their Supplier Excellence Award
This year, KellyOCG recognized 19 of its top suppliers from Europe, the United States and Asia Pacific.
Suppliers are evaluated on three criteria:

Scorecard results of their performance within KellyOCG-managed programs

Compliance with legal and program-specific requirements

Engagement survey results from KellyOCG stakeholders assessing the ease of doing business with the supplier and the supplier's partnership approach
Award-winning organisations receive one-on-one development sessions; a designated KellyOCG representative to support their business growth; participation in supplier focus groups; access to KellyOCG's supplier insight; and the ability to work directly with KellyOCG senior leaders.
About Proclinical
Proclinical is a leading global staffing services provider that specialises exclusively within the life sciences industry. Our client base includes leading global pharmaceutical and biotechnology companies, medical device and health tech pioneers, and associated life science companies, including CROs and the outsourcing sector.

About KellyOCG
KellyOCG is the leading global advisor of talent supply chain strategies and workforce solutions. We align talent strategy to business goals to define what's next for the future of work, enabling our clients to ditch the script on the old way of thinking. Through our vertical expertise and trusted advisor status with our clients, we make meaningful connections between talent and organizations, advancing careers and business goals. Visit www.kellyocg.com.