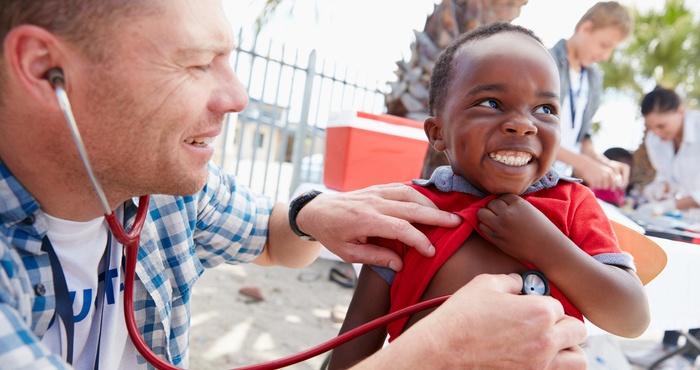 This month, the leading life science recruitment company Proclinical has made a special donation to a Ugandan health care charity after hitting one of its recruitment milestones.
28th June 2017
The contractor recruitment team at Proclinical announced earlier this week that the number of contractors working with the company has surpassed 300, triggering a celebratory £3,000 donation to the company's chosen charity partner - River of Life. The charity, who the company have a long-standing relationship with, delivers vital health care to those most in need in the region of Masaka, Uganda. Past donations by Proclinical have contributed towards buying crucial medical supplies, as well as a car that volunteers can use to give medical attention to those in isolated, rural areas.
Proclinical has set up a scheme that promises to donate £10 for every contractor in an effort to make a difference to the lives of children in Uganda and support the local community.
Dr Sarah Giles, River of Life's resident doctor, said: "The donation couldn't be coming at a better time. Since there is a lot of need, it will make an immediate impact within the community."
The money will be used to help to run essential baby units, supporting mothers and newborns, paying the salaries of several nurses, covering repair costs and supplying medications and baby formula. It will also allow many families to purchase annual health insurance for their children and save money on hefty hospital bills.
River of Life's sister sporting charity, Synergy, will use a share of the donation to ensure that 65 of their most impoverished soccer players have the essential equipment they need to be able to stay at school and play the sport they love. The charity will be buying new uniforms, books, paying examination fees, and in some cases, providing boarding supplies like mattresses and bedding.
Proclinical is dedicated to being a part of a brighter future for these children and their community. To continue helping River of Life to carry out their amazing work the company is hosting a referral scheme for the month of July. The scheme will see a donation of £300 made to River of Life on behalf of each contractor who refers a candidate that is successfully placed. The contractor will also receive £300 worth of vouchers.
For further details on this and other charity schemes run by Proclinical please contact Monique Ellis, Marketing Executive on 0203 8718 092.
For more information, company images, quotes etc. please contact Peter Hogg on 0203 0789 577.
About Proclinical
Proclinical is a leading global staffing services provider that specialises exclusively within the life sciences industry. Our clients include leading global pharmaceutical companies, biopharmaceutical companies, biotechs, clinical research organisations and medical device pioneers.