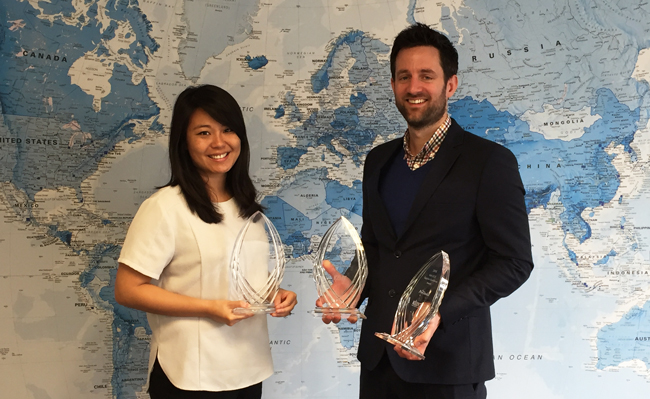 27th April 2017

For the third year running, KellyOCG®, the outsourcing and consulting group of Kelly Services®, has recognised life sciences recruitment company Proclinical as one of its top performing suppliers with the Company's annual Supplier Excellence Award.

Proclinical's Client Services Director Neil Winn was presented with the 2016 award in the EMEA regional category, to add to Proclinical's 2015 and 2014 supplier awards from KellyOCG. "Everyone at Proclinical is very proud that we have been recognised as a Supplier of Excellence by Kelly OCG for the 3rd year in succession." said Winn. "Our partnership with KellyOCG continues to go from strength to strength through our shared values of trust, collaboration and excellence in delivery. As a specialist within life sciences, our partnership has been a mutually beneficial for both Proclinical and KellyOCG, helping to secure growth in new territories and with new end clients. We look forward to another successful year ahead in partnership with Kelly OCG."
In order to receive this recognition, suppliers must participate in multiple KellyOCG-managed workforce solutions programs and be evaluated on spend development and performance in the following areas:
program scorecard results
compliance
engagement survey results
Thorsten Koletschka, supplier strategy and engagement lead, Global Talent Supply Chain Organization for KellyOCG, added, "At Kelly, we pride ourselves in making a difference in people's lives by connecting them with work. Amplifying our portfolio through strong interlock with our outstanding suppliers enables us to deliver the world's best workforce solutions. Our award winners have not only delivered distinguished services but have made a positive difference to numerous people's lives through their dedicated and passionate work every day."

The KellyOCG supplier award becomes the latest addition to Proclinical's rapidly expanding trophy cabinet. The life sciences specialists have picked up multiple awards in recent months, including a brace of awards from the Association of Professional Staffing Companies (APSCo) for demonstrating exceptional service and delivery for their international clients and partners.
About Proclinical
Proclinical is a global staffing services company operating exclusively within the life sciences sector for roles across the entire product lifecycle, from research and development (R&D) to manufacturing and commercialisation. Proclinical's client-base includes leading pharmaceutical, biotechnology, medical device and contract research organisations across Europe, the USA and Asia Pacific.
About KellyOCG
Kelly Outsourcing and Consulting Group (KellyOCG) is the leading global advisor of talent supply chain strategies that enable companies to achieve their business goals by aligning talent strategy to business strategy across all internal and external worker categories. Core solutions include Advisory Services, CWO, RPO, Managed Services (BPO), and Career Transition. Please visit KellyOCG.com for further information on the company.