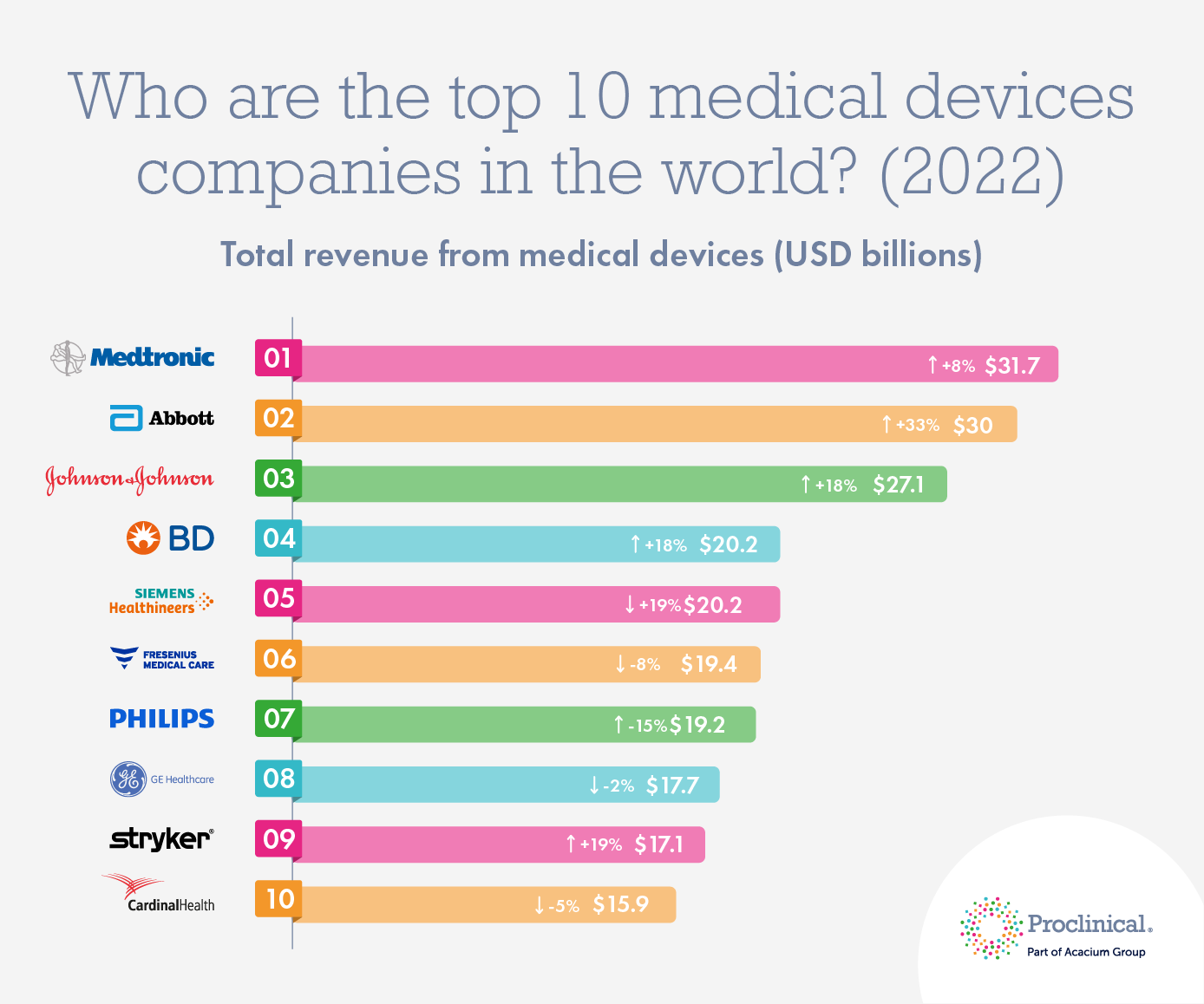 In 2021, the global medical devices market reached a value of nearly $488.98bn and is likely to reach an impressive US$718.92bn by 2029. The ever-increasing prevalence of chronic diseases and the increased emphasis from healthcare providers to diagnose and treat diseases earlier is leading to a growing number of patients who are undergoing diagnostic and surgical procedures, which is in turn encouraging companies to improve, develop and create new innovative medical advancements.  
Below, we have ranked the leading medical device companies by their 2021 revenue, looking at their medical devices segment results only. This list reveals the top 10 biggest medical device companies in the world in 2022: 

10. Cardinal Health $15.9 -5%
With over 100 years of experience and 44,000 employees across 30 countries, Cardinal Health is widely recognised for providing pharmaceuticals, medical products and services that help healthcare providers. In the fiscal year 2022 the company's medical segment sales fell by 5%, significantly impacted by inflation and supply chain constraints. Sales were further offset by lower demand for PPE compared to the previous year and the divestiture of the Cordis business.

9. Stryker $17.1bn +19%
American multinational medical technology specialist, Stryker, takes the ninth spot on this year's list. With 46,000 employees worldwide, Stryker focuses on creating innovative solutions in orthopaedics, medical and surgical solutions, neurotechnology and spinal care that help improve patients' conditions and hospital outcomes. Up until 2020, Stryker had experienced 40 straight years of growth, but with a reduction in medical procedures due to the Covid-19 pandemic, the company's sales fell by 3.6% in 2020. However, in 2021, Stryker returned to growth with sales rising by an impressive 19%, thanks to a stellar performance for MedSurg and Neurotechnology and for Orthopaedics and Spine. In late 2020, Stryker completed the acquisition of Wright Medical, which has now fully integrated into Stryker and has positioned the company well for future growth.

8. GE Healthcare $17.7bn -2%
A staple to the top 10 is leading global medical technology and life sciences company, GE Healthcare. With a broad portfolio of products, GE Healthcare is widely recognised for its imaging, ultrasound, software and life care solutions. In 2021, GE Healthcare's sales fell by 2% with the negative impact of supply chain disruptions. In 2021, they acquired two companies; BK Medical and Zionexa, who both have great potential in precision health and medicine which is a core focus for GE Healthcare.

7. Philips $19.2bn -15%
With over a hundred years in business, Philips is a diversified technology company. Philips' health care division makes up 42% of their global revenue and is made up of three key areas: Diagnosis & Treatment, Connected Care, and Personal Health.
In 2021, Philips' health products and solutions sales totalled $19.2bn (€17.2), a decrease of 15% compared to the prior year ($22.6bn or €19.1bn), negatively impacted by unfavourable exchange rates and a weak performance for Connected Health. Sales were effected by several headwinds, including supply chain challenges, postponement of equipment installations in hospitals related to Covid-19, and the consequences of the Respironics field action. However, comparable order intake increased by 4%, driven by solid growth in the Diagnosis & Treatment businesses.
On announcing the full year results, CEO, Frans van Houten commented, "During 2021, we signed 80 long-term strategic partnerships and launched innovations such as the Spectral CT 7500 to support a precision diagnosis, as well as expanding our Azurion image-guided therapy platform with breakthrough applications to innovate minimally invasive treatments. We also continued to help consumers take better care of their health with our personal health offerings. Based on good customer demand and our growing order book, we expect to resume our growth and margin expansion trajectory in the course of 2022." .

6. Fresenius Medical Care $19.4bn -8%
German-based international healthcare company, Fresenius, takes sixth place in the list of top medical device companies. With around 123,000 employees in more than 100 countries, Fresenius Medical Care is the world's largest provider for services and products for those with renal diseases.
In 2021, the company generated revenues of $19.4bn (€17.62bn) which was a decline of 8% on the previous year, but a slight increase of 2% at constant currencies, with 2020 revenues reaching $21.0bn (€17.9bn). The accumulated impact of Covid-19 affected the company's results more than they had originally estimated at the start of the year, but Fresenius plans to get earnings back on track in 2022. Their Strategy 2025 prioritises keeping their products and healthcare services at the core and concentrating on three key areas: renal care continuum, critical care solutions and complementary assets.

5. Siemens Healthineers $20.2 +19%
Headquartered in Germany, Siemens Healthineers is the medical technology branch of automation and electrics conglomerate Siemens. The company generated sales of $20.2 (€18.0bn) in 2021, an increase of 19% compared to the previous year, which was impacted by the Covid-19 pandemic, but slides into fifth place on the list of top medical device companies. In 2021, Seimens Healthineers gained market share, launched new innovations and embraced sustainability. Moving forward, the company continues to progress with their digital transformation and remains committed to supporting healthcare providers by empowering them on their journey towards expanding precision medicine, transforming care delivery, and improving patient experience.

4. Becton Dickinson & Company $20.2bn +18%
Commonly referred to as BD, Beckton Dickinson & Company is an American multinational medical technology company that manufactures and sells medical devices, instrument systems, and reagents. After a decline in growth last year caused by negative impacts of the Covid-19 pandemic, BD turned things around in 2021, with sales rising by a great 18%. This strong performance was largely driven by increasing investments into higher-growth spaces, and growing M&A activity. BD continues to advance an innovation-driven growth strategy by launching several new products including the FACSymphony A1 Cell Analyzer, the COR System, which is a fully automated high-throughput molecular diagnostic platform, the Veritor at-home Covid-19 test, and the Rotarex Rotational Excisional Atherectomy System.
In their full year results call, Tom Polen, chairman, CEO and president of BD commented, "With increasing momentum in our base business and a clear path to accelerate margin recovery in fiscal 2022 and beyond, we are well-positioned to deliver on our commitments and drive long-term growth and value for all stakeholders."

3. Johnson & Johnson $27.1bn +18%
Johnson & Johnson is in third place in 2022. J&J's medical devices segment, recently renamed to MedTech, includes a wide range of products used in the orthopaedic, surgery, interventional solutions, and eye health fields. In 2021, Medical Devices worldwide sales grew by an impressive 18%, driven primarily by the market recovery from Covid-19 impacts and the associated deferral of medical procedures. In recent years, J&J has poured a lot of effort into refining its medtech space through restructuring, rebranding, divestitures, mergers and acquisitions (M&A). In a recent earnings call, Joaquin Duato, the Chief Executive Officer of Johnson & Johnson commented "Over the past several years, this acceleration in performance has been driven by the delivery of differentiated solutions as well as improved commercial execution. We expect this improvement to continue, enabled by our innovative pipeline as well as the potential for expansion into higher growth market segments".

2. Abbott $30bn +33%
American multinational, Abbott, secures the second spot on this year's top medical device companies list. Founded over 130 years ago, Abbott is headquartered in Illinois and delivers medical devices and healthcare solutions to more than 160 countries. With 113,000 employees worldwide, the company is well known for creating breakthrough products in diagnostics, medical devices, nutrition, and branded generic pharmaceuticals. In 2021, Abbott's medical devices and diagnostics divisions grew by an impressive 32.7% on a year-on-year basis. Diagnostics rose by 42.7% driven by Covid-19 testing. Abbott continued to strengthen its Medical Devices portfolio with several pipeline advancements in 2021, including: the US launch of first-of-its-kind technology NeuroSphere Virtual Clinic, expanded reimbursement of the MitraClip device, FDA approval of Amplatzer Amulet Left Atrial Appendage Occluder to treat stroke patients, and FDA approval of Portico with FlexNav, a transcatheter aortic valve replacement (TAVR). Looking to the future, Abbott plans to solve not only the medical challenge that their products address but at the same time the challenge of access and affordability.

1. Medtronic $31.7bn +8%
Medtronic once again tops the list as the largest medical device company in the world. With a workforce of over 90,000, operating in 150 countries, Medtronic is at the forefront of medical technology. In the fiscal year of 2022, Medtronic reported revenues of US$31.7bn, an increase of 8% on the US$29.4bn reported last year. Growth was driven by a solid performance from three of its core therapeutic areas: Cardiovascular (+6%), Medical Surgical (+4.6%) and Neuroscience (+7%). Further growth was offset by the Diabetes division, which was down by 3.1%, as US revenue declined given the absence of new product approvals.
As part of its portfolio management strategy, in May 2022, Medtronic announced that together with DaVita it would form a new, independent kidney care-focused medical device company. Medtronic confirmed it would contribute its Renal Care Solutions (RCS) business to the new company, which is focussed on developing a broad suite of novel kidney care products and solutions.
In light of the release of their full year 2022 results, Geoff Martha, Medtronic chairman and chief executive officer commented, "We remain keenly focused on delivering innovation-driven growth with a robust pipeline of technologies in fast-growing markets, and we're committed to creating strong shareholder value through strategic capital allocation and active portfolio management."
Is your medical devices company aiming to grow this year?
At Proclinical Staffing, our dedicated medical devices recruitment team are specialists in sourcing skilled and experienced professionals to fill a wide variety of roles across all classes of medical devices and health technology, including invasive and non-invasive devices, prosthetics, implants, diagnostics, software, wearables, AI and robotics. Find out more about our range of workforce solutions and how we can help your business grow globally.
Interested in working for one of the top medical device companies?
If you're looking for a new role simply send us your CV or use our job search tool to find the right role for you.