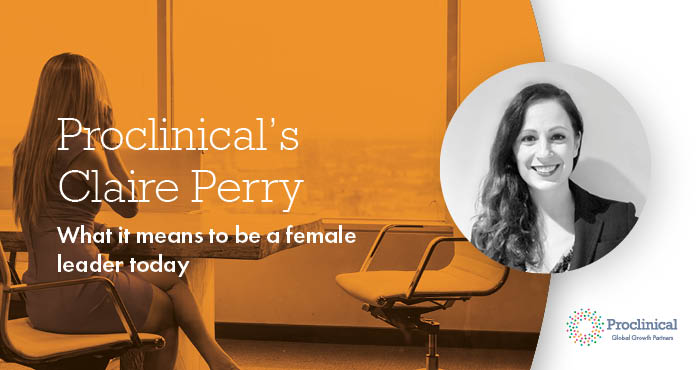 Claire Perry joined Proclinical as a Senior Partner for Proclinical Executive and Vice President of Proclinical US, San Francisco in 2019. In this spotlight interview, Claire sheds light on what she believes it takes to be a successful female leader in the recruitment industry.
Claire started her recruitment career in London when she was having trouble making ends meet as a teacher and decided to put herself on the other side of the equation and to work for one of the agencies who were sending her out to schools. She didn't join a teaching agency but instead secured a position at a boutique IT recruitment agency. Claire was the first woman on the sales floor and within 18 months was the top performer. She then moved to San Diego, CA as the third hire for a leading recruitment company with an objective to build the engineering division and grow the medical device space for the business. In her second year she contributed over 60% of revenue for the entire permanent division and helped grow the office to 28 people in three years. In 2017 Claire was named as a top performer out of 500 consultants in the US. Claire then moved to San Francisco with a start-up agency to help them establish their US footprint, she built a team and billed over $1M in her first full year.
Here's what Claire herself had to say about what it means to be a female leader today:
What would you put your success down to?
I had some great mentors early on in my career, they took time and patience to teach me how to recruit in one of the world's most competitive and saturated markets. I owe them a great deal of gratitude.
I've been part of great teams and have learned something from everyone with whom I've had the pleasure of working. Looking inward, the qualities I've called forth most in recruitment have been pride, resilience, courage and compassion. I feel good at the end of the day when I've done the absolute best job for my clients. When I get knocked down, I get back up, every time, and when fear appears, I stand taller and take another step toward it. As for compassion, everyone has things going on in their lives, it's good to be understanding when people need you to be, they'll remember you for it!
What is one characteristic that you believe every leader should possess whether they be male or female?
Integrity is very important, it makes people feel safe, valued and respected. Integrity creates an environment of trust which is key to building a strong team who can share and work together without unnecessary fear. I action integrity by telling the truth, being fair, treating everyone like they are special, valuing everyone's input, addressing issues quickly and directly and then letting them go, giving people a clean slate every morning no matter what happened the day before (because it's already been dealt with), and speaking up when everyone else is staying quiet.
What's one leadership lesson you've learned in your career?
It's important to lead by example. I don't ask my team to do anything I wouldn't do.
What advice would you give the next generation of female leaders?
Support other females in the workplace. I recently heard a story about a female HR leader who refused to grant a manager's request for a woman's pay increase, but she granted one to a male on that same manager's team. The manager told me that he was disappointed because the woman was a better performer than the male. He said this was the first time he'd really seen a woman holding another woman back in the workplace.
As women, we've been conditioned by society for hundreds of years to compete with each other for survival but that's not the way it needs to be any more, and people are slowly waking up to that. We can become conscious of when we're competing rather than supporting, pause and make the decision to change, then shift our behaviour. It may feel unnatural at first, but stay open to it, keep trying, and I promise you'll feel more whole, more connected and much happier. By encouraging, supporting and helping each other we not only teach others how to treat us but, we can pass down the gift of our knowledge to the next generation.
What inspiring women have you met in the recruitment industry?
I met a woman who was so broke that, for her interview, she bought a three-dollar suit from a charity shop. She came into the office to interview, leaned across the table and with determination in her eyes said she'd be just fine to join a sales floor of twenty men. Within a year she was flying her family overseas for a vacation. I met another woman who, struck with cancer lying on her death bed, decided that if she made it back to health, she'd do what she'd always wanted to do and become a recruiter. Now she's very successful. I meet many women who throw themselves into the gladiator ring of recruitment with both fear and courage, but they take direction, keep showing up, and go on to completely transform their lives.
At Proclinical, we are delighted to celebrate Claire's achievements and the many other talented, successful women employed by the company globally. If you are seeking to join a diverse business that will fully support your career aspirations, consider applying to work for Proclinical. We have a range of recruitment consultant jobs available at all levels, as well as management and director positions.