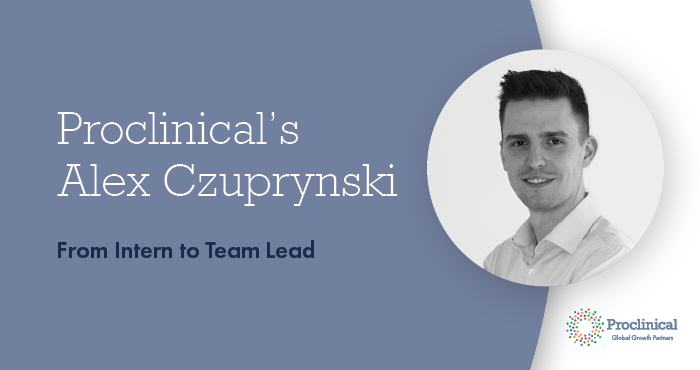 Alex Czuprynski began his career at Proclinical as an intern/placement year student while studying for his biomedical science degree. After a successful year, Alex returned to Proclinical when he completed university in 2016 - but not before a few months of travelling! Thanks to the experience he accumulated during his placement year, Alex skipped the entry associate level and returned as a fully-fledged consultant.
In the three years since, he has thrived at Proclinical, having been promoted consistently from consultant through to senior consultant, principal consultant and finally his current position as team lead of Regulatory Affairs. Here's a bit of insight into Alex's experiences and career progression over the years at Proclinical:
What was your placement year like?
For the first three months it was quite an adjustment. I'd previously never worked in an office environment before, so it was tricky getting used to working in front of a computer and getting on the phones. But the training was really good. I was assigned to the Regulatory Affairs recruitment team and had a mentor to guide me through a structured learning development process.
Luckily there was no huge pressure to make placements right away. Proclinical was good at giving me time to find my stride as I had a slow start. I didn't make a placement for 4 months! With some help from my mentor and other team members I quickly found my way, making multiple placements and earning commission.
What attracted you to Proclinical for your placement year?
Much like other life science graduates, I was disaffected by working in a laboratory during the summer. I found it quite boring and repetitive, and it was quite poorly paid in comparison to other sectors. I had never considered recruitment as an option but after finding out more I saw that it was a happy medium for me. It was a chance to continue working in the life science industry whilst having an interesting, variable day-to-day job. Ultimately, I applied for a placement year at Proclinical because it was something a little bit different, but I also felt like I was putting my scientific knowledge to really good use.
What does recruitment offer you that a career in industry wouldn't?
Generally speaking, recruitment can be challenging, but the career development offered to me was far superior than any of my other options. It's clear what your targets are and what is required to progress, so it's simply about getting down to it and doing what you need to get to the next wrung on the ladder. It's also given me a financial sense of freedom and a great feeling of stability. The earning potential is uncapped, unlike with other jobs where there are defined salary bands. You're the master of your own destiny when it comes to what you earn. I've also had the opportunity to travel around the world, visiting New York, South Africa and Iceland, most notably.
Also, unlike a lot of scientific jobs where it's difficult to focus on any other areas, in recruitment you have the opportunity to diversify. For example, I could go down a technical route because I've got the skillset to understand how a drug company works. I could also opt to work in-house at a life science company as a talent acquisition specialist, or even move into a consultancy. There aren't too many avenues working in a scientific role, unless you're much further on in your career.
The most important draw for me however, is the variety recruitment provides in my day-to-day life. Instead of working on one scientific experiment or project in a lab, I'm working with such a broad range of life science companies with a huge variety of projects that span the entire spectrum of the life science industry. I've been exposed to some really interesting and ground-breaking work that our clients are undertaking.
What have you found most challenging about recruitment?
As I've said before, recruitment has its challenges. I found it tough at first to adjust to working full-time, being on the phone a lot and of course, the pressure of hitting targets. At university, I was used to pressure but it came in shorter bursts. In recruitment, the pressure is less intense but more constant. But it's definitely what you need to keep motivated and to push yourself. I found targets and expectations quite daunting at first, but soon realised that targets are set according to your abilities and potential. Eventually I understood that they weren't unrealistic or unachievable, and this was an important shift of mentality for me.
What were your breakthrough moments?
Definitely when I made my first placement. That's when I felt like I'd cracked it, I understood how it worked - even though it took me a little longer than most. There was a huge sense of pride that I'd successfully managed a process from start to finish.
When I brought in my first client, that was also a significant moment. A company genuinely wanted to work with Proclinical because of me and my ability to help them. That's a rewarding feeling.
Ultimately, becoming a team lead was a huge breakthrough. I realised I had the capabilities to advise and help others succeed, too. It's so fulfilling to see your team member make a placement knowing that you've played a part in helping them get there.


Were there transferable skills from your academic background that helped you in recruitment?
Initially, I was concerned that I didn't have any sales experience. But I soon realised I already had a lot of the skills I needed thanks to my academic/scientific background. For instance, I had to do a lot of presentations when I was studying and when working at the lab, and this has come in really useful as it taught me to speak clearly and concisely. These communication skills have enabled me to speak to different types of audiences - peers, candidates, hiring managers, HR and even CEOs of companies - which is key to success in this career.
Also, sales experience isn't necessary as long as you have the ability to understand and convey complex messages, which I certainly did thanks to my background. My scientific understanding and industry knowledge helps clients and candidates alike to trust that I really know what I'm doing.
Any tricks of the trade?
The one thing that recruiters don't always do that they should is learn how to build genuine relationships with people. That's what helps you stand out against other recruiters. For example, when you take the time to develop a relationship with a candidate, it could span many months or even years. You could end up helping them climb their own career ladder as someone they trust and genuinely want to continue working with.
It's the same with clients. Proclinical trains you to understand that the services we offer are a 'value-add' to their business, instead of a financial drain or a necessary evil. We're taught to add the knowledge, experience and resources that the company doesn't have, helping them to reach their goals more efficiently. So basically, grasping that recruitment is about good communication, striking up genuine relationships and being extremely organised will set you apart from the competition.
Any advice to life science students/graduates considering recruitment?
I really recommend it. I chose recruitment not because I didn't have a passion for science anymore, but because it was a balance of everything for me. A varied, challenging job that kept me close (much closer than I thought) to the industry I was interested in. As I've progressed, I've actually felt more immersed in the industry than I did when I was doing lab work. For example, I recently went to Iceland to visit a client's manufacturing facility to see how their drugs are developed.
Recruitment is challenging but I'd choose it again every time because what you get back in return for your hard work far surpasses what I could expect working in industry.
Are you currently studying or have recently graduated with a life science degree?
Whether you dream of making a difference to people's lives, climbing the career ladder or having the opportunity to travel or relocate abroad, we can get you there. We provide real opportunities for consultants to progress and an excellent training and development programme to help boost you up the career ladder. Whether you dream of contributing to medical research or taking on leadership responsibility, you'll have everything you need to make an impact.
Think you've got what it takes to be a successful life sciences recruitment consultant? Find out more.
About Proclinical:
Proclinical is a leading international life sciences consultancy that helps experienced professionals find contract and permanent jobs, and provides life science companies with a range of solutions to fix business critical needs. Our clients include leading global brands and smaller emerging companies within pharmaceuticals, biotechnology, medical devices and clinical research.